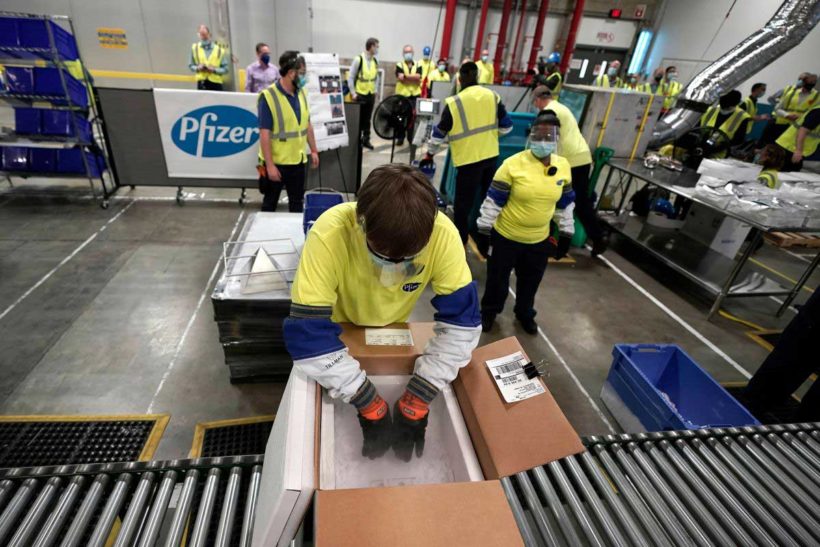 redo Jump to...
print Print...
Dozens of workers at a plant in Kalamazoo clapped and whistled as the first boxeswere first carefully moved into the waiting trucks — and again when they were fully loaded and ready to hit the road.
A convoy of three trucks — one from FedEx and two from UPS — finally pulled out at 8:30 a.m., flanked by US Marshalls as they drove off slowly, passing flag-waving supporters who cheered them on.
The shipments set in motion the biggest vaccination effort in American history… Hopes that the vaccination could finally see an end to the pandemic has seen it likened to D-Day, the US-led military offensive that marked the ending of World War II.
"D-Day was the beginning of the end and that's where we are today," said Army Gen. Gustave Perna of Operation Warp Speed, President Trump's operation to get the vaccine delivered in a record pace.
A live feed had shown warehouse workers starting at 6:30 a.m. loading pizza-boxed sized cartons containing vaccine vials from a freezer, placing them in large, blue coolers, before these were boxed and labeled.
The first shipments had a total of 189 boxes in the trucks, with just under 1,000 vials in each, MSNBC said.
President Trump signed an "America First" executive order on December 8 giving Americans "first priority" for US-made COVID-19 vaccines — and said he will invoke the Defense Production Act if more were needed. (The law, enacted in 1950, authorizes the president to require domestic industries to produce materials and goods necessary for the national defense.)
Individual states have "designated over 50,000 sites that will receive the vaccine," which will be provided "free of cost" to Americans, he said.
Trump said his executive order would "ensure that American citizens have first priority to receive American vaccines and then we're going to be working with other countries all over the world."
"And I think we'll be able to start doing that almost immediately also because we have millions of doses coming in," he added during remarks at the December 8 Operation Warp Speed vaccine summit at the White House.
The Trump administration has contracts for 100 million doses of the Pfizer vaccine and another 100 million doses of a vaccine developed by Moderna that [is expected to receive] emergency use authorization from the FDA [this] week.
Both vaccines are designed to be administered in two doses per person, meaning those purchases in total would cover 100 million people, about one-third of the US population of around 330 million. 
Federal officials have said the first shipments of the Pfizer vaccine will be staggered, arriving in 145 distribution centers Monday, which is when New York is expected to get its first doses.
An additional 425 sites will get shipments Tuesday, and the remaining 66 on Wednesday. The vaccine, co-developed by German partner BioNTech, is being doled out based on each state's adult population.
UPS and FedEx are giving the vaccine top priority, reserving space on planes and trucks at a time when online shopping — both from the holidays as well as lockdowns — is creating more demand for deliveries than carriers can handle. They are providing temperature and location tracking to backup devices embedded in the Pfizer boxes, and tracking each shipment throughout its journey.
Pfizer's vaccine was first to get emergency use approval under Trump Administration's Operation Warp Speed, with others still in the pipeline.
Following Trump's remarks on December 8 at the summit, the head of Operation Warp Speed said that in addition to those from Pfizer and Moderna, there were still [vaccines] "two to come."
"We plan to manufacture enough of these vaccines to immunize about 20 million of our citizens before the end of this year, about 30 million in the month of January and about 50 million in the month of February," Dr. Moncef Slaoui said.
The immunizations could be complete by June, he added.
The White House event took place hours after the FDA released a 53-page report that said Pfizer's vaccine was highly effective and posed no safety risks that would prevent it from being cleared for emergency use.
The report affirmed findings from Pfizer, which said a clinical trial involving about 44,000 people showed the vaccine was 95 percent effective after two doses, with no disparities based on age, gender, race, ethnicity or underlying medical issues that put people at risk for severe infections.
Compiled from articles at NYPost by Lee Brown and by Steven Nelson, NoahManskar and Bruce Golding
Questions
1. What is significant about the distribution of the coronavirus vaccine?
2. What is Operation Warp Speed?
3. What is the America First executive order signed by President Trump on Dec. 8 during the Operation Warp Speed summit at the White House?
4. When is Moderna's vaccine expected to be given emergency use authorization by the FDA?
5. What did you learn about the distribution and logistics of the delivery of Pfizer's vaccine that began on Sunday? Be specific.
6. a) How many Americans will be be able get the covid-19 vaccine under these initial contracts the Trump administration has with Pfizer and Moderna?
b) How much will it cost for a person to get the covid-19 vaccine?
7. What did the head of Operation Warp Speed, Dr. Moncef Slaoui, say about the manufacture and distribution of the vaccine(s)?
8. Ask a parent and a grandparent: Will you get a vaccine when it becomes available? and, Do you think college age and younger should be vaccinated if older and/or vulnerable people are all vaccinated? Please explain your answers.
9. What is your reaction to the success of Operation Warp Speed?
Background
Did you know?
Scientists had hoped a coronavirus vaccine might be at least 75% effective.
White House coronavirus advisor Dr. Anthony Fauci has said a vaccine that is 50% or 60% effective would be acceptable.
The flu vaccine is between 40% and 60% effective.
The Pfizer/BioNTech's new coronavirus vaccine is 90% effective. (from a Nov. 11 article)
Newsweek reports "The previous record for the development of a vaccine was four years"
Resources
Watch the president's Dec. 12th statement and brief overview of the rollout:
---
Previous articles on vaccines for coronavirus:
And on treatments and tests:
Daily "Answers" emails are provided for Daily News Articles, Tuesday's World Events and Friday's News Quiz.