redo Jump to...
print Print...
(by Yan Zhao and Jerome Taylor, International Business Times) — A new visa plan offering millions of Hong Kongers a pathway to British citizenship went live on Sunday, January 31, as the city's former colonial master opens its doors to those wanting to escape China's crackdown on dissent.
Anyone with a British National (Overseas) passport [BN(O) passport] and their dependents can now apply online for a visa allowing them to live and work in the United Kingdom. After five years, they can apply for citizenship.
The immigration plan is a response to Beijing's decision last year to impose a sweeping National Security Law [imposed] on Hong Kong [by the Communist Party-controlled officials of Hong Kong] to snuff out the huge [ongoing] democracy protests.
Britain has accused China of [violating the deal it made as a condition for UK handover] of Hong Kong in 1997 — the deal was that the financial hub of Hong Kong would maintain key liberties and autonomy for 50 years. The UK argues it has a moral duty to protect its former subjects. …
The website for visa applications went online at 5pm in Hong Kong on January 31.
China has reacted with fury to the visa offer, announcing that it would no longer recognize the passports as a legitimate travel or ID document.
The move was largely symbolic as Hong Kongers tend to use their own passports or ID cards to leave the city.
But Beijing said it was prepared to take "further measures," raising fears authorities might try to stop Hong Kongers from leaving for Britain.
On January 31, the Hong Kong and Macao Affairs Office of China's State Council said it strongly condemned the British for violating its promise not to give BN(O) passport holders right of residence [but the UK is compelled to do as a result of Communist China's violating its promise to allow Hong Kong autonomy until 2047].
"This is a flagrant offense of China's sovereignty, and we firmly oppose it," it said.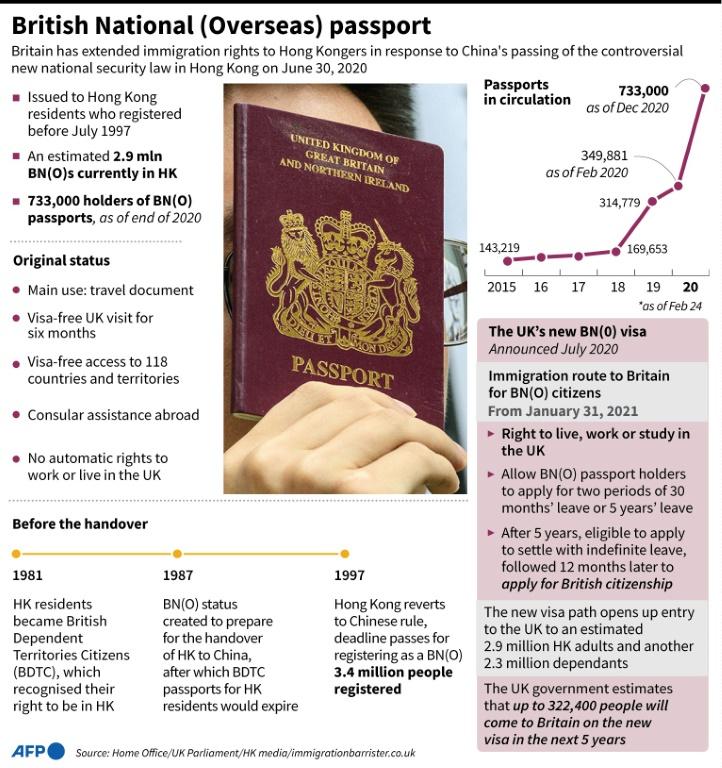 …It is not clear how many Hong Kongers will take up the visa offer…but it is available to a huge number of people — about 70 percent of Hong Kong's 7.5 million population.
Published by IBTimes .com on Jan. 31, 2021. Reprinted here for educational purposes only. May not be reproduced on other websites without permission.
Questions
NOTE: Before answering the following questions, read the info under "Background" and watch the video under "Resources" below.
1. List the who, what, where and when of the news item.
2. What did the CCP (Communist Party of China; the government of China) do in response to the launch of the visa applications?
3. Why is this response in itself not a problem for Hong Kongers?
4. What is expected to be the real problem?
5. On January 31, Chinese officials said the government strongly condemned the British for violating its promise not to give BN(O) passport holders right of residence. Why is this a ridiculous objection?
6. If you were a Hong Konger, would you leave your country to go to a country with a very different culture and climate – the UK? Explain your answer.
7. CHALLENGE QUESTIONS: From the last paragraph: "It is not clear how many Hong Kongers will take up the visa offer…but it is available to a huge number of people — about 70 percent of Hong Kong's 7.5 million population."
a) Why isn't the remainder of the population eligible for the visa? (Do an internet search to find out)
b) Considering the information about the CCP control of Hong Kong under "Resources" below, how many of those eligible to go to the UK do you think will do so?
c) What type of vetting process do you think the British government should employ to ensure those being accepted for visas are legitimate?
Background
More from the IB Times article:
Applications for BN(O) passports have skyrocketed more than 300 percent since the national security law was imposed last July, with 733,000 registered holders as of mid-January.
Britain predicts up to 154,000 Hong Kongers could arrive over the next year and as many as 322,000 over five years, bringing an estimated "net benefit" of up to $4 billion.
The BN(O) passport is a legacy of Hong Kong's return to authoritarian China.
Many Hong Kongers at the time wanted Britain to grant them full citizenship but China was opposed to the move.
The BN(O) was a compromise, allowing Hong Kongers born before 1997 the right to stay in Britain for six months at a time, but with no working or settling rights.
Now it has become one of the few ways out for Hong Kongers hoping to start a new life overseas as authorities conduct mass arrests of democracy supporters and move to purge the city of dissent.
Stella, a former marketing professional, plans to move to Britain imminently with her husband and three-year-old son.
"The national security law in 2020 gave us one last kick because the provisions are basically criminalising free speech," she told AFP, asking to use just her first name.
Under the visa scheme, those hoping to move must show they have the funds to sustain both themselves and their dependents for at least six months.
Hong Kongers already in Britain who are involved in helping others relocate say many of the early applicants tend to be educated middle-class people, often with young families, who have enough liquidity to finance their move.
"Most people we spoke with are families with primary school- or nursery-age kids," Nic, an activist with a group called Lion Rock Hill UK, told AFP, asking for anonymity.
Some Hong Kongers began leaving the city even before the new scheme went live.
Earlier this week, Britain said around 7,000 people moved over the last six months under a separate Leave Outside the Rules (LOTR) system. They will also be able to apply for the pathway-to-citizenship visas.
"The BNO is definitely a lifeboat for Hong Kongers," Mike, a medical scientist who recently relocated with his family to Manchester, told AFP.
He said many Hong Kongers feared China might stop residents leaving the territory.
"So it is better to leave as soon as possible," he added.
---
HONG KONG NATIONAL SECURITY LAW: (from BBC News)
In June 2020, the Communist Party of China passed a wide-ranging new security law for Hong Kong which makes it easier for the communists to punish protesters and reduces the city's autonomy.  Those who support democracy have called it "the end of Hong Kong."
The details of the law's 66 articles were kept secret until after it was passed. The law came into effect June 30, 2020, an hour before the 23rd anniversary of the city's handover to China from British rule.
It gives Beijing powers to shape life in Hong Kong it has never had before. Critics say it effectively curtails protest and freedom of speech – China claims it will return stability.
The new law's key provisions include that:
Crimes of secession, subversion, terrorism and collusion with foreign forces are punishable by a maximum sentence of life in prison
Those found guilty will not be allowed to stand for public office
Companies can be fined if convicted under the law
Beijing (China's communist party) will establish a new security office in Hong Kong, with its own law enforcement personnel – neither of which would come under the local authority's jurisdiction
This office can send some cases to be tried in mainland China – but Beijing claims it will only have that power over a "tiny number" of cases
In addition, Hong Kong will have to establish its own national security commission to enforce the laws, with a Beijing-appointed adviser
Hong Kong's chief executive (the Communist-supported Carrie Lam) will have the power to appoint judges to hear national security cases, raising fears about judicial autonomy
Beijing will have power over how the law should be interpreted, not any Hong Kong judicial or policy body. If the law conflicts with any Hong Kong law, the Beijing law takes priority
Some trials will be heard behind closed doors.
People suspected of breaking the law can be wire-tapped and put under surveillance
Management of foreign non-governmental organizations and news agencies will be strengthened
The law will also apply to non-permanent residents and people "from outside [Hong Kong]… who are not permanent residents of Hong Kong".
---
On July 1, 2020, the day after China passed the "National Security" law for Hong Kong, pro-democracy protesters were out to voice their support for free speech. Vox reported on July 14:
When Britain handed Hong Kong over to China in 1997, it was with the promise that Beijing would honor Hong Kong's quasi-independence until at least 2047, under the rule known as "one country, two systems." The Chinese government has slowly eroded Hong Kong's autonomy in the years since…
The imposition of the national security law…directly threatens Hong Kong's civil society, independent press, and, most obviously, the territory's sustained pro-democracy movement.
The law means the "complete and total control of Hong Kong and total destruction of Hong Kong's system," Victoria Tin-bor Hui, a political science professor at Notre Dame University, told me.
Pro-democracy protesters [agreed]:
"I guess we have all seen this coming, but it just feels very surreal to everyone that Hong Kong is truly under 'one country, one system,'" Fung, a 27-year-old protester who asked to be identified by only her surname out of concern for her safety, told me.
Fung said that she and many of her friends awakened, bit by bit, to the totalitarianism of the Communist Party. Yet she held on to a little hope, a kind of dream, that the Chinese Communist Party could become more liberal, more free. Until now.
"Today, with this law passed, my friends [and I] think that we can never go back to what things were. Now we're just another city, like China's Guangzhou or Shanghai or Beijing, one of the cities under mainland China's control," Fung said.
Another protester, a 22-year-old who asked to remain anonymous for their safety, said via WhatsApp, "It's really the first time that I had a genuine feeling that I would be arrested just because of speaking aloud a slogan or holding a poster on the street."
---
What is the Sino-British Joint Declaration?  It is an agreement signed by Britain and China in 1984 to settle the future of Hong Kong. The two governments agreed China would reassume control of Hong Kong, which was occupied by Britain after the Opium War in 1840, from July 1, 1997 and Hong Kong would have autonomy* for 50 years. [*autonomy is the quality or state of being self-governing, especially: the right of self-government]
In accordance with the "one country, two systems" principle agreed between the UK and the China, the communist system of China would not be practiced in the Hong Kong, and Hong Kong's previous capitalist system and its way of life would remain unchanged for a period of 50 years until 2047.
During Hong Kong's Umbrella Revolution in 2014, a campaign against the infringements on freedom in Hong Kong by mainland China, Chinese officials said for the first time, that China considered the Joint Declaration "void," a position dismissed as "clearly wrong" by a senior Hong Kong legal scholar and rejected by the British foreign secretary, who noted that the document was a legally binding agreement that must be honored. (wikipedia, adapted)
Resources
Watch a January 31, 2021 report from DW (a German public state-owned broadcaster):
Daily "Answers" emails are provided for Daily News Articles, Tuesday's World Events and Friday's News Quiz.