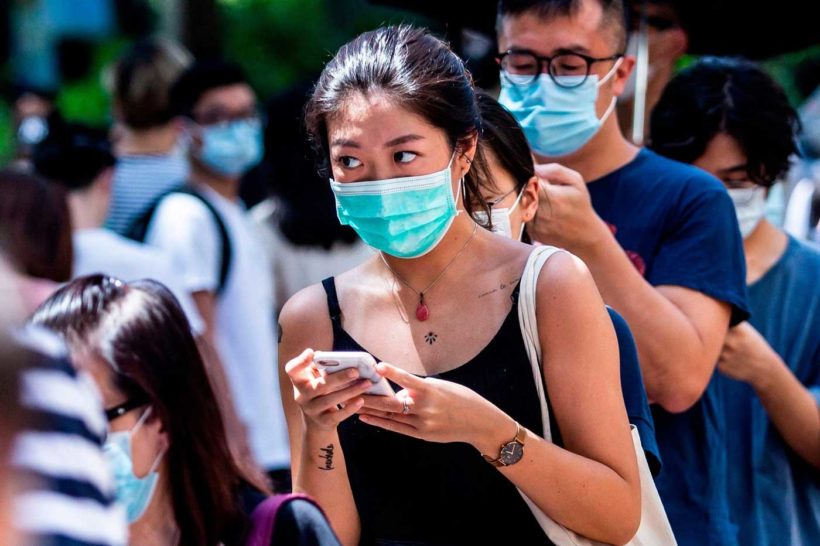 redo Jump to...
print Print...
(by Darryl Coote, UPI) — The Hong Kong Police Force launched a hotline on Thursday for residents to inform on those they believe have broken a controversial "national security" law implemented in the summer by China's communist government.
The Hong Kong police force (which is controlled by China's Communist Party) announced the launch of the hotline in a press release on Thursday, saying it was done "with a view to facilitating members of the public to provide or report national security-related information."
"This hotline is solely for receiving national security-related intelligence, such as information, photos, audio or video clips," the statement read. "The hotline will not give any replies or be answered."
The hotline is available through WeChat, text messaging and email, it said, claiming that all data collected will be handled in accordance with the Personal Data (Privacy) Ordinance and police will not collect any personal data and will not provide any information to a third party.
In July, after nearly a year of pro-democracy protests in Hong Kong, Beijing (the Communist Party of China) implemented a draconian national security law that outlawed acts of secession, sedition, subversion, terrorism and working with foreign actors to undermine the national security of China in the former British colony.
The law was met with widespread international condemnation and calls from democratic countries and rights groups for it to be repealed. U.S. Secretary of State Mike Pompeo has described it as the "death knell" for the autonomy Hong Kong was promised by China when it returned to Beijing rule from Britain in 1997.
Carrie Lam, Hong Kong's chief executive who is backed by China's Communist Party, defended the law saying it would protect the region's autonomy and would only target "an extremely small minority of criminals."
Residents waving pro-democracy flags and pro-democracy politicians have since been arrested under the new law.
Lam Cheuk-ting, a lawmaker with the Democratic Party, told RTHK's Hong Kong Today that the hotline will have a "chilling effect" on Hong Kong as it encourages residents to accuse one another.
"The Hong Kong people will think twice when they speak to each other in relation to any political topics, they will doubt whether their political stance will be reported," he said.
Amid reports last week that police were considering to launch the hotline, Joshua Wong, a prominent pro-democracy protester, said via Twitter that the tipline will be a threat to everyone, whether they are Hong Kong residents or foreign nationals.
"No matter where you [are], your private conversations, business chats, social media posts or school lectures can be reported via this new hotline," he said. "By putting 'eyes and ears everywhere,' the hotline can also be used for business retaliation, by encouraging citizens snitching on each other & cooking up charges against business competitors, just like what happened during China's Cultural Revolution."
Published at UPI .com on November 5. Reprinted here for educational purposes only. May not be reproduced on other websites without permission from United Press International.
Questions
NOTE: Before answering the following questions, read the info under "Background" and watch the video under "Resources" below.
1. List the who, what, where and when of the news report.
2. What is the purpose of the communist-controlled police hotline in Hong Kong?
3. What "assurance" does the communist-controlled police statement give Hong Kong residents?
4. What does the "national security" law do?
5. How did the free world respond to China's draconian law for Hong Kong?
6. a) Who is Carrie Lam?
b) How did Carrie Lam attempt to defend the law?
c) What proves Ms. Lam's claims to be false?
7. What ominous effect is the law having on free speech, according to lawmaker Lam Cheuk-ting?
8. Many law enforcement agencies maintain a tip line to enable citizens to report suspicious activities that appear criminal, or to provide information about a particular crime currently under investigation.
a) How is China's Hong Kong tipline different from the purpose of tiplines in free countries?
b) What did pro-democracy protester Joshua Wong say about the "tipline?" Be specific.
c) What is your response to Mr. Wong's tweet?
Background
What is the Sino-British Joint Declaration?  It is an agreement signed by Britain and China in 1984 to settle the future of Hong Kong. The two governments agreed China would reassume control of Hong Kong, which was occupied by Britain after the Opium War in 1840, from July 1, 1997 and Hong Kong would have autonomy* for 50 years. [*autonomy is the quality or state of being self-governing, especially: the right of self-government]
In accordance with the "one country, two systems" principle agreed between the UK and the China, the communist system of China would not be practiced in the Hong Kong, and Hong Kong's previous capitalist system and its way of life would remain unchanged for a period of 50 years until 2047.
During Hong Kong's Umbrella Revolution in 2014, a campaign against the infringements on freedom in Hong Kong by mainland China, Chinese officials said for the first time, that China considered the Joint Declaration "void," a position dismissed as "clearly wrong" by a senior Hong Kong legal scholar and rejected by the British foreign secretary, who noted that the document was a legally binding agreement that must be honored. (wikipedia, adapted)
---
HONG KONG NATIONAL SECURITY LAW: (from BBC News)
In June 2020, the Communist Party of China passed a wide-ranging new security law for Hong Kong which makes it easier for the communists to punish protesters and reduces the city's autonomy.  Those who support democracy have called it "the end of Hong Kong."
The details of the law's 66 articles were kept secret until after it was passed. The law came into effect June 30, an hour before the 23rd anniversary of the city's handover to China from British rule.
It gives Beijing powers to shape life in Hong Kong it has never had before. Critics say it effectively curtails protest and freedom of speech – China claims it will return stability.
The new law's key provisions include that:
Crimes of secession, subversion, terrorism and collusion with foreign forces are punishable by a maximum sentence of life in prison
Those found guilty will not be allowed to stand for public office
Companies can be fined if convicted under the law
Beijing (China's communist party) will establish a new security office in Hong Kong, with its own law enforcement personnel – neither of which would come under the local authority's jurisdiction
This office can send some cases to be tried in mainland China – but Beijing claims it will only have that power over a "tiny number" of cases
In addition, Hong Kong will have to establish its own national security commission to enforce the laws, with a Beijing-appointed adviser
Hong Kong's chief executive (the Communist-supported Carrie Lam) will have the power to appoint judges to hear national security cases, raising fears about judicial autonomy
Beijing will have power over how the law should be interpreted, not any Hong Kong judicial or policy body. If the law conflicts with any Hong Kong law, the Beijing law takes priority
Some trials will be heard behind closed doors.
People suspected of breaking the law can be wire-tapped and put under surveillance
Management of foreign non-governmental organizations and news agencies will be strengthened
The law will also apply to non-permanent residents and people "from outside [Hong Kong]… who are not permanent residents of Hong Kong".
---
On July 1, the day after China passed the "National Security" law for Hong Kong, pro-democracy protesters were out to voice their support for free speech. Vox reported on July 14:
When Britain handed Hong Kong over to China in 1997, it was with the promise that Beijing would honor Hong Kong's quasi-independence until at least 2047, under the rule known as "one country, two systems." The Chinese government has slowly eroded Hong Kong's autonomy in the years since…
The imposition of the national security law…directly threatens Hong Kong's civil society, independent press, and, most obviously, the territory's sustained pro-democracy movement.
The law means the "complete and total control of Hong Kong and total destruction of Hong Kong's system," Victoria Tin-bor Hui, a political science professor at Notre Dame University, told me.
Pro-democracy protesters [agreed]:
"I guess we have all seen this coming, but it just feels very surreal to everyone that Hong Kong is truly under 'one country, one system,'" Fung, a 27-year-old protester who asked to be identified by only her surname out of concern for her safety, told me.
Fung said that she and many of her friends awakened, bit by bit, to the totalitarianism of the Communist Party. Yet she held on to a little hope, a kind of dream, that the Chinese Communist Party could become more liberal, more free. Until now.
"Today, with this law passed, my friends [and I] think that we can never go back to what things were. Now we're just another city, like China's Guangzhou or Shanghai or Beijing, one of the cities under mainland China's control," Fung said.
Another protester, a 22-year-old who asked to remain anonymous for their safety, said via WhatsApp, "It's really the first time that I had a genuine feeling that I would be arrested just because of speaking aloud a slogan or holding a poster on the street."
Daily "Answers" emails are provided for Daily News Articles, Tuesday's World Events and Friday's News Quiz.