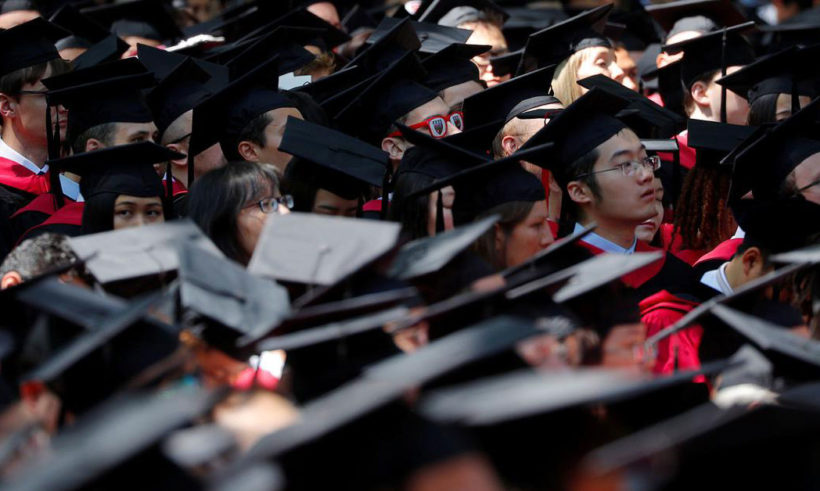 redo Jump to...
print Print...
(by Helen Davidson, UK Guardian) — The US has revoked the visas of more than 1,000 Chinese students and researchers [who have] ties to the Chinese military, accusing some of espionage….
China has been "abusing student visas to exploit American academia," said Chad Wolf, acting secretary for the Department of Homeland Security, in a speech on Wednesday.
"We are blocking visas for certain Chinese graduate students and researchers with ties to China's military fusion strategy to prevent them from stealing and otherwise appropriating sensitive research," Secretary Wolf said.
It follows a proclamation in late May from President Donald Trump that "certain graduate level and above Chinese nationals associated with entities in China" that support or work with the Chinese military, the People's Liberation Army (PLA) would be blocked from entering the US. He said Chinese nationals studying in the US had stolen intellectual property and assisted the PLA.
Last month the US secretary of state, Mike Pompeo, [implied actions might be taken] on student visas, telling a local radio show: "Not every Chinese student who is here is working on behalf of or at the behest of, the direction of the Chinese Communist party, but it's something President Trump has taken a serious, serious look at."
On Wednesday the state department confirmed more than 1,000 visas had been revoked under its "broad authority" since it began acting on the Trump order on June 1. A department spokeswoman declined to give details on the visas revoked, citing privacy laws, but said:
"The high-risk graduate students and research scholars made ineligible under this proclamation represent a small subset of the total number of Chinese students and scholars coming to the United States."
Chinese people make up the largest proportion of international university students in the US, with about 370,000 enrolled in 2018-19.
She said the US continued to welcome students and scholars from China, "who do not further the Chinese Communist party's goals of military dominance."
… China said in June it resolutely opposed any US move to restrict Chinese students from studying in the US and urged Washington to do more to enhance mutual exchanges and understanding. …
Published at the UK Guardian on September 9, 2020. Reprinted here for educational purposes only. May not be reproduced on other websites without permission from The Guardian.
Questions
NOTE: Before answering the following questions, read the info under "Background" and watch the videos under "Resources" below.
1. List the who, what, where and when of the news report.
2. What is China's military fusion strategy?
b) Why is the Trump administration revoking visas for those with ties to China's military fusion strategy?
3. What proclamation did President Trump make in May regarding some Chinese nationals in U.S. universities?
4. What percent of Chinese students studying in the U.S. had their visas cancelled?
5. From an Aug. 31 news article at The Hill:
A Chinese national conducting research at the University of Virginia was arrested on Aug. 28 on federal charges that included an attempt to steal trade secrets and computer intrusion. (Haizhou Hu was alleged to be in possession of bio-inspired research simulation software code that he was not authorized to possess, and which represented the result of years of research and resources in its development by members of the University of Virginia academic community.)

That arrest is the latest example of an increasing number of cases brought forth by federal law enforcement against Chinese nationals allegedly exploiting their positions in academia to commit economic espionage against the U.S.

In May, The New York Times reported that President Trump was weighing canceling visas for thousands of Chinese graduate students and researchers coming from Chinese universities that have ties to the People's Liberation Army, China's military.

Restrictions on Chinese students and researchers would be a blow to American universities, as the students represent one of the largest groups of international students paying to study in the United States. Their tuition payments are seen as bolstering programs in key areas of science, technology, engineering and math.

Additional restrictions or a ban on Chinese students likely would also trigger retaliatory measures from Beijing and further harm U.S.-Sino relations, which are already at a low point.
Re-read the last 2 paragraphs. What is your reaction to these assertions?
CHALLENGE: Watch Secretary of State Mike Pompeo's July 23 speech "Communist China and the Free World's Future."
How important is it for the government to take the threat seriously and act accordingly? Explain your answer.
Opinion question. Answers vary.
Background
Military-Civil Fusion and the People's Republic of China
"Military-Civil Fusion," or MCF, is an aggressive, national strategy of the Chinese Communist Party (CCP). Its goal is to enable the PRC (People's Republic of China) to develop the most technologically advanced military in the world. As the name suggests, a key part of MCF is the elimination of barriers between China's civilian research and commercial sectors, and its military and defense industrial sectors. The CCP is implementing this strategy, not just through its own research and development efforts, but also by acquiring and diverting the world's cutting-edge technologies – including through theft – in order to achieve military dominance.
What is MCF?
MCF is the CCP's strategy to develop the People's Liberation Army (PLA) into a "world class military" by 2049. Under MCF, the CCP is systematically reorganizing the Chinese science and technology enterprise to ensure that new innovations simultaneously advance economic and military development. PRC President and CCP General Secretary Xi Jinping personally oversees the strategy's implementation. He chairs the CCP's Central Military Commission and the Central Commission for Military-Civil Fusion Development.
Why is MCF So Important to the Chinese Communist Party?
The CCP sees MCF as critical to advancing its regional and global ambitions. It believes that artificial intelligence (AI) will drive the next revolution in military affairs, and that the first country to apply AI to next generation warfare will achieve military dominance. MCF aims to pave the way for the PRC to be the first country to transition to "intelligent warfare," and therefore develop the military capabilities it sees as critical to achieving these goals. (Read more from a Fact Sheet at state.gov)
Read "China's Military-Civil Fusion Strategy Poses a Risk to National Security"
Resources
Watch and/or read Secretary of State Mike Pompeo's July 23 speech "Communist China and the Free World's Future"
---
Secretary of State Mike Pompeo on the threat from China:
---
Watch a news report:
---
Read previous StudentNewsDaily articles about Chinese espionage against the U.S.:
Also, on Aug. 28, a Chinese national conducting research at the University of Virginia was arrested on federal charges that included an attempt to steal trade secrets and computer intrusion.
Daily "Answers" emails are provided for Daily News Articles, Tuesday's World Events and Friday's News Quiz.