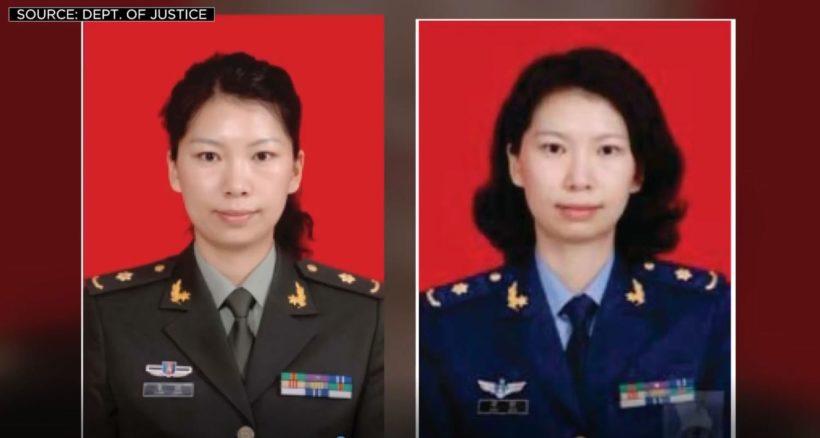 redo Jump to...
print Print...
(The Wall Street Journal) — Chinese government officials are warning [the U.S. that] they may detain U.S. nationals in China in response to the Justice Department's prosecution of Chinese military-affiliated scholars, according to people familiar with the matter.
The Chinese officials have issued the warnings to U.S. government representatives repeatedly and through multiple channels, the people said, including through the U.S. Embassy in Beijing.
The Chinese message, the people said, has been blunt: The U.S. should drop prosecutions of the Chinese scholars [who are secretly members of communist China's PLA]  in American courts, or Americans in China might find themselves in violation of Chinese law.
China started issuing the warning this summer after the U.S. began arresting a series of Chinese scientists [who were secretly members of the Chinese military], who were visiting American universities to conduct research, and charged them with concealing from U.S. immigration authorities their active duty statuses with the People's Liberation Army, the people said.
The arrests were the subject of a Wall Street Journal article that also reported U.S. allegations that Chinese diplomats were coordinating activities with the researchers, and described that as a factor in ordering China to close its Houston consulate in July and remove the remaining military scientists from the country. …
A State Department spokesman declined to address China's alleged threats to retaliate for the U.S. arrests of Chinese military scholars, saying: "We warn U.S. citizens that business disputes, court orders to pay a settlement, or government investigations into both criminal and civil issues may result in an exit ban which will prohibit your departure from China until the issue is resolved."
In a September travel advisory, the department recommended Americans avoid China travel for a number of reasons, including a warning that the Chinese government detains other countries' citizens "to gain bargaining leverage over foreign governments."
John Demers, head of the Justice Department's national security division, said: "We are aware that the Chinese government has, in other instances, detained American, Canadian and other individuals without legal basis to retaliate against lawful prosecutions and to exert pressure on their governments, with a callous disregard of the individuals involved."
Mr. Demers declined to comment on the specifics of the alleged Chinese threats made in conjunction with the U.S. cases against the Chinese researchers but added: "If China wants to be seen as one of the world's leading nations, it should respect the rule of law and stop taking hostages." …..
China began conveying the warnings after one of the Chinese military-affiliated scientists took up residence in China's San Francisco consulate for a month after being questioned by the FBI in June, according to one of the people familiar with the matter. Chinese officials told their U.S. counterparts they would detain an American in China if the U.S. didn't allow the researcher, Tang Juan, to leave the consulate and return to China.
U.S. officials say they expected China to make good on the threat, but it didn't, and the FBI arrested Ms. Tang in July when she left the consulate grounds.
A lawyer for Ms. Tang, who is out on bail after pleading not guilty to visa fraud charges, said in a statement that his "inquiries reveal nothing even remotely similar to any assertion that the Chinese government sought to interfere in Dr. Tang's case."
The lawyer, Malcolm Segal, added: "The Chinese government has played no role whatsoever in the case itself or in her defense, nor do I ever expect them to do so."
[Tang said on her visa application she had not served in the Chinese military, when in fact she "is a uniformed officer" in the People's Liberation Army, the Justice Department said in announcing charges against her.]
In addition to Ms. Tang, four other researchers recently accused of hiding their ties to the Chinese military have pleaded not guilty to similar charges. Two are scheduled to face trial next month.
Published at the WSJ .com on October 17, 2020. Reprinted here for educational purposes only. May not be reproduced on other websites without permission from The Wall Street Journal.
Questions
NOTE: Before answering the following questions, read the info under "Background" and watch the videos under "Resources" below.
1. List the who, what, where and when of the news report.
2. What is the Chinese government demanding the U.S. do about the arrested Chinese "scholars"?
3. a) What travel advisory did the U.S. State Department issue in September?
b) How seriously do you think Americans living in or traveling to China should take this warning?
4. Under "Background" below, read about the Chinese Communist Party's "Military-Civil Fusion" strategy. Some Republicans in Congress are pushing for an outright ban on visas for Chinese graduate and post-graduate students who want to study STEM fields in the U.S. What do you think?
Background
More from the WSJ article above:
Chinese prosecutors in June indicted two Canadian citizens on espionage charges, advancing a pair of cases widely seen as retribution for Canada's arrest of a prominent Chinese executive at Huawei Technologies Co. in conjunction with a U.S. extradition request.
Canadian Prime Minister Justin Trudeau has publicly criticized the arrests. On Thursday, China's ambassador to Canada hit back at Mr. Trudeau at a media event marking the 50th anniversary of diplomatic relations between the two countries.
Ambassador Cong Peiwu warned Canada to stop granting asylum to democracy activists from the Chinese territory of Hong Kong, saying Canada should support Beijing's implementation of a new national security law that many Western countries condemn as draconian, if it is concerned about the "health and safety" of 300,000 Canadians who live in the former British colony, according to a recording of the event the embassy posted online.
Asked by a journalist if he was issuing a threat, Mr. Cong replied: "That is your interpretation."
---
Military-Civil Fusion and the People's Republic of China
"Military-Civil Fusion," or MCF, is an aggressive, national strategy of the Chinese Communist Party (CCP). Its goal is to enable the PRC (People's Republic of China) to develop the most technologically advanced military in the world. As the name suggests, a key part of MCF is the elimination of barriers between China's civilian research and commercial sectors, and its military and defense industrial sectors. The CCP is implementing this strategy, not just through its own research and development efforts, but also by acquiring and diverting the world's cutting-edge technologies – including through theft – in order to achieve military dominance.
What is MCF?
MCF is the CCP's strategy to develop the People's Liberation Army (PLA) into a "world class military" by 2049. Under MCF, the CCP is systematically reorganizing the Chinese science and technology enterprise to ensure that new innovations simultaneously advance economic and military development. PRC President and CCP General Secretary Xi Jinping personally oversees the strategy's implementation. He chairs the CCP's Central Military Commission and the Central Commission for Military-Civil Fusion Development.
Why is MCF So Important to the Chinese Communist Party?
The CCP sees MCF as critical to advancing its regional and global ambitions. It believes that artificial intelligence (AI) will drive the next revolution in military affairs, and that the first country to apply AI to next generation warfare will achieve military dominance. MCF aims to pave the way for the PRC to be the first country to transition to "intelligent warfare," and therefore develop the military capabilities it sees as critical to achieving these goals. (Read more from a Fact Sheet at state.gov)
Read "China's Military-Civil Fusion Strategy Poses a Risk to National Security"
Resources
Watch and/or read Secretary of State Mike Pompeo's July 23 speech "Communist China and the Free World's Future"
---
Watch an October 18 news report:
---
Read previous StudentNewsDaily articles about Chinese espionage against the U.S.:
Also, on Aug. 28, a Chinese national conducting research at the University of Virginia was arrested on federal charges that included an attempt to steal trade secrets and computer intrusion.
Daily "Answers" emails are provided for Daily News Articles, Tuesday's World Events and Friday's News Quiz.