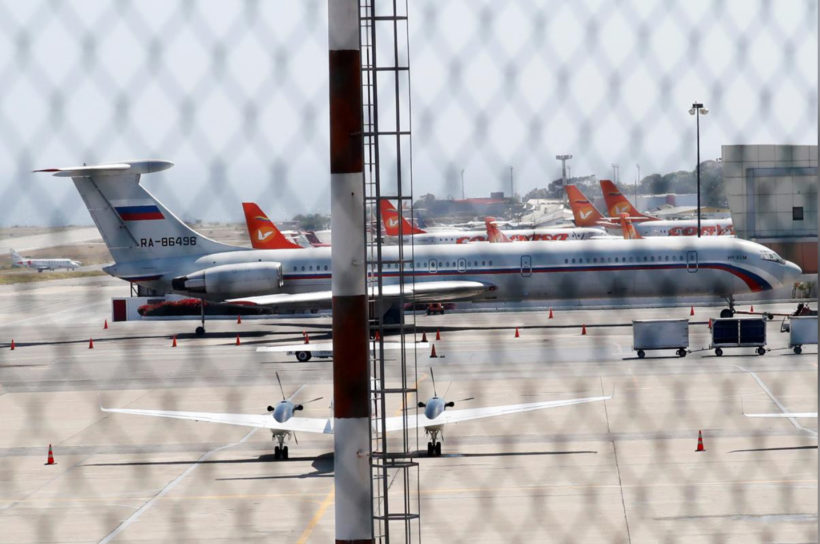 redo Jump to...
print Print...
CARACAS (Reuters) – Two Russian air force planes landed at Venezuela's main airport on Saturday carrying a Russian defense official and nearly 100 troops, according to media reports.
A flight-tracking website showed that two planes left from a Russian military airport bound for Caracas on Friday, and another flight-tracking site showed that one plane left Caracas on Sunday.
That comes three months after the two nations held military exercises on Venezuelan soil that socialist President Nicolas Maduro called a sign of strengthening relations, but which Washington criticized as Russian encroachment in the region.
Reporter Javier Mayorca wrote on Twitter on Saturday that the first plane carried Vasily Tonkoshkurov, chief of staff of the ground forces, adding the second was a cargo plane carrying 35 tons of material.
An Ilyushin IL-62 passenger jet and an Antonov AN-124 military cargo plane left for Caracas on Friday from Russian military airport Chkalovsky, stopping along the way in Syria, according to flight-tracking website Flightradar24.
The cargo plane left Caracas on Sunday afternoon, according to Adsbexchange, another flight-tracking site.
The flights carried officials who arrived to "exchange consultations," wrote Russian government-owned news agency Sputnik, which quoted an unnamed source at the Russian embassy.
"Russia has various contracts that are in the process of being fulfilled, contracts of a technical military character," Sputnik quoted the source as saying.
A Reuters witness saw what appeared to be the passenger jet at the Maiquetia airport on Sunday.
Venezuela's Information Ministry did not immediately reply to a request for comment. Russia's Defense Ministry and Foreign Ministry did not reply to messages seeking comment. The Kremlin spokesman also did not reply to a request for comment.
The Trump administration has levied crippling sanctions on Venezuela's oil industry in efforts to push Maduro from power following a sham election and has called on Venezuelan military leaders to abandon him in support of the people. Maduro has denounced the sanctions as U.S. interventionism and has won diplomatic backing from the authoritarian regimes of Russia and China.
In December, two Russian strategic bomber aircraft capable of carrying nuclear weapons landed in Venezuela in a show of support for Maduro's socialist government.
Maduro on Wednesday said Russia would send medicine "next week" to Venezuela, without describing how it would arrive, adding that Moscow in February had sent some 300 tons of humanitarian aid.
Venezuela in February had blocked a convoy carrying humanitarian aid for the crisis-stricken country that was coordinated with the team of opposition leader Juan Guaido, including supplies provided by the United States, from entering via the border with Colombia. [Guaido is recognized as the interim president of Venezuela by at least 70 countries, including most South and Central American countries.]
Reporting by Carlos Garcia, Carlos Jasso, Diego Ore and Brian Ellsworth in Caracas, and Maria Tsvetkova and Gabrielle Tetrault-Farber in Moscow; Editing by Leslie Adler and Chris Reese.
Published at Reuters .com on March 24. Reprinted here for educational purposes only. May not be reproduced on other websites without permission from Thomson Reuters.
Questions
1. For RUSSIA, give the following information:
capital

location/the countries that share its borders

the religious breakdown of the population

the type of government

the chief of state (and head of government if different) If monarch or dictator, since what date has he/she ruled? – include name of heir apparent for monarch

the population
Find the answers at the CIA World FactBook website. For each country, answers can be found under the "Geography" "People" and "Government" headings.
NOTE: Before answering the following questions, read the info under "Background" and watch the video under "Resources" below.
2. For RUSSIA:
a) list the who, what, where and when of the news item
b) What did Russia send to Venezuela in addition to a Russian defense official?
c) How did the media obtain this information?
d) How have Russian and Venezuelan officials responded to questions on this information?
e) Read the "Background" below for the U.S. response to Russia's actions. Check out the links under "Resources." Why is it important for the U.S. to oppose Russian involvement in Venezuela? (Ask a parent if unsure.)
Background
U.S. response to Russia (from a March 25 Agence France-Presse report):
Secretary of State Mike Pompeo warned Russia Monday the United States will not "stand idly by" as Moscow inserts military personnel into Venezuela to support the regime of President Nicolas Maduro.
In a phone call with Foreign Minister Sergei Lavrov, Pompeo denounced the growing Russian military reinforcements as prolonging the political crisis in the South American country.
Pompeo told Lavrov "the United States and regional countries will not stand idly by as Russia exacerbates tensions in Venezuela," the State Department said in a statement.
"The continued insertion of Russian military personnel to support the illegitimate regime of Nicolas Maduro in Venezuela risks prolonging the suffering of the Venezuelan people who overwhelmingly support interim President Juan Guaido," he said.
Guaido is supported by the United States and most Latin American and European nations but he retains the support of Russia and China, US rivals who have offered political and economic support to him.
Pompeo urged Russia to "cease its unconstructive behavior" and support Guaido.
---
MADURO PREVENTED FOOD AID FROM REACHING HIS PEOPLE – From a Feb. 23 UK Guardian report:
What we know so far (as of Feb. 23):
Convoys of trucks carrying food aid and medical supplies set off for Venezuela from border towns in Colombia and Brazil, joined by opposition leaders and volunteers. Supporters were met with teargas and rubber bullets from Socialist President Maduro's troops, and at least three aid trucks near the Colombian border were burned. None of the shipments made it past Venezuelan border blockades.
A ship carrying 250 tons of humanitarian aid from Puerto Rico was forced to turn back when the Venezuelan Navy threatened to open fire. Puerto Rico Governor Ricardo Rossello called this "a direct threat against a humanitarian mission being carried out by American citizens
Embattled president Nicolás Maduro rallied his supporters with a speech where he labeled the opposition forces trying to get aid into the country "traitors," and denounced alleged interference by the United States
In a joint press conference with the president of Colombia, Venezuelan opposition leader Juan Guaidó said the military did not owe loyalty to regime that would burn food in front of hungry people. He called on them to leave their posts and said he would meet with the Lima Group and US vice president Mike Pence on Monday to work out a way forward on the crisis.
Daily "Answers" emails are provided for Daily News Articles, Tuesday's World Events and Friday's News Quiz.