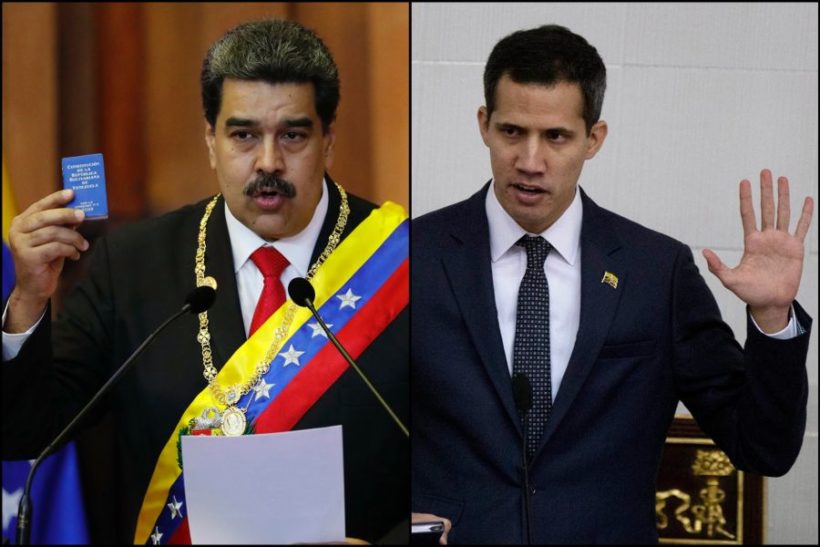 (from UPI by Clyde Hughes, with Reuters) — Many European countries have followed the lead of the United States and recognized Venezuelan opposition leader Juan Guaido as Venezuela's new leader.
Britain, Spain, France, Germany, Austria and Denmark all announced they recognize Guaido as the country's president, which came after embattled Venezuelan President Nicolas Maduro rejected calls for new elections. The Czech Republic, Estonia, Germany, Poland, Portugal, and Sweden, as well as Israel, Australia, and Canada also sided with the United States to recognize Guaido.
"Maduro has not called presidential elections within eight-day limit we have set," British Foreign Minister Jeremy Hunt said on Twitter Monday. "So U.K. alongside European allies now recognizes Guaido as interim constitutional president." He added, "The oppression of the illegitimate, kleptocratic Maduro regime must end."
French President Emmanuel Macron tweeted he backs Guaido as the "acting president to implement an electoral process."
"From today, we will spare no effort in helping all Venezuelans achieve freedom, prosperity, and harmony," Spanish Prime Minister Pedro Sánchez said, urging both fair elections and humanitarian aid.
In Central and South America, the majority of nations, are backing Guaido. Brazil, Argentina, Chile, Peru, Colombia, Paraguay, Ecuador, Guatemala, Costa Rica, Honduras, and Panama have all announced their support for the interim leader. In addition, the newly elected left-leaning president of Mexico, [the leftist governments of] El Salvador, Nicaragua, Bolivia, and [the Communist government of] Cuba sided with Maduro.

Russia and China have, which have poured billions of dollars of investment and loans into Venezuela, are both supporting Maduro. The Maduro government is paying off both countries' loans with oil.

[Following the weekend announcements] Russia slammed the moves to recognize Guaido, saying they interfere in Venezuelan internal politics.
"The internal political crisis in Venezuela can be resolved only by Venezuelans themselves," Kremlin spokesman Dmitry Peskov said on Monday. "The imposition of any solutions or the attempt to legitimize the attempt of the power usurpation is, in our viewpoint, the direct and indirect interference in Venezuela's internal affairs."
French Foreign Minister Jean-Yves Le Drian pushed back Monday on the interference charge.
"This is not foreign meddling insofar as there is a crisis and a call from President Guaido to support him in re-establishing democracy," Le Drain told French radio. "We believe there must be elections to validate the choice of Venezuelans."
Canadian Prime Minister Justin Trudeau said he spoke with Guaido Sunday in a show of support while the United States said military action is an option.
Maduro has slammed efforts to remove him as coup attempts. Russia and China have reiterated support for his presidency, along with Bolivia, Cuba, Iran, Nicaragua, Syria and Turkey.
Guaido has courted officials in both Moscow and Beijing in an effort to sway the two powers to his side.
From UPI on Feb. 4 with Reuters. Reprinted here for educational purposes only. May not be reproduced on other websites without permission.
Questions
1. For VENEZUELA, give the following information:
capital

location/the countries that share its borders

the religious breakdown of the population

the type of government

the chief of state (and head of government if different) If monarch or dictator, since what date has he/she ruled? – include name of heir apparent for monarch

the population
Find the answers at the CIA World FactBook website. For each country, answers can be found under the "Geography" "People" and "Government" headings.
NOTE: Before answering the following questions, read the information and watch the video under "Resources" below.
2. For VENEZUELA:
a) list the who, what, where and when of the news item
b) List the Latin American countries that have joined the U.S. in recognizing Venezuelan opposition leader Juan Guaido as interim president.
c) List the European and others that have also done so.
d) Why did these governments take this step following the U.S. lead?
e) Which countries' leaders back Venezuela's socialist leader Nicholas Maduro?
f) How did French Foreign Minister Jean-Yves Le Drian respond to Russia's accusation that those opposed to Maduro are interfering?
Resources
Watch a Feb. 4 CNN report:
---
Read previous articles on the crisis in Venezuela brought on by the policies of Socialist leader Maduro:
Daily "Answers" emails are provided for Daily News Articles, Tuesday's World Events and Friday's News Quiz.