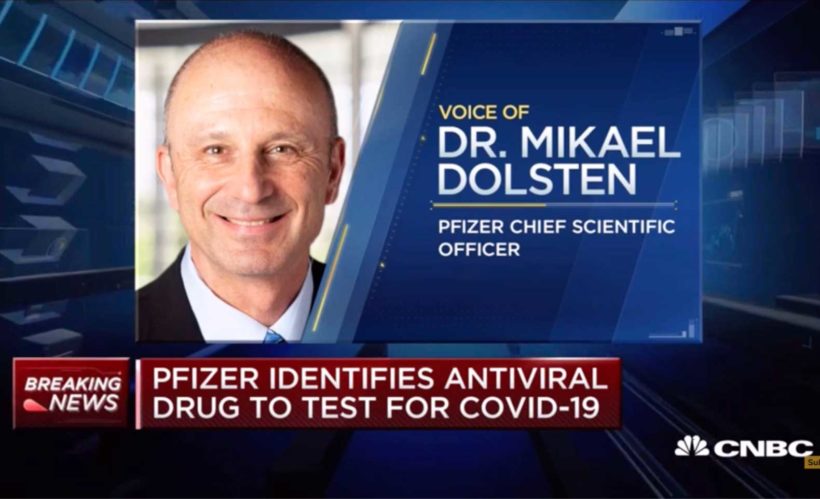 redo Jump to...
print Print...
The drugmaker said preclinical studies showed that an unspecified compound that was originally used to treat SARS — a different coronavirus — has shown potential in battling the dangerous illness.
Pfizer research chief Mikael Dolsten said the drug blocks COVID-19 from replicating, slowing the spread in mild or moderate cases, the Wall Street Journal reported.
The company said it will conduct additional preclinical studies and plans to launch human trials in the summer.
Pfizer also said it will support studies to determine whether its existing medicines, including its rheumatoid arthritis drug Xeljanz, may provide help for those suffering from respiratory problems from the virus.
The drugmaker has also finalized a plan to work with German company BioNTech to develop a vaccine, which could be tested in human trials as early as the end of the month. The companies hope to produce millions of vaccines by the end of 2020. [The Wall Street Journal report says Pfizer "aims produce hundreds of millions of vaccines next year."].
"I feel confident that we will win, battle by battle, to turn around this viral war against our society," Dolsten told the Journal.
Dozens of companies and university researchers have been hustling to develop therapies or vaccines against the virus. More than 140 are in development world-wide, most in early stages, including about a dozen already in clinical trials, according to Informa Pharma Intelligence.
Pfizer, based in New York City, assembled a team of 50 researchers from various departments to work on the coronavirus, and ramped up projects exploring different potential medicines.
Pfizer's lab research suggests that its lead drug and similar candidates are strong blockers of a key enzyme, known as a protease, that helps viruses replicate, Dr. Dolsten said. Pfizer plans to begin studying the lead drug in patients as early as August, several months ahead of schedule.
"Time is urgent here," he said. "Every hour, every day counts."
To be able to make sufficient supplies of the drug candidate for testing, Pfizer several weeks ago bought the raw materials needed to manufacture the medicine, said Charlotte Allerton, who leads Pfizer's medicine design.
The company's partnership with BioNTech is exploring a vaccine based on the gene-based technology known as messenger RNA. Messenger RNA, or mRNA, carry instructions from DNA to the body's cells to make certain proteins.
No mRNA vaccines have been approved. Moderna Inc. has begun testing its mRNA coronavirus vaccines in patients. If the clinical studies succeed, it could be ready for use as soon as early next year, researchers say.
Inovio Pharmaceuticals also has begun testing a DNA vaccine.
Last month, Pfizer said it would make some of its research on the virus available publicly online for other researchers. The drugmaker also said it would offer available manufacturing capacity to other companies, if they win approval and require help making their medicines.
Compiled from articles published on April 9 at NYPost .com with Post wires and wsj .com. Reprinted here for educational purposes only. May not be reproduced on other websites without permission from the New York Post and the Wall Street Journal.
Questions
1. The first paragraph of a news article should answer the questions who, what, where and when. List the who, what, where and when of this news item. (NOTE: The remainder of a news article provides details on the why and/or how.)
2. Define preclinical trial and compound as used in the article.
3. a) What have Pfizer's preclinical studies shown?
b) What effect has Pfizer's drug had on Covid-19 in the preclinical studies?
4. a) How many coronavirus therapies or vaccines are currently in development worldwide?
b) How many researchers has Pfizer alone assembled to work on the coronavirus?
5. How did Pfizer prepare several weeks ago to be able to conduct the current tests?
6. What did Pfizer announce last month about sharing its coronavirus research?
7. Check out the video and links to additional articles under "Resources" below. Define the following idioms. Which one do you think best describes this news? Explain your answer.
there's light at the end of the tunnel
its always darkest before the dawn
there are plenty of fish in the sea
every cloud has a silver lining
Background
As scientists around the globe race to find ways to treat COVID-19, the fastest approach to finding a treatment may be to repurpose existing drugs in the hopes of avoiding having to start from "square one" on the drug development pathway. There are dozens of existing drugs currently being evaluated for treating COVID-19 and its symptoms, ranging from a failed Ebola treatment to arthritis and diabetes medications.
In addition to evaluating its current portfolio of therapeutics for a compound that can treat COVID-19 and/or its symptoms, Pfizer scientists are working to revive a compound that they identified in 2003 as a potential treatment for the Severe Acute Respiratory Syndrome (SARS) epidemic in China. The Pfizer compound was developed to inhibit a specific enzyme called a protease, produced by coronaviruses, which are responsible for causing SARS in 2003 and COVID-19 today.
Since the 2003 and 2019 strains are very similar, scientists have reason to believe that this compound can be developed to treat the current pandemic, and they recently shared that preliminary data confirm the compound shows antiviral activity against SARS-CoV-2. "This is a critical enzyme that a coronavirus needs to replicate and we had discovered a very potent inhibitor against it for SARS," says Rob Kania, Senior Director, Design Chemistry based at Pfizer's La Jolla, California, research site. "With the advances we made back in 2003, we're at a very good starting point to apply learnings to the current outbreak," adds Kania, who led the team of scientists that identified the compound in 2003.
While not starting at "square one," there are still months of work ahead before the compound will potentially be ready for testing in humans. "The fact that we already have a compound with a mechanism that seems to have the potential to treat COVID-19 is fantastic," says Annaliesa Anderson, Chief Scientific Officer of Bacterial Vaccines and Hospital at Pfizer. "We're definitely much further ahead than we would be if we were starting from scratch. A key piece of this is the people involved; we have such a talented group of scientists working on this effort, and everyone has the same goal in mind: to help patients now and to prevent this situation from taking foothold in the future." (excerpted from an April 8 post at Pfizer's breakthroughs.com)
Resources
Watch an April 9 CNBC report:
---
Previous articles on vaccines for coronavirus:
And on treatments and tests:
Daily "Answers" emails are provided for Daily News Articles, Tuesday's World Events and Friday's News Quiz.