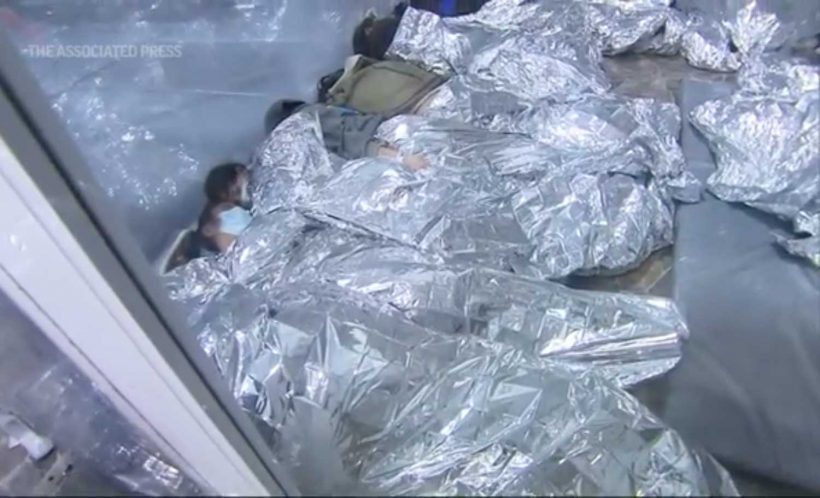 redo Jump to...
print Print...
The Biden administration for the first time allowed reporters [to see the site – but only reporters] from the Associated Press and CBS were permitted to tour the crammed US Customs and Border Protection facility in Donna, Texas.
The structure has a capacity of 250 — but the AP reported that more than 4,100 migrants, most of them unaccompanied kids, are currently being held there.
The children were being loaded by the hundreds into eight pods about 3,200 square feet in size. Many of the pods had more than 250 kids in them.
The youngest of them (ages 3-9) were kept in a large play pen with mats on the floor for sleeping.
The kids are processed in the tents before being hauled to Department of Health and Human Services shelters and then placed with relatives or sponsors.
Journalists observed the minors being processed on Tuesday. The kids were first taken to small rooms inside the tents for health assessments, including checks for lice, scabies, fever and other ailments.
No COVID-19 test was administered unless a child showed symptoms of the virus.
The kids also underwent psychological tests, with nurse practitioners asking if they had any suicidal thoughts. All shoelaces were removed.
Then, the minors were brought to a large intake room where those 14 and older were fingerprinted and had their photo taken.
They were then taken to a second intake room where they were given notices to appear in immigration court.
Kids who had a contact in the US were allowed to speak with that person on the phone.
Children were given bracelets with a barcode that showed a history of when they had showered and any medical conditions.
With Post wires
Questions
NOTE: Before answering the questions, read the "Background" and watch the video under "Resources."
1. a) What is the capacity of the US Customs and Border Protection facility in Donna, Texas?
b) How many children are being held in this facility?
2. Where are the youngest unaccompanied children – ages 3-9 – held?
3. a) Where do the unaccompanied children eventually go?
b) What are sponsors?
4. What types of individual medical conditions were the children examined for?
5. a) The medical histories of the children and potential previous contact with covid positive people are unknown. Were they all given covid tests?
b) Why do you think this is so?
c) In the San Diego facility, it was reported that 10% of children tested positive for covid. (No report on the Donna facility.) What should the Biden administration do about the close contact living conditions of the children housed in the CBP facilities?
d) Have you had to have covid tests for school or to play a sport?
6. a) What were the children who had a contact in the US allowed to do?
b) What did the children who traveled to the U.S. unaccompanied and don't have a contact in the U.S. do?
7. a) Which children were fingerprinted and had their photo taken?
b) Why do you think is it important to do this?
c) Some Republicans have suggested that all of those crossing the border should have DNA samples taken. How would this help protect the children? Explain your answer.
8. Consider the following:
Joe Biden was a U.S. senator for almost 40 years. He first took office during the Nixon administration, before President Nixon resigned (in 1974) following the Watergate scandal.
Mr. Biden was also vice president under Barack Obama for 8 years, during which time the first huge border crisis (2014) of unaccompanied children occurred. (The Democrats held the majority in both the House and the Senate under President Obama / VP Biden, yet Congress never acted to fix immigration law.)
During his time in office in which another influx of unaccompanied children occurred, President Trump put in place several measures to solve the crisis (the "Remain in Mexico" policy, began building a border wall and ended President Obama's "Catch and Release" program).
Upon taking office, President Biden froze the funding President Trump had secured for the border wall, ended the Remain in Mexico police and reinstated the "Catch and Release" program.
President Biden has refused to visit the border or call the largest number of migrants coming in in 20 years a crisis. (The media also refuses to use the word crisis.)
President Biden has no plans to visit the border to observer conditions firsthand. Over a week ago, the president appointed Vice President Kamala Harris as his "immigration czar" to solve the crisis on the border. The president said he was giving her a "tough job" but that she was "the most qualified person to do it." Vice President Harris has yet to say if/when she will visit the border.
Republicans (and some Democrats, especially those in or representing border towns) have asked President Biden to reimplement Trump's policies that worked to solve the crisis.
What do you think? Should President Biden do so? Explain your answer.
9. a) Why do you think the Biden administration blocked all reporters from visiting the CBP facilities until this week, while the Trump administration gave them access?
b) Why do you think only 2 news organizations – CBS and Associated Press – were finally given access by the Biden administration, while all other media outlets were denied access?
Background
In March 2019, DHS Secretary Kirstjen Nielsen of the Trump administraton said in an interview that human traffickers are using "child recycling rings" to smuggle people across the U.S.-Mexico border illegally.
Nielsen told Fox News that the practice essentially uses the kidnapping and passing around of children as a way to skirt U.S. immigration laws.
When an adult enters the country with a kidnapped child, it allows them to lie and claim they are a family, and use immigration laws that are lenient towards families to get released by authorities into the interior of the United States.
"The smugglers are more active than ever before at advertising how to come into this country with a child. We've broken up so-called 'child recycling rings,' if you can believe it, in the last couple months, which is where smugglers kidnap a child, they give it to an adult to cross the border, [and they] present themselves as a family.

"Once they get in, because, as you know, we can only hold families for 20 days, they send the child back, and bring the child back with another family—another fake family, [meaning] another adult," Nielsen told Fox News.
Read Secretary Nielsen's March 29, 2019 statement at the DHS website about the practice of using children to gain entry.
Nielsen says that flaws in U.S. immigration laws have allowed and encouraged this practice.
"This goes well beyond politics. We must come together to find a way to tackle the crisis and reduce the flows so children are not put at risk. Any system that encourages a parent to send their child alone on this terrible journey—where they are exploited, pawned, and recycled—is completely broken," Nielsen added.
Nielsen travelled to Honduras on March 27 [2019] to meet with government officials from Honduras, Guatemala, and El Salvador, and signed a historic Memorandum of Cooperation multi-country agreement on border security cooperation.  (from an April 3, 2019 NTD News article)
(Congress still has not acted to change immigration law to protect children.)
---
The problem with President Biden's open borders policy:
Border Patrol Chief Brian Hastings from the Rio Grand Valley sector tweeted on March 27:
Border Patrol agents recently encountered 5 large groups of illegal aliens near the Rio Grande. In total, 539 individuals were taken into custody.

Within the groups, were 93 unaccompanied children alien (UAC). So far this fiscal year #RGV has encountered over 18K UACs.
---
Deputy Chief Patrol Agent Joel Martinez from the Rio Grand Valley sector tweeted on March 31:
Two child predators were arrested by #USBP within 3 hrs after they illegally entered the U.S.

Record checks revealed the sex offenders committed their crimes against children residing in the Rio Grande Valley.
With the border patrol agents overwhelmed – and taken off regular duties to take care of the unaccompanied children, how many criminals have not been apprehended?
Resources
NOTE: U.S. Customs and Border Protection website states: "Border Patrol Agents are focused 24/7 on securing our international land borders and coastal waters between ports of entry." There is no mention of caring for children. It is not the role of the agents.
See previous articles:
Vaccine passports could potentially require Americans to show proof of a negative test or a vaccine in order to travel, shop, attend sporting events, etc.
News from the border (March 22)
---
Watch a video from the Associated Press (AP):
Daily "Answers" emails are provided for Daily News Articles, Tuesday's World Events and Friday's News Quiz.