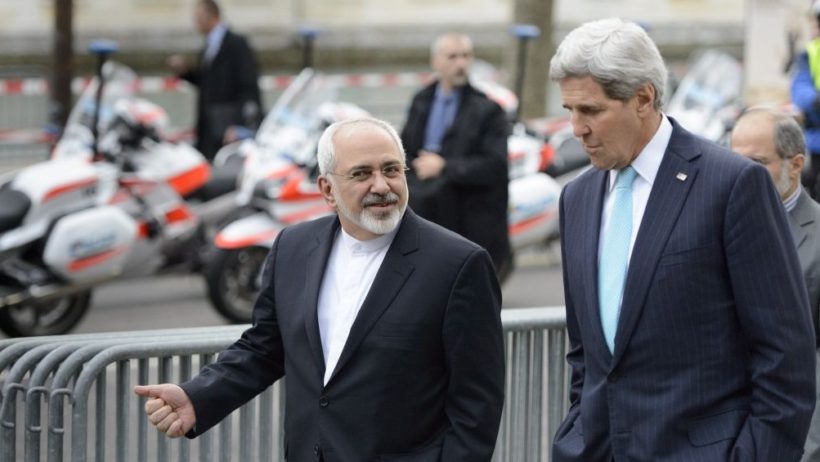 redo Jump to...
print Print...
(by Tyler O'Neil) — Former Obama administration officials, including former Secretary of State John Kerry, went behind President Donald Trump's back in backchannels with Iran, sources told The Washington Times. Some of the architects of the Obama administration's Iran nuclear deal met with Iranian Foreign Minister Mohammad Javad Zarif after President Trump withdrew from the deal.
A slew of former Obama officials, including Kerry, Obama's Middle East advisor Robert Malley, and Obama-era Secretary of Energy Ernest Moniz, met with Zarif during the Trump years. Kerry, Malley, and Moniz led negotiations in Obama's 2015 Joint Comprehensive Plan of Action (JCPOA), in which the U.S. provided sanctions relief and access to tens of billions of dollars in frozen bank accounts in exchange for Iran's promises to limit nuclear enrichment.
Trump pulled the U.S. out of the deal in 2018, citing the need for a tougher agreement that also addressed Iran's support for terrorist groups and its destabilizing behavior in the Middle East. Yet a former senior U.S. official told The Washington Times that Zarif met with Democrats like Kerry multiple times in 2017, 2018, and 2019, before the Trump administration halted the Iranian foreign minister's visa in 2020.
The former official told the Times that Zarif's meetings aimed "to devise a political strategy to undermine the Trump administration" and to build support for a new version of the Iran deal in case a Democrat returned to the White House in 2021.
Kerry acknowledged meeting with Zarif at least twice [during President] Trump's administration. He told radio host Hugh Hewitt that there was nothing secret about his meetings with the Iranian minister. Kerry said he intended to find out "what Iran might be willing to do in order to change the dynamic in the Middle East for the better."
The Associated Press reported that Moniz met with Zarif in 2018 and that Iran deal negotiator Wendy Sherman met with the Iranian foreign minister on the sidelines of the Munich Security Conference, also in 2018. President Joe Biden nominated Sherman to serve as deputy secretary of state.
Most of the Zarif meetings took place before Trump withdrew from the Iran deal, but Malley met with Zarif in 2019. Sources told the Times "it's likely that Mr. Malley urged Iranian officials to wait out the Trump presidency with the expectation that a Democratic administration in 2021 would restore Obama-era policy."
At the time, Malley led the International Crisis Group [a think-tank performing research and analysis on global crises]. In July 2019, a spokesman for the group said Malley's meeting with Zarif was simply part of Malley's "regular contacts with all parties, whether it be Iran, the U.S., Gulf states, or European countries." Malley did not respond to the Times' request for comment.
A Biden administration State Department spokesperson refused to address specific questions about Malley's meetings with Zarif.
"We categorically reject baseless smears against dedicated public servants," the spokesperson said.
Biden's Secretary of State Antony Blinken has tapped Malley for his Iran outreach. While Biden has offered to reinstate the Iran deal if Iran again pledges to decrease its uranium enrichment, Iran's autocratic Supreme Leader Ayatollah Khamenei has refused to limit uranium enrichment to 20 percent, declaring that enrichment may go as high as 60 percent. Nuclear weapons require an enrichment level of 90 percent.
Mark Dubowitz, chief executive at the Foundation for Defense of Democracies, told the Times, "…it is not good practice for senior officials who served at the highest levels of a former administration, Democratic or Republican, to be trying to undermine the policy of a sitting administration by engaging actively with a known enemy of the United States."
…Malley was reportedly engaging in this "shadow diplomacy" while Iran-backed militias targeted U.S. troops in Iraq, leading up to the assassination of Iran's elite Quds Force General Qasem Soleimani in January 2020.
Sources also told The Washington Times that Zarif wields tremendous influence over the Iran lobby in the U.S. They described a "web" of activity linked to think tanks across the U.S. as well as lobbying efforts that reached into the Obama White House.
Many members of Congress, including Reps. Barbara Lee (D-Calif.), Ilhan Omar (D-Minn.), and Rashida Tlaib (D-Mich.), have hired current or former staffers with the National Iranian-American Council (NIAC), an organization with links to Iran's regime and which Iran state media has described as "Iran's lobby" in the U.S.
Published at pjmedia .com. Reprinted here for educational purposes only. May not be reproduced on other websites without permission.
Questions
1. The first paragraph of a news article should answer the questions who, what, where and when. List the who, what, where and when of this news item. (NOTE: The remainder of a news article provides details on the why and/or how.)
2. What position did each man hold in the Obama administration?
a) John Kerry
b) Robert Malley
c) Ernest Moniz
3. What was President Obama's JCPOA?
4. Why did President Trump pull the U.S. out of the JCPOA?
5. a) How many times/when did John Kerry and other former-Obama administration officials meet with Iran's Foreign Minister Mohammad Javad Zarif during President Donald Trump's presidency?
b) For what reason did private citizens Kerry, Malley and Moniz meet with Iran's Foreign Minister Mohammad Javad Zarif?
6. a) Kerry admitted to some of his meetings as a private citizen with Iran's Zarif during Trump's presidency. What did he say the purpose of his meetings were?
b) What do you think of Mr. Kerry's explanation?
7. a) Who is Wendy Sherman?
b) For what position in his administration has President Biden nominated Ms. Sherman?
8. In 2018, columnist Cal Thomas wrote of then private citizen John Kerry's actions meeting with Iran's leaders:
Obama's former secretary of state, John Kerry, has been behaving as if he's still in office. Kerry, writes the Boston Globe, "engaged in some unusual shadow diplomacy" with Iran's foreign minister, Javad Zarif, at the United Nations in New York, reportedly to try and salvage the Iran nuclear deal they "spent years negotiating."

The Logan Act (a federal law signed by President John Adams in 1799) forbids private citizens "from engaging in unauthorized correspondence with foreign governments" that have "any disputes or controversies with the United States." That includes direct or indirect correspondence, unauthorized meetings or discussions, any contact at all. Violation can result in a fine, up to three years in prison, or both.

Is John Kerry an authorized person? No. Is Iran a foreign government? Yes. Does Iran have a "dispute" with the United States? It does. Has John Kerry committed a criminal offense? The chairman of the House Permanent Select Committee on Intelligence, Rep. Devin Nunes (R-CA), has called for Kerry to be arrested for violating the Logan Act. That is unlikely to happen.
Read the "Background" and check out the links under "Resources" below.
John Kerry has been appointed to a new position "Climate Envoy" by President Biden.
a) What do you think of Mr. Kerry's meetings with American enemies during President Trump's tenure? (A huge story, or, nothing to see here?) Explain your answer.
b) Do you think these former Obama officials actions should affect President Biden's decision to appoint them to positions of power in his administration? Why or why not – explain your answer.
---
CHALLENGE: Mr. O'Neil asked: "Did the Obama administration architects of the Iran deal carry out a "shadow diplomacy" with the world's largest state sponsor of terrorism in order to undermine President Trump, hoping that a Democrat would win in 2020 and return them to power? Did they work with the Iran lobby behind the scenes? This report suggests the answers to those questions are "yes," but the details are yet to be forthcoming."
Follow this story in the news for further updates.
Background
JCPOA: President Trump had withdrawn from the controversial Iran nuclear deal President Obama made in 2015 without congressional approval, bypassing Congress by calling it an executive action instead of a treaty. The other countries who had signed on with Obama did not withdraw.
---
In his address to the nation on Iran on Jan. 9, 2020, President Trump said in part: (watch video here)
In recent months alone, Iran has seized ships in international waters, fired an unprovoked strike on Saudi Arabia, and shot down two U.S. drones.

Iran's hostilities substantially increased after the foolish Iran nuclear deal was signed in 2013, and they were given $150 billion, not to mention $1.8 billion in cash. Instead of saying "thank you" to the United States, they chanted "death to America." In fact, they chanted "death to America" the day the agreement was signed.

Then, Iran went on a terror spree, funded by the money from the deal, and created hell in Yemen, Syria, Lebanon, Afghanistan, and Iraq. The missiles fired last night at us and our allies were paid for with the funds made available by the last administration [the Obama administration]. The regime also greatly tightened the reins on their own country, even recently killing 1,500 people at the many protests that are taking place all throughout Iran.

The very defective JCPOA* expires shortly anyway, and gives Iran a clear and quick path to nuclear breakout. Iran must abandon its nuclear ambitions and end its support for terrorism. The time has come for the United Kingdom, Germany, France, Russia, and China to recognize this reality. [*President Trump had withdrawn from the controversial Iran nuclear deal President Obama made in 2015 without congressional approval, bypassing Congress by calling it an executive action instead of a treaty. These other countries who had signed on with Obama did not withdraw when Trump did.]

They must now break away from the remnants of the Iran deal -– or JCPOA –- and we must all work together toward making a deal with Iran that makes the world a safer and more peaceful place. We must also make a deal that allows Iran to thrive and prosper, and take advantage of its enormous untapped potential. Iran can be a great country.

Peace and stability cannot prevail in the Middle East as long as Iran continues to foment violence, unrest, hatred, and war. The civilized world must send a clear and unified message to the Iranian regime: Your campaign of terror, murder, mayhem will not be tolerated any longer. It will not be allowed to go forward.
---
The events leading up to the U.S. drone strike that killed Iranian Qassem Soleimani:
Iraqi militant/terrorist group Kataib Hezbollah (a proxy of the Iranian government) had been firing mortars and rockets at U.S. forces at locations throughout Iraq for several months.
In the middle of December, Secretary of State Mike Pompeo issued a statement warning that any rocket attacks carried out by Iran or its proxies in Iraq that harm Americans "will be answered by a decisive U.S. response"
On December 27, Kataib Hezbollah militants (directed by Soleimani) fired more than 30 rockets at the military base in Kirkuk, Iraq, killing an American contractor and wounding four U.S. troops and several Iraqis
On December 29, the US responded to this attack with airstrikes on Kataib Hezbollah's weapons depots and command and control installations across Iraq and Syria, killing 25 terrorists
On December 30-31, pro-Iranian militia members stormed the US Embassy compound in Baghdad, setting fires and causing what damage they could. Soleimani was at the U.S. embassy in Iraq with the militants as they attacked.
On Friday, Jan. 3, Soleimani was killed when missiles fired by a U.S. military drone struck the two-vehicle convoy he was in on his way to the Baghdad International Airport
Iran responded with severe threats and on Jan. 7 fired missiles at several Iraqi military bases. There were American military personnel at these bases. No one was injured.
Iranian Foreign Minister Javad Zarif tweeted about Iran's retaliation on US forces: "Iran took & concluded proportionate measures in self-defense under Article 51 of UN Charter targeting base from which cowardly armed attack against our citizens & senior officials were launched" and "We do not seek escalation or war, but will defend ourselves against any aggression"
President Trump then made the Statement on Iran on Wednesday (Jan. 8)
---
IRAN'S NUCLEAR PROGRAM:
Iran's 20 year secret nuclear program was discovered in 2002. Iran says its program is for fuel purposes only, but it has been working on uranium enrichment which is used to make nuclear bombs.
Under the United Nations' NPT (Non Proliferation Treaty) countries are not allowed to make nuclear weapons (except for the 5 that had nuclear weapons prior to the treaty – the U.S., Russia, China, France, the United Kingdom).
Safeguards are used to verify compliance with the Treaty through inspections conducted by the UN's nuclear watchdog, the IAEA (International Atomic Energy Agency).
The IAEA issued a report on in 2008 that said Iran has repeatedly blocked an investigation into its nuclear program and the probe was deadlocked.
The U.N. Security Council has already imposed three sets of sanctions on Iran over its nuclear defiance. Despite the sanctions, Iran has refused to end its nuclear program.
The Obama-led nuclear deal with Iran dropped all sanctions against the country, which were seen as the only peaceful way to force them to give up their drive for nuclear weapons
The Iranian government has called for the destruction of Israel on numerous occasions. It is believed that once obtained, Iran would use nuclear weapons against Israel.
Daily "Answers" emails are provided for Daily News Articles, Tuesday's World Events and Friday's News Quiz.