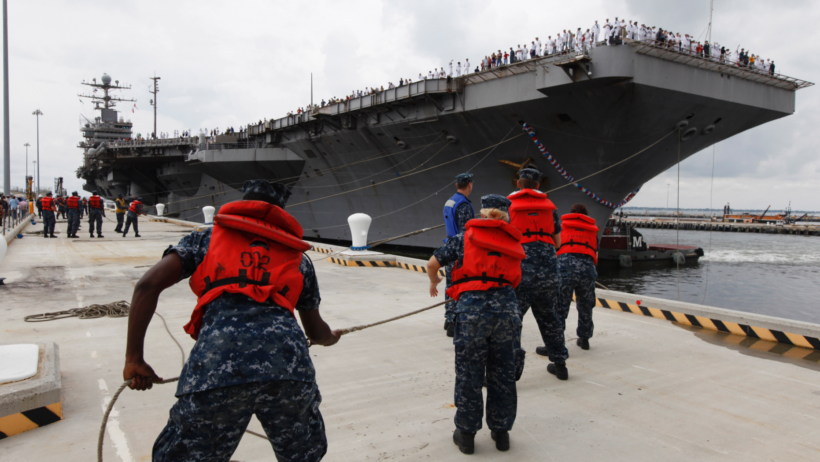 redo Jump to...
print Print...
(by Nicholas Sakelaris, UPI) — The USS Abraham Lincoln Carrier Strike Group and a bomber task force are being deployed to the Middle East in response to threats to U.S. troops by Iran or their allies, American government officials said.
The United States is responding to "a number of troubling and escalatory indications and warnings," White House National Security Adviser John Bolton said. He didn't provide details but said the United States wants to send a "clear, unmistakable" message to Iran that "unrelenting force" would meet any attacks against U.S. troops or allies.
"The United States is not seeking war with the Iranian regime, but we are fully prepared to respond to any attack, whether by proxy, the Islamic Revolutionary Guard Corps, or the regular Iranian forces," Bolton said.
A Defense Department official told CBS News that U.S. intelligence has detected a "number of preparations for possible attack" on land and at sea.
"There is more than one avenue of attack or possible attack that we're tracking … This has been moving pretty fast today (Sunday)," the official said.
In addition to the USS Abraham Lincoln aircraft carrier, the strike force includes the guided missile cruiser USS Leyte Gulf and destroyers from the Destroyer Squadron 2. The group left the Naval Station Norfolk on April 1. The USS John Stennis aircraft carrier and its associated strike group has already been in the Persian Gulf since March.
Tensions with Iran have skyrocketed in the last week since the Trump administration ended waivers that allowed some countries to continue buying Iranian crude oil despite U.S. sanctions*.  That means China, India, Japan, South Korea and Turkey can no longer buy crude oil from Iran, putting increased pressure on Tehran. [*Sanctions are actions that are taken to force a country to obey international laws by limiting or stopping trade with that country, by not allowing economic aid for that country, etc.]
The United States also officially designated the IRGC as a terrorist group recently, which prompted Iran to turn around and name U.S. forces as terrorists as well. It's been a year since President Donald Trump withdrew the United States from the Iran nuclear deal.
Secretary of State Mike Pompeo said the strike force deployment has been in the works for a little while.
"It is absolutely the case that we have seen escalatory actions from the Iranians and it is equally the case that we will hold the Iranians accountable for attacks on American interests," Pompeo said. "If these actions take place, if they do by some third-party proxy, a militia group, Hezbollah, we will hold the Iranian leadership directly responsible for that."
Published at UPI .com. Reprinted here for educational purposes only. May not be reproduced on other websites without permission from United Press International.
Questions
1. The first paragraph of a news article should answer the questions who, what, where and when. List the who, what, where and when of this news item. (NOTE: The remainder of a news article provides details on the why and/or how.)
2. For what reason has the U.S. made this move? Be specific.
3. What is the purpose of the deployment?
4. What does the strike force entail?
5. a) What are economic sanctions? – What is the purpose of imposing sanctions on a country?
b) Define waiver. Which countries will no longer buy oil from Iran now that the U.S. ended the waiver?
c) For how long were U.S. sanctions imposed on Iran before President Obama ended them in 2016?
d) What was the purpose of the sanctions the Trump administration imposed on Iran in November? (See "Background" below the questions)
6. Iran's 20 year secret nuclear program was discovered in 2002. Iran says its program is for fuel purposes only, but it has been working on uranium enrichment which is used to make nuclear bombs. The world knows the Iranian regime is lying.
-Under the United Nations' NPT (Non Proliferation Treaty) countries are not allowed to make nuclear weapons (except for the 5 that had nuclear weapons prior to the treaty – the U.S., Russia, China, France, the United Kingdom).
-The Iranian government has called for "Death to America" and for the destruction of Israel on numerous occasions. It is believed that once obtained, Iran would use nuclear weapons against Israel.
a) Do you think the Trump administration's efforts to compel Iran to end its nuclear weapons program through strict sanctions will succeed? Explain your answer.
b) Do you think our show of force through the Carrier Strike Group will deter Iranian aggression against the U.S. through their own military and/or proxies? Explain your answer.
c) Ask a parent a) and b). Discuss your answers.
Background
A carrier strike group (CSG) is an operational formation of the United States Navy. It is composed of roughly 7,500 personnel, an aircraft carrier, at least one cruiser, a destroyer squadron of at least two destroyers or frigates, and a carrier air wing of 65 to 70 aircraft. A carrier strike group also, on occasion, includes submarines, attached logistics ships and a supply ship. The carrier strike group commander operationally reports to the commander of the numbered fleet, who is operationally responsible for the area of waters in which the carrier strike group is operating.
Carrier strike groups comprise a principal element of U.S. power projection capability. Previously referred to as carrier battle groups (a term still used by other nations), they are often referred to by the carrier they are associated with (e.g., Enterprise Strike Group). As of March 2016 there were 10 carrier strike groups in the U.S. navy. (from wikipedia)
---
The following is from November 2018:  "U.S. reimposes sanctions lifted under Obama's Iran nuke deal":
The United States imposed strict sanctions on Iran in November and threatened more action to stop Tehran from pursuing "outlaw" policies, steps the Islamic Republic condemned as economic warfare and vowed to defy.
The measures are part of a wider effort by U.S. President Trump to curb Tehran's missile and nuclear programs and diminish the Islamic Republic's destabilizing influence in the Middle East.
"Our ultimate aim is to compel Iran to permanently abandon its well-documented outlaw activities and behave as a normal country, or it can see its economy crumble," Secretary of State Mike Pompeo told reporters. The sanctions are "aimed at depriving the regime of the revenues that it uses to spread death and destruction around the world," Pompeo said.

"We hope a new agreement with Iran is possible," he added. "Rest assured, Iran will never come close to getting a nuclear weapon on President Trump's watch."
The move restores, and strengthens, sanctions lifted following President Obama's 2015 Iran nuke deal, from which the Trump administration withdrew in May. [President Obama's 2015 deal with Iran required the government to limit enrichment of uranium – which can be used for nuclear fuel or for building nuclear weapons. In exchange, most international sanctions against Iran, which were greatly hurting the Iranian economy, were removed.
Although a majority of Americans opposed the deal with Iran, President Obama bypassed Congress and signed an executive order in January 2016 which ended the 20-years of sanctions against Iran for pursuing a nuclear weapons program. Then, in August 2016, the Obama administration secretly arranged a delivery of $400 million in cash to Iran on an unmarked plane on the same day Iran released four American hostages.]
In a statement on Monday, U.S. Treasury Secretary Steven Mnuchin said the move "should make clear to the Iranian regime that they will face mounting financial isolation and economic stagnation until they fundamentally change their destabilizing behavior."
Resources
Watch a CBS report:
---
Watch an NBC report:
---
Watch a Fox Business report:
Daily "Answers" emails are provided for Daily News Articles, Tuesday's World Events and Friday's News Quiz.