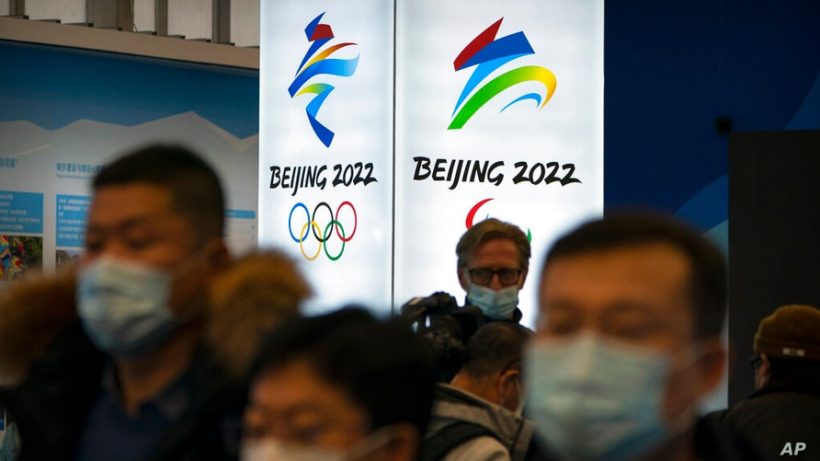 NOTE: The International Olympic Committee is a non-governmental sports organization based in Lausanne, Switzerland. Founded in 1894, it is the authority responsible for organizing the modern Summer and Winter Olympic Games.
---
(by Graham Dunbar, Associated Press) GENEVA — Activists protesting the 2022 Beijing Olympics hoped China's record on human rights would get on the agenda this week at a major IOC (International Olympic Committee) gathering.
The International Olympic Committee was just as determined not to speak publicly of the "No Beijing 2022" campaign's concerns.
Words like Uyghur detention camps, Tibet, and Hong Kong, and certainly not genocide, were unspoken by Olympic officials across three days of debate broadcast online, and three news conferences that wrapped on Friday.
Instead, the IOC praised Beijing's Winter Games preparations and announced a vaccine diplomacy deal with China to help inoculate athletes worldwide.
Pressed on if the Olympic movement had dismissed the activists' causes, newly re-elected IOC president Thomas Bach stressed the limits of its political role.
"We are not a super-world government where the IOC could solve or even address issues for which not the UN security council, no G7, no G20 has solutions," Bach said at a news conference on Friday.
This insistence on political neutrality has frustrated campaigners uniting around Olympics they have branded "Genocide Games" for the treatment of China's Muslim minority Uyghur people in the western Xinjiang region.
They recalled on Friday their meeting with senior Olympic management last October that took five years to secure.
"They repeatedly told us that the IOC's mission was to create a better world" without discrimination, said Zumretay Arkin, an advocate with the Germany-based World Uyghur Congress.

"A better world to us means a free and democratic world where there are no camps, no forced labor factories, no cultural and religious repression," Arkin told reporters in an online briefing before Bach's media duty.
The campaign has urged the IOC to move the 2022 Olympics from Beijing or for a boycott by national teams. About 100 of the 206 national Olympic teams might compete at a Winter Games.
Bach is passionately against boycotts after being unable to defend his team fencing title at the 1980 Moscow Olympics. His West Germany team joined the United States in refusing to go in protest at the Soviet Union's invasion of Afghanistan.
"Why would you punish the athletes from your own country if you have a dispute with a government from another country?" Bach said. "This just makes no real sense."
A more recent history lesson is cited by "No Beijing 2022" — how the IOC said China would become more open and tolerant through Beijing hosting the 2008 Olympics.
"There was a total lack of (IOC) recognition of mistakes around the 2008 Games," said Gloria Montgomery, of the International Tibet Network, about the October meeting in Lausanne, Switzerland.
If a widespread boycott is unlikely, athletes could play a role amid growing activism in sports and direct engagement with fans and sponsors.
Teng Biao, a Chinese human rights lawyer, suggested Olympic athletes could show support through social media posts, wearing T-shirts with slogans, or refusing to attend the Feb. 4 opening ceremony.
"We do hope the athletes and other participants at the Olympics can do something," he said, "to send a message to the Chinese government and to the world."
Published at APnews .com on March 12. Reprinted here for educational purposes only. May not be reproduced on other websites without permission from The Associated Press. 
Questions
NOTE: Before answering the following questions, check out the links and watch the video under "Resources" below.
1. List the who, what, where and when of the news item.
2. What is the goal of the human rights group "No Beijing 2022"
3. a) How did the International Olympic Committee respond to the activists' concerns about China hosting the 2022 games?
b) Do you agree with Mr. Bach's assertion about the IOC and the UN? Do you think the IOC has no power, nothing they can do about China? Explain your answer.
4. Why did human rights campaigners nickname the 2022 Olympics the "Genocide Games"?
5. What point did the World Uyghur Congress representative say about the IOC's response to their concerns?
6. a) What two suggestions did the Uyghur activists make?
b) For each one, do you think it could or should be done? Explain your answers.
7. Chinese human rights lawyer Teng Biao suggested the Olympic athletes should take a stand against China with various actions. Do you think it is the responsibility of the athletes to take the stand against genocide and the numerous human rights violations continually committed by the Communist Party leadership of China when the Olympic Committee refuses to do so ? Explain your answer.
8. Yoshiro Mori, the 82 year-old president of the 2020 Summer Olympic Games in Tokyo, was forced to resign last month for saying women talk too much. He also said, "Somebody told me that if we increase the number of women (on the board), we have to also restrict their speaking time to an extent. Otherwise they'll never stop."
He apologized, but hundreds of female Olympic volunteers resigned in protest and demanded that he step down, female opposition lawmakers in the Japanese Diet (similar to U.S. Congress) wore white as a show of protest, corporate sponsors threatened to withdraw and several runners in the Olympic torch relay quit.
What do you think of this?
An 82 year-old man says women talk too much (do they?) and the outrage is so great, that even though he apologized and acknowledged what he said was wrong, he was ousted as president of the Japan host committee.
The Chinese Communist Party is committing genocide against ethnic Muslim Uighers (as well as human rights violations against many others) and the IOC refuses to even acknowledge it.
What should everyone who boycotted, quit, criticized or was outraged by Mr. Mori, do about Communist China's human rights violations? Anything? Nothing? Explain your answer.
Daily "Answers" emails are provided for Daily News Articles, Tuesday's World Events and Friday's News Quiz.