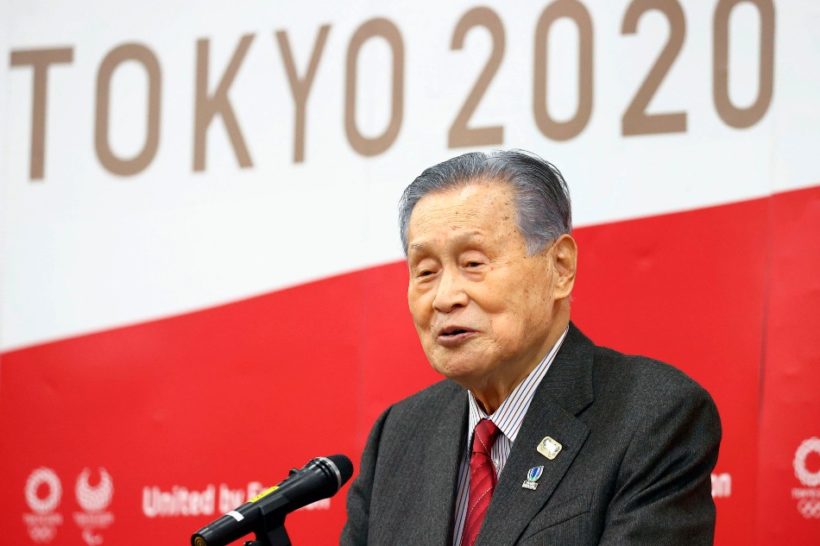 (Compiled from UPI, AFP, Japan Times and ESPN) — Yoshiro Mori, the president of the 2020 Summer Olympic Games in Tokyo, resigned as expected on Friday stemming from remarks he made about women earlier this month.
The Tokyo Organizing Committee of the Olympic and Paralympic Games said in an announcement that Mori stepped down during an emergency meeting Friday.
Mori's resignation was expected after he faced mounting criticism after remarking at a committee meeting this month that women tend to be too chatty at meetings. The panel was discussing women joining as board members.
The Japan Olympic Committee (JOC) decided last year to aim to have 40 percent female board members, but as of November, there were just five women among the board's 24 members.
Mori is reported to have said during a board meeting on February 3rd that "board of directors meetings with many women take a lot of time," according to the Asahi Shimbun daily.
"When you increase the number of female executive members, if their speaking time isn't restricted to a certain extent, they have difficulty finishing, which is annoying," he was quoted as saying.
He made the remarks to members of the Japan Olympic Committee, some of whom were reported to have laughed in response.
"The education ministry has been very insistent about choosing female directors. But a board meeting with plenty of women will make it drag on," Mori said.
He cited his experience as a former president of the Japan Rugby Football Union, saying, "Women have a strong sense of rivalry. If one (female) member [speaks], all the others feel the need to speak too. Everyone ends up saying something."
"Somebody told me that if we increase the number of women (on the board), we have to also restrict their speaking time to an extent. Otherwise they'll never stop, which is problematic," Mori said on during the Febuary 3rd board meeting.
After the meeting, JOC director Kaori Yamaguchi, who has worked tirelessly for years to revitalize the male-dominated sports world by increasing the presence of women, criticized Mori for his comments.
"Gender equality and consideration for people with disabilities were supposed to be a given for the Tokyo Games. It is unfortunate to see the president of the organizing committee make such a remark," she said.
Mori initially said he wouldn't resign, but backlash continued even after he apologized.  He gave a news conference in which he told reporters his remarks were inappropriate, in conflict with the Olympic spirit, and that he wanted to withdraw them. He apologized, but said that he didn't intend to resign.
"I have been working hard and dedicated myself to helping for seven years," he said. "That's not what I intend to do, but if everyone thinks I'm getting in the way, they may be right — maybe I'm an old fossil that should be swept out with the trash."
Asked if women talk too much, he said: "I haven't been listening to women talk recently, so I don't know." Later, Mori added that he himself talks too much.
Following Mori's remarks about women talking too much, hundreds of female Olympic volunteers resigned in protest and demanded that he step down, female opposition lawmakers in the Japanese Diet (similar to U.S. Congress) wore white as a show of protest, corporate sponsors threatened to withdraw and several runners in the Olympic torch relayquit.
"As of today I will resign from the president's position," Mori said to open an executive board and council meeting on Friday.
Mori, 83, a former prime minister of Japan, was appointed in 2014, just months after Tokyo won the bid to host the Olympics.
"My inappropriate comments have caused a lot of chaos," he said, repeating several times he had regret over the remarks, but also said he had "no intention of neglecting women."

"As long as I remain in this position, it causes trouble," he told the board. "If that is the case, it will ruin everything we've built up."
The Olympics are to open on July 23 with 11,000 athletes and 4,400 more in the Paralympics a month later. About 80% of people in Japan in recent polls said they want the Olympics canceled or postponed [due to Covid-19].
Compiled from reports at UPI, Agence France-Presse, Japan Times and ESPN.
Questions
NOTE: Before answering the following questions, watch the video under "Resources" below.
1. List the who, what, where and when of the news item.
2. What did Yoshiro Mori, a former prime minister of Japan and the president of the 2020 Summer Olympic Games in Tokyo say that got him into trouble? Be specific.
3. In what context did Mr. Mori make the remarks?
4. Why did Mr. Mori resign after initially saying he would not do so following his apology?
5. What reaction did Mr. Mori's remarks trigger?
6. a) What do you think? In general, is it accurate to say women talk more than men?  Explain your answer.
b) Ask a parent the same question. Discuss your answers.
7. Was forcing the 83 year old Mori to resign the appropriate "punishment" for his opinion/thoughts? Explain your answer.
Resources
Watch a Feb. 15, 2021 France24 news report:
Daily "Answers" emails are provided for Daily News Articles, Tuesday's World Events and Friday's News Quiz.