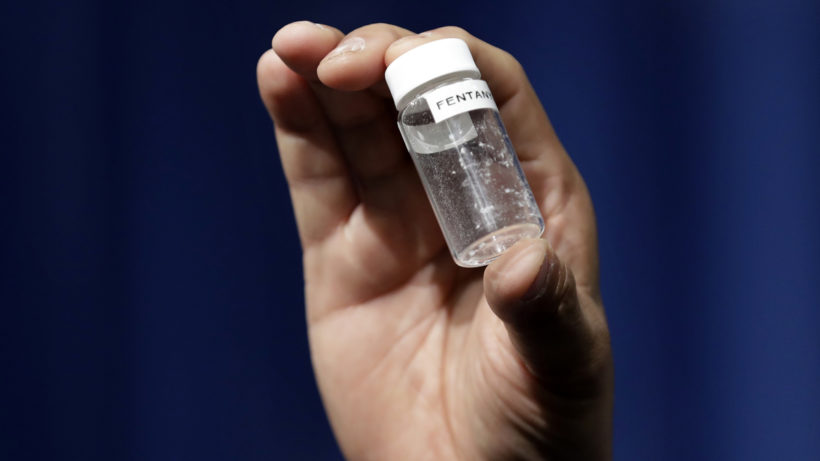 redo Jump to...
print Print...
NOTE: Fentanyl is an opioid pain medication with a rapid onset and short duration of action. Fentanyl is 50 times stronger than heroin and 100 times stronger morphine; also, some fentanyl analogues, which are designed to mimic the pharmacological effects of the original drug, may be as much as 10,000 times stronger than morphine.
---
(by Sarah N. Lynch, Doina Chiacu, Reuters) WASHINGTON – The U.S. Department of Justice has indicted two major Chinese drug traffickers on charges of making illegal versions of fentanyl and selling the highly addictive drug to Americans over the internet and through international mail.  [Federal prosecutors made the announcement on Tuesday, October 16].
Xiaobing Yan, 40, and Jian Zhang, 38, who are both in China and have not been taken into U.S. custody, were charged with conspiring to distribute large quantities of fentanyl and fentanyl analogues* into the United States, the Justice Department said. (*An analogue is a drug that is chemically similar in makeup to another.)
The Chinese suspects were charged in separate indictments unsealed on Monday in Mississippi and North Dakota.
"For the first time, we have indicted major Chinese fentanyl traffickers who have been using the Internet to sell fentanyl and fentanyl analogues to drug traffickers and individual customers in the United States," Deputy Attorney General Rod Rosenstein said in a statement.
The United States does not have an extradition agreement with China.
Rosenstein said the department has talked to Chinese officials about the cases. (He said he is hopeful the Chinese will take appropriate action with regard to properly charging the traffickers.)
"We believe that most, if not all, fentanyl that is distributed here in the U.S. and in Canada, originates in China," Rosenstein said, noting that China must do more to crack down on labs making the drugs.
Speaking in Beijing, Chinese Foreign Ministry spokesman Lu Kang claimed he did not know anything about this specific case, but added that the Chinese government took the fentanyl issue seriously and was continuing to cooperate with the United States to fight the illegal production and sale of fentanyl. …
Yan operated at least two chemical plants in China that were capable of illegally producing "ton quantities" of the drugs, and evaded detection by systematically altering their chemical makeup, the Justice Department said.
Investigators identified more than 100 distributors in the alleged scheme.
Zhang is accused of operating at least four labs in China and selling to U.S. customers over the internet. He is accused of sending "many thousands" of packages since January 2013, the government said.
Five Canadians, two residents of Florida and a resident of New Jersey were also charged in connection with the alleged conspiracy involving Zhang, the department said.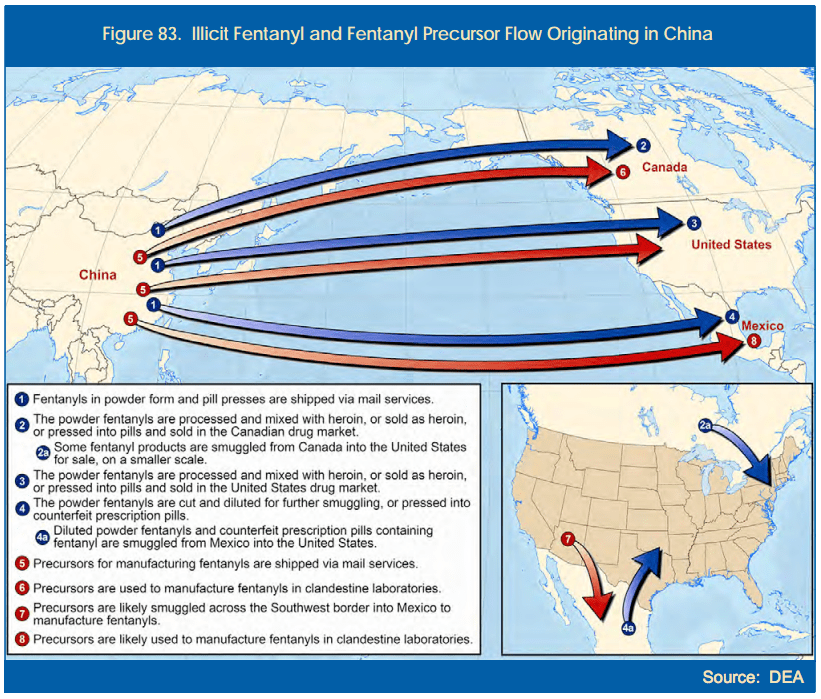 The United States is dealing with a major epidemic of opioid overdoses. In 2016, the Centers for Disease Control estimated that 20,000 Americans were killed by fentanyl, a highly addictive synthetic painkiller.
According to law enforcement officials, the drug is 50 times more potent than heroin and 100 times more potent than morphine.
(Rosenstein said President Trump and Attorney General Jeff Sessions have "made it a priority for us to combat this opioid crisis," adding that the "DOJ is playing a leading role in those efforts."
The President's Commission on Combatting Drug Addiction and Opioid Crisis, chaired by New Jersey Governor Chris Christie, has a deadline of November 1 for its final report on the epidemic and recommendations it will pass along to the drug industry, with the objective of innovating pain management and addiction prevention measures.
Prior to that deadline, President Trump implied that he would probably formally declare the opioid crisis a national emergency with an event next week.
Speaking in a Rose Garden press conference with the Senate majority leader, Mitch McConnell on Wednesday, President Trump said: "We're going to have a major announcement, probably next week, on the drug crisis and on the opioid massive problem." He added: "This country and, frankly, the world has a drug problem … and we're going to do something about it.")
Additional reporting by Ben Blanchard in BEIJING
From Reuters .com. Reprinted here for educational purposes only. May not be reproduced on other websites without permission from Thomson Reuters.
Questions
1. Define the following as used in the article.
-indicted / indictment
-extradition
2. The first paragraph of a news article should answer the questions who, what, where and when. List the who, what, where and when of this news item. (NOTE: The remainder of a news article provides details on the why and/or how.)
3. a) What is fentanyl used for?
b) How much more powerful is this drug than heroin? Than morphine?
c) How many Americans died from fentanyl in 2016?
4. What does the U.S. Department of Justice believe to be true about fentanyl production?
5. Why haven't Yan and Zhang yet been arrested?
6. How has the Chinese government responded to the indictment of Chinese citizens?
7. In December 2016, the Chinese government disputed the U.S.'s assertion it is the top source of fentanyl. Today, the U.S. has the evidence, but the Chinese are still unwilling to act.
From a Dec. 16 article:
China disputes U.S. claim it's top source of synthetic drugs
U.S. assertions that China is the top source of the synthetic opioids that have killed thousands of drug users in the U.S. and Canada are unsubstantiated, Chinese officials told The Associated Press.
Both the U.S. Drug Enforcement Administration (DEA) and the White House Office of National Drug Control Policy point to China as North America's main source of fentanyl, related drugs and the chemicals used to make them.
Such statements "lack the support of sufficient numbers of actual, confirmed cases," China's National Narcotics Control Commission told the DEA's Beijing office in a fax dated Friday.
In its letter, which the commission also sent to the AP, Chinese officials urged the U.S. to provide more evidence about China's role as a source country.
DEA officials said their casework and investigations consistently lead back to China. DEA data also shows that when China regulates synthetic drugs, U.S. seizures plunge.
Beijing is concerned enough about international perceptions of China's role in the opioid trade that after AP published investigations highlighting the easy availability of fentanyl online from Chinese suppliers, [China's] Narcotics Commission made a rare invitation to a team of AP journalists to discuss the issue at the [Communist government's] powerful Ministry of Public Security…in Beijing.
a) What can the Trump administration do to force China to crack down / eliminate the production of fentanyl in China?
b) Ask a parent the same question.
Background
How dangerous is fentanyl? 
History/uses of fentanyl:
Fentanyl was first made by Belgian physician Paul Janssen in 1960.
Janssen developed fentanyl by testing chemicals similar in structure to pethidine(meperidine) for opioid activity.
The widespread use of fentanyl triggered the production of fentanyl citrate (the salt formed by combining fentanyl and citric acid in a 1:1 stoichiometric ratio), which entered medical use as a general anaesthetic under the trade name Sublimaze in the 1960s.
In the mid-1990s, fentanyl was introduced for palliative (end of life) use with the fentanyl patch, followed in the next decade by the introduction of the fentanyl lollipop, dissolving tablets, and sublingual spray which are absorbed through the tissues inside the mouth.
As of 2012, fentanyl was the most widely used synthetic opioid in medicine.
In 2013, 1,700 kilograms (3,750 lbs) were used globally.
Fentanyl has a relatively wide therapeutic index (270)

 

which makes it a very safe surgical anaesthetic when monitored carefully; however, its potency requires careful measurements of highly diluted fentanyl in solution.
Fentanyl patches are on the World Health Organization's List of Essential Medicines, the most effective and safe medicines needed in a health system.
Fentanyl is illegally made and used as a recreational drug often disguised as other medications or mixed with heroin, leading to thousands of overdose deaths from 2000 to 2017.  Deaths have also resulted from improper medical use.
(from wikipedia)
---
Opioids are painkillers. There are a number of classes of opioids. Three of these classes, natural opiates, semi-synthetic opioids, and synthetic opioids are commonly referred to as narcotic, or painkilling opioid drugs:
The naturally occurring opiates are those which are found in the opium resin of the opium poppy. Although there are over 25 different alkaloids present in opium, morphine and codeine are the only two that are used as narcotic opiate analgesics.
All other opioid analgesic medications are either semi- or fully-synthetic and are not found in nature.
The semi-synthetic opioids such as hydrocodone, hydromorphone, oxycodone, and oxymorphone are derived from the naturally occurring opiates and opium alkaloids (morphine and thebaine especially).
Fully-synthetic opioids such as methadone and fentanyl are synthesized from other chemicals and molecules that do not come from alkaloids found in opium. (from opiateaddictionresource .com)
Resources
Watch an October 17 NBC Nightly News report:
---
Watch an October 17 report from Baltimore's WBAL:
---
Watch a June 7, 2017 WBAL report on the dangers of opioid crisis to law enforcement:
Daily "Answers" emails are provided for Daily News Articles, Tuesday's World Events and Friday's News Quiz.