U.S. indicts major Chinese traffickers for selling fentanyl online
Daily News Article — Posted on October 19, 2017
NOTE: Fentanyl is an opioid pain medication with a rapid onset and short duration of action. Fentanyl is 50 times stronger than heroin and 100 times stronger morphine; also, some fentanyl analogues, which are designed to mimic the pharmacological effects of the original drug, may be as much as 10,000 times stronger than morphine.
---
(by Sarah N. Lynch, Doina Chiacu, Reuters) WASHINGTON – The U.S. Department of Justice has indicted two major Chinese drug traffickers on charges of making illegal versions of fentanyl and selling the highly addictive drug to Americans over the internet and through international mail.  [Federal prosecutors made the announcement on Tuesday, October 16].
Xiaobing Yan, 40, and Jian Zhang, 38, who are both in China and have not been taken into U.S. custody, were charged with conspiring to distribute large quantities of fentanyl and fentanyl analogues* into the United States, the Justice Department said. (*An analogue is a drug that is chemically similar in makeup to another.)
The Chinese suspects were charged in separate indictments unsealed on Monday in Mississippi and North Dakota.
"For the first time, we have indicted major Chinese fentanyl traffickers who have been using the Internet to sell fentanyl and fentanyl analogues to drug traffickers and individual customers in the United States," Deputy Attorney General Rod Rosenstein said in a statement.
The United States does not have an extradition agreement with China.
Rosenstein said the department has talked to Chinese officials about the cases. (He said he is hopeful the Chinese will take appropriate action with regard to properly charging the traffickers.)
"We believe that most, if not all, fentanyl that is distributed here in the U.S. and in Canada, originates in China," Rosenstein said, noting that China must do more to crack down on labs making the drugs.
Speaking in Beijing, Chinese Foreign Ministry spokesman Lu Kang claimed he did not know anything about this specific case, but added that the Chinese government took the fentanyl issue seriously and was continuing to cooperate with the United States to fight the illegal production and sale of fentanyl. …
Yan operated at least two chemical plants in China that were capable of illegally producing "ton quantities" of the drugs, and evaded detection by systematically altering their chemical makeup, the Justice Department said.
Investigators identified more than 100 distributors in the alleged scheme.
Zhang is accused of operating at least four labs in China and selling to U.S. customers over the internet. He is accused of sending "many thousands" of packages since January 2013, the government said.
Five Canadians, two residents of Florida and a resident of New Jersey were also charged in connection with the alleged conspiracy involving Zhang, the department said.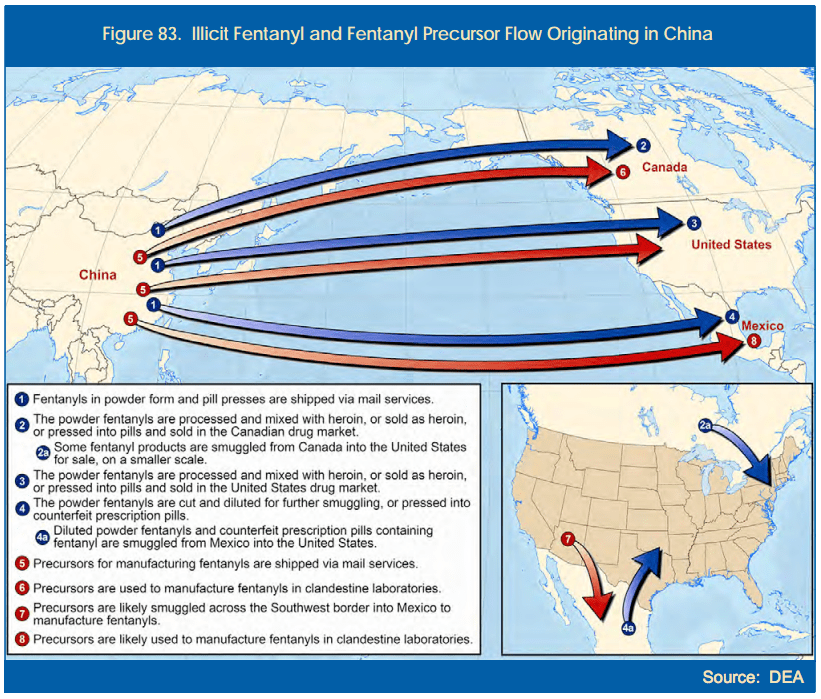 The United States is dealing with a major epidemic of opioid overdoses. In 2016, the Centers for Disease Control estimated that 20,000 Americans were killed by fentanyl, a highly addictive synthetic painkiller.
According to law enforcement officials, the drug is 50 times more potent than heroin and 100 times more potent than morphine.
(Rosenstein said President Trump and Attorney General Jeff Sessions have "made it a priority for us to combat this opioid crisis," adding that the "DOJ is playing a leading role in those efforts."
The President's Commission on Combatting Drug Addiction and Opioid Crisis, chaired by New Jersey Governor Chris Christie, has a deadline of November 1 for its final report on the epidemic and recommendations it will pass along to the drug industry, with the objective of innovating pain management and addiction prevention measures.
Prior to that deadline, President Trump implied that he would probably formally declare the opioid crisis a national emergency with an event next week.
Speaking in a Rose Garden press conference with the Senate majority leader, Mitch McConnell on Wednesday, President Trump said: "We're going to have a major announcement, probably next week, on the drug crisis and on the opioid massive problem." He added: "This country and, frankly, the world has a drug problem … and we're going to do something about it.")
Additional reporting by Ben Blanchard in BEIJING
From Reuters .com. Reprinted here for educational purposes only. May not be reproduced on other websites without permission from Thomson Reuters.