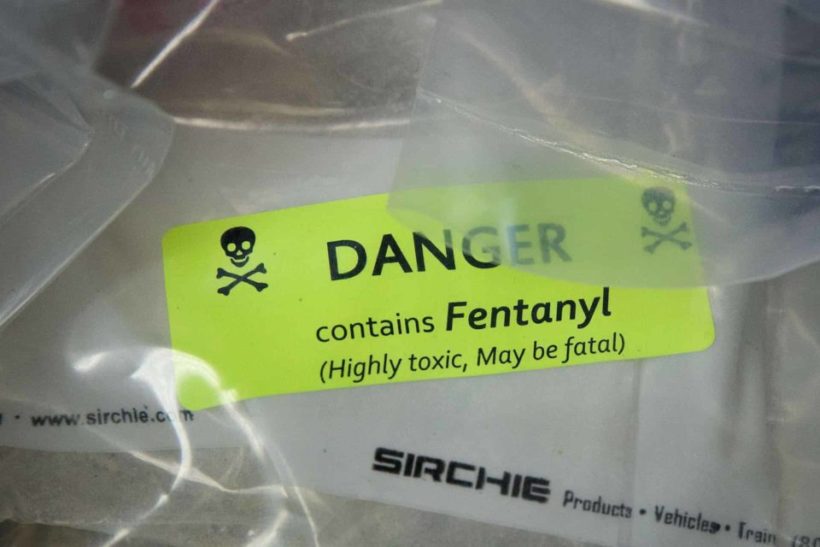 redo Jump to...
print Print...
(WCPO9 Cincinnati, by staff reporters) EAST LIVERPOOL, Ohio – An East Liverpool, Ohio police officer is recovering after authorities said he accidentally touched and overdosed on fentanyl seized during an arrest.
East Liverpool patrolman Chris Green pulled over 25-year-old Justin Buckle's vehicle Friday after he spotted someone in the car perform a drug transaction, police told reporters at WKBN.
That's when Green noticed there was white powder on the car seat and floor, as well as on Buckle and another passenger's shoes and clothing, East Liverpool Captain Patrick Wright said.
Green arrested the two men – Buckle and 24-year-old Cortez Collins. He then followed protocol by putting on gloves and a mask to search the car, Wright told WKBN.
When Green got back to his police station, another officer noticed he had some of the white powder on his shirt, Wright said. Green instinctively brushed at the powder while not wearing gloves.
"Just out of instinct, he tried to brush it off — not thinking," he said.
An hour later, Green passed out at the station after contact with the powder – which was later determined to be fentanyl. The drug can get into the body just through contact with the skin.
"He's an ex-MMA fighter, 220 pounds, solid muscle and it overtook him," said Wright.
Police Chief John Lane told CBS Pittsburgh, "One of the officers had to catch him. He started collapsing. This stuff is very dangerous."
Emergency workers gave Green a dose of Narcan (an opiate antidote) at the station and three more doses at the hospital.
Captain Wright said Sunday Green was in good shape.
He told WKBN the incident was a scary example of how the drug epidemic has forced police officers to change aspects of their job.
"We changed our procedures to where we used to field test-drugs," Wright said. "We don't do that any longer because of accidental exposures."
Green, who is back on the job this week said of the accidental overdose,
"I started talking weird. I slowly felt my body shutting down. I could hear them talking, but I couldn't respond. I was in total shock."
Fentanyl is 50 to 100 times more potent than morphine and 30 to 50 times more potent than heroin. Just a quarter of a milligram — a few granules — can kill you.
Experts say the effects of fentanyl can be felt when absorbed through the skin or accidentally inhaled, making the drug hazardous to anyone who comes into contact with it.
From WCPO9 Cincinnati .com.au. Reprinted here for educational purposes only. May not be reproduced on other websites without permission.
Questions
PLEASE NOTE: Daily posting and "Answers" emails will end for the school year on Friday, May 26th.
(Did you miss Thursday's EDITORIAL on civic literacy? – take the civics quizzes found there) 
1. The first paragraph of a news article should answer the questions who, what, where and when. List the who, what, where and when of this news item. (NOTE: The remainder of a news article provides details on the why and/or how.)
2. a) What is fentanyl?
b) How strong is fentanyl?
3. How did Officer Green touch fentanyl?
4. What happened after Officer Green touched the fentanyl without gloves?
5. How was Green treated after he overdosed?
6. How dangerous do you think the fentanyl epidemic is for first responders (police officers, EMTs, firefighters, police dogs (K9s)?
7. The City of East Liverpool said in a Facebook post "It's time our state government drafts legislation to protect our safety forces from these harmful drugs. Those in possession not only pose a risk to themselves but everyone they come into contact with as well."
Do you agree with this assertion? Explain your answer.
Background
Fentanyl, previously used only as a pharmaceutical painkiller for crippling pain at the end of life or for surgical procedures, fentanyl is now making headlines as the drug responsible for a growing proportion of overdose deaths, including that of pop star Prince.
So what is fentanyl and why is it so dangerous?
Fentanyl is a synthetic opioid, meaning it is made in a laboratory but acts on the same receptors in the brain that painkillers, like oxycodone or morphine, and heroin, do. Fentanyl, however, is far more powerful.
It's 50-100 times stronger than heroin or morphine, meaning even a small dosage can be deadly.
Its potency also means that it is profitable for dealers as well as dangerous for those who use it, intentionally or unintentionally.
Increasingly heroin is being mixed with fentanyl so someone who uses what they think is heroin may in fact be getting a mixture with — or even pure — fentanyl.
More recently, pills made to look like the painkiller oxycodone or the anxiety medication Xanax are actually fentanyl. This deception is proving fatal. It would be like ordering a glass of wine and instead getting a lethal dose of pure ethanol. While many people don't know they are getting fentanyl, others might unfortunately seek it out as part of the way the brain disease of addiction manifests itself into compulsively seeking the next powerful high.
Every single episode of fentanyl use carries the risk of immediate death.
(excerpted from an Aug. 5, 2016 paper "Fentanyl: The dangers of this potent 'man-made' opioid" by Sarah Wakeman, MD)
Daily "Answers" emails are provided for Daily News Articles, Tuesday's World Events and Friday's News Quiz.