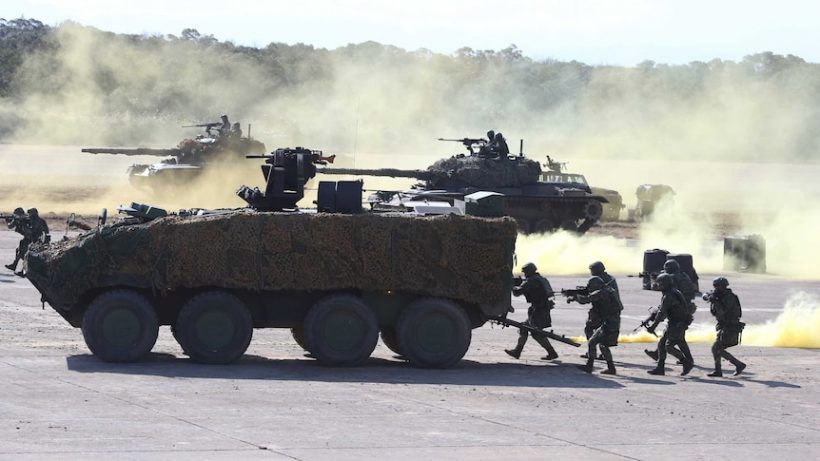 redo Jump to...
print Print...
(by Reuters at ABC .net .au) — Taiwan says it has begun mass production of a long-range missile and is developing three other models, in a rare confirmation of efforts to develop strike capacity amid growing Chinese [threats].
China — which claims democratic Taiwan as its own territory — has stepped up military activity near the island as it tries to force the government in Taipei to accept Beijing's claims of sovereignty [China claims to have supreme power/authority over Taiwan].
Taiwan's armed forces, dwarfed by China's, are in the midst of a modernization program to offer a more effective deterrent, including the ability to hit back at bases deep within China in the event of a conflict.
Taking questions in Parliament, Taiwan Defense Minister Chiu Kuo-cheng said developing a long-range attack capability was a priority.
"We hope it is long-range, accurate, and mobile," he said, adding research on such weapons by the state-owned National Chung-Shan Institute of Science and Technology had "never stopped."
Standing next to Mr. Chiu, the institute's deputy director, Leng Chin-hsu, said one long-range, land-based missile had already entered production, with three other long-range missiles in development.
Mr. Leng said it was "not convenient" for him to provide details on how far the missile could fly.
The institute — which is leading Taiwan's weapon development efforts — has in recent months carried out a series of missile tests off its south-eastern coast.
Media in Taiwan have carried images of missiles launching and instructions have been given to aircraft to stay clear of the test area, but the tests have otherwise been shrouded in secrecy.
Taiwan's armed forces have traditionally concentrated on defending the island from a Chinese attack.
But President Tsai Ing-wen has stressed the importance of developing an "asymmetrical" deterrent, using mobile equipment that is hard to find and destroy, and capable of hitting targets far from Taiwan's coast.
Washington — Taipei's main foreign arms supplier — has been eager to create a military counterbalance to Chinese forces, building on an effort known within the Pentagon as "Fortress Taiwan."
From Reuters, published at ABC Australian Broadcasting Co. on March 24, 2021. Reprinted here for educational purposes only. May not be reproduced on other websites without permission.
Questions
NOTE: Before answering the following questions, watch the video under "Resources" below.
1. List the who, what, where and when of the news item.
2. a) How does the CCP (the Chinese Communist Party; China's government) view Tawian?
b) Why has Beijing (the Communist government of China) increased its military activity near Taiwan recently?
3. a) Define deterrent.
b) What is Taiwan's military doing to create a more effective deterrent against Chinese aggression?
4. Why do you think details of Taiwan's long-range missile program are being kept secret?
5. What new strategy has President Tsai Ing-wen focused on in deterring Chinese aggression?
6. Consider current factors:
The Chinese Communist government's current aggressive behavior against Taiwan (and in the South China Sea)
The worldwide spread of coronavirus-19 from China after the government there failed to warn governments about what was going on – and allowed their citizens to travel to other countries.
The Chinese Communist government's effective takeover of the sovereign, democratic government of Hong Kong.
The Chinese Communist government's atrocious human rights violations against ethnic Uigher Muslims in Xinjiang, China
The new U.S. administration led by President Biden being challenged by the Chinese: The Chinese delegation's behavior toward Biden administration reps during their first meeting in Alaska. U.S. Secretary of State Antony Blinken and U.S. National Security Advisor Jake Sullivan were lectured to by Chinese government officials.
a) Does it look like Chinese President Xi JinPing will move to take over Taiwan in the next few years, or is this just all bluster?
b) Considering the Taiwan Relations Act of 1979, as well as the purpose of the United Nations, will the U.S. (and/or UN, European Union) protect Taiwan from being taken over by China? Will Taiwan's military preparations be enough to thwart China – or at least prevent them from acting? Explain your answer.
c) Ask a parent what he/she thinks.
Background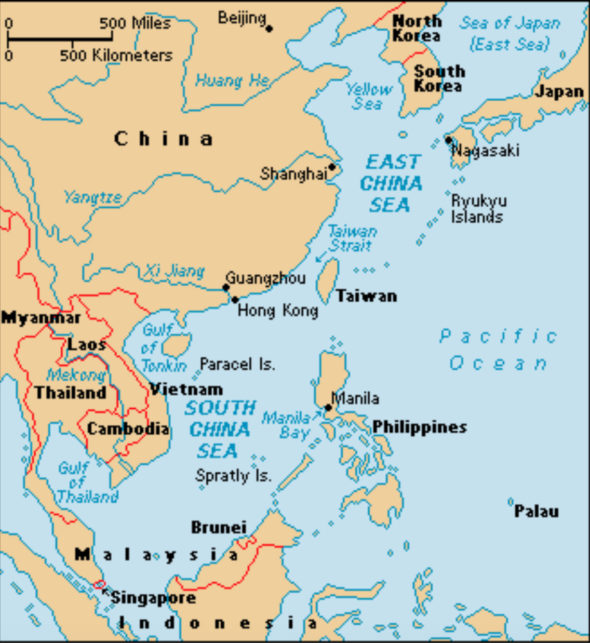 ---
U.S. Relationship with Taiwan:
The U.S. has full diplomatic ties with China but is also committed, under the Taiwan Relations Act of 1979, to an unofficial relationship with Taiwan and to help the island defend itself against any unprovoked aggression.  Congress intended for the Taiwan Relations Act to preserve a relationship with a traditional ally of the United States after President Jimmy Carter decided to transfer diplomatic recognition from Taipei to Beijing.
---
The Taiwan-China fight that's driving all this
The dispute between China and Taiwan goes back to 1949 and the end of the Chinese Civil War, when the defeated Nationalists fled to the island of Taiwan, leaving the communists in power in mainland China. The two territories have been governed separately ever since, with both governments claiming to be the legitimate representative of "One China" — that is, China and Taiwan.
Decades of outright hostility eased somewhat in 1992, when they worked out a deal that basically amounted to "let's agree to disagree." Known as the 1992 Consensus, the agreement allowed both governments to claim sovereignty over both mainland China and Taiwan, without recognizing the other's legitimacy.
This allowed them to set aside their argument and establish economic ties, which would be hugely beneficial to both parties. And it (mostly) worked: China is now Taiwan's largest trading partner.
But, of course, it left the fundamental political dispute unresolved, with the potential for a resumption of hostility always just below the surface. And it remains a hugely sensitive issue for both sides.
Most countries, including the US, only have formal diplomatic relations with mainland China and don't officially recognize the government in Taiwan. (from an April 2016 Vox article)
Update:
The new non-binding Trump signed describes Taiwan as" a beacon of democracy " in Asia and states that "Taiwan's democratic achievements inspire many countries and the region."
Beijing had recently cut official communications with Taipei because current President Tsai Ing-wen refuses to recognize the democratic island as part of "one China."
Read "The Taiwan Travel Act in Context" from The Diplomat (a current-affairs magazine for the Asia-Pacific region).
Resources
Read previous articles:
---
Watch a March 25, 2021 Reuters report:
Daily "Answers" emails are provided for Daily News Articles, Tuesday's World Events and Friday's News Quiz.