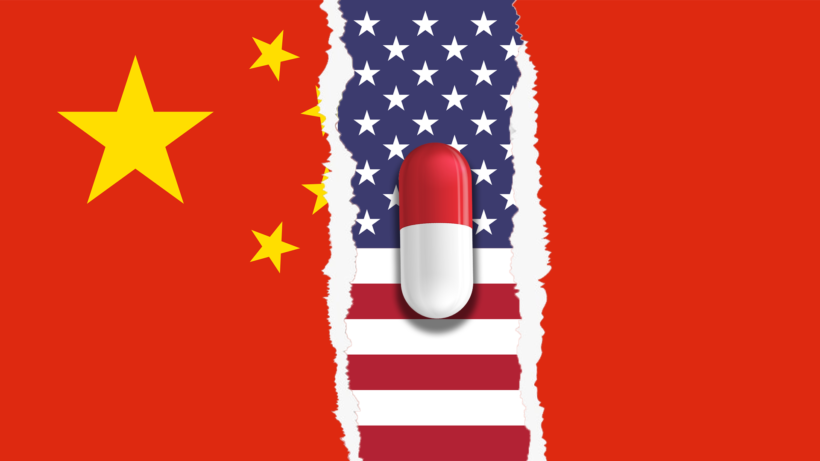 (by Humeyra Pamuk, Reuters) WASHINGTON  – The Trump administration is "turbocharging" an initiative to remove global industrial supply chains from China as it weighs new tariffs to punish Beijing for its [deceitful] handling of the coronavirus outbreak, according to officials familiar with U.S. planning. [See "China Hid Coronavirus' Severity To Hoard Supplies"].
President Donald Trump, who has stepped up [criticism of China as a result of China's handling of the coronavirus], has long pledged to bring manufacturing back from overseas.
Now, economic [damage] and the U.S. coronavirus death toll are driving a government-wide push to move U.S. production and supply chain dependency away from China, even if it goes to other more friendly nations instead, current and former senior U.S. administration officials said.
"We've been working on (reducing the reliance of our supply chains in China) over the last few years but we are now turbo-charging that initiative," Keith Krach, undersecretary for Economic Growth, Energy and the Environment at the State Department told Reuters. …
The U.S. Commerce Department, State Department and other government agencies are looking for ways to push companies to move both sourcing* and manufacturing out of China. Tax incentives and potential re-shoring subsidies are among measures being considered to spur changes, the current and former officials told Reuters. [*Sourcing is buying parts for a product from a company; e.g. a U.S. automaker purchases car parts from manufacturers in China]
"There is a whole of government push on this," said one. Agencies are probing which manufacturing should be deemed "essential" and how to produce these goods outside of China.

"This moment is a perfect storm; the pandemic has crystallized all the worries that people have had about doing business with China," said another senior U.S. official.
Many U.S. companies have invested heavily in Chinese manufacturing and rely on China's 1.4 billion people for a big chunk of their sales.
"All the money that people think they made by making deals with China before, now they've been eclipsed many fold by the economic damage" from the coronavirus, the official said.
Discussions about moving supply chains are concrete, robust, and…multi-lateral.
The United States is pushing to create an alliance of "trusted partners" dubbed the "Economic Prosperity Network," one official said. It would include companies and civil society groups operating under the same set of standards on everything from digital business, energy and infrastructure to research, trade, education and commerce, he said.
The U.S. government is "working with our friends in Australia, in India, in Japan, New Zealand, Republic of Korea, and Vietnam to share information and best practices as we begin to move the global economy forward," Secretary of State Mike Pompeo said April 29.
"Our conversations certainly involve global supply chains, keeping them running smoothly, and getting our economies back to full strength, thinking about how we restructure these supply chains to prevent something like this from ever happening again," Pompeo said.
Latin America may play a role, too. Colombian Ambassador Francisco Santos last month said he was in discussions with the White House, National Security Council, Treasury Department and U.S. Chamber of Commerce about a drive to encourage U.S. companies to move some supply chains out of China and bring them closer to home.  [He said Colombia was an ideal site for U.S. companies seeking to reduce their reliance on supplies from China.].
China overtook the United States as the world's top manufacturing country in 2010, and was responsible for 28% of global output in 2018, according to United Nations data.
The pandemic has highlighted communist China's [critical] role in the supply chain for generic drugs that account for the majority of prescriptions in the United States, [as well as medical equipment] and its importance in food supplies.
Published by Reuters .com on February 8, 2020. Reprinted here for educational purposes only. May not be reproduced on other websites without permission from Thomson Reuters.  
Questions
1. One of President Trump's campaign promises was to bring manufacturing back to the U.S. What has caused this initiative to be "turbocharged" now, as the administration implements a "whole of government" approach?
2. a) What are the U.S. Commerce Department, State Department and other agencies working to persuade American companies to do?
b) What methods are these agencies considering implementing?
3. The reporter notes in paragraph 8: "Many U.S. companies have invested heavily in Chinese manufacturing and rely on China's 1.4 billion people for a big chunk of their sales." How has the communist government's handling of the coronavirus most likely affected these companies perception of the benefits of doing business in China?
4. a) What is the Trump administration's new Economic Prosperity Network?
b) Ask a parent: what do you think of this plan?
5. Which countries will the U.S. initially be working with in restructuring supply chains?
6. a) How confident are you that the Trump administration's push to bring vital supply chains out of China will be accomplished?  Explain your answer.
b) Ask a parent the same question.
7. a) Watch the videos under "Resources" below. What do you think of Sen. Ted Cruz's statements?
b) Ask a parent the same question.
Resources
China and the supply chain, Senator Ted Cruz (R-TX), April 17:
---
April 15, Stuart Varney, Fox Business:
---
Something to consider:   Does the communist government of China control the U.S.'s NBA?  Should a sports league from the U.S. care more about Chinese communist leaders who allow them to earn billions than they do about standing up for freedom and human rights?
In Oct. 2019,  Jeff Zillgitt and Mark Medina wrote at USA Today: NBA revenue from China — and a conservative estimate puts that at $500 million annually based on deals that are publicly known — is part of basketball-related income which impacts the salary cap and how much money is available to players on an annual basis.
NBA China, a separate business arm of the NBA, was valued at $5 billion in 2019.
Separate from the NBA's partnerships in China, players are invested in the country, too. Several of them, including stars LeBron James and Steph Curry, make annual visits to sell apparel products from Nike and Under Armour. (LeBron makes $32 million annually from Nike and Nike's revenue in China surpassed $6 billion from 2018 to 2019.)
Chinese apparel companies have also signed NBA players to endorsement deals: Klay Thompson and Gordon Hayward with Anta, CJ McCollum with Li-Ning and Lou Williams with Peak. Thompson's deal with Anta could reach $80 million over 10 years, according to ESPN. Williams has said he earns more from his endorsement deal in China than he does playing.
"It's hard for us in the United States to imagine how much the NBA is involved in China and how much the people of China really like the NBA," [as long as they keep their mouths shut] Syracuse University professor John Wolohan, who specializes in sports law and U.S.-China sports relations said.
Daily "Answers" emails are provided for Daily News Articles, Tuesday's World Events and Friday's News Quiz.