Example of Media Bias:
Twitter reportedly locked a black sports journalist out of his account after he criticized a Black Lives Matter co-founder for buying a ritzy home in a mostly white neighborhood.
Jason Whitlock says Twitter blocked him over a tweet pointing out the demographics of Topanga Canyon, the Los Angeles enclave where Black Lives Matter leader Patrisse Cullors recently snapped up a $1.4 million home, according to reports.
Whitlock showed fellow journalist Ryan Glasspiegel the Friday email he received from Twitter about the offending post, in which he wrote Topanga Canyon "has a black population of 1.4%."
"She's with her people!" Whitlock wrote of Cullors, adding a link to a story about her real estate purchase on the celebrity blog Dirt.com.
Glasspiegel posted a picture of the message Whitlock received from Twitter when it locked him out of his account after he questioned the Marxist BLM co-founder's purchase of a million dollar home:
"BLM is one of Big Tech's sacred cows," Whitlock, a former ESPN columnist and Fox Sports commentator, told the Daily Mail. "I've been harping on the fraudulence and the financial grift of BLM for years.  I think Twitter has been looking for an excuse to de-platform me."
[Cullors purchased a total of four high-end homes for $3.2 million recently. She also looked at property in the Bahamas at an ultra-exclusive resort where Justin Timberlake and Tiger Woods both have homes. Luxury apartments and townhouses at the beachfront Albany resort outside Nassau are priced between $5 million and $20 million, according to a local agent. Cullors told the AP that BLM took in $90 million in 2020.

Hawk Newsome, the head of Black Lives Matter Greater New York City, which is not affiliated with Khan-Cullors' Black Lives Matter Global Network Foundation, called for "an independent investigation" to find out how the global network spends its money. … He said, "We need black firms and black accountants to go in there and find out where the money is going." He added that his group does not receive any financial support from the BLM Global Network].

Whitlock told the outlet that he lost his tweeting privileges "because [they falsely claim] I revealed personal information about someone" by sharing the Dirt .com link.

That's despite the fact that the article did not include the address of Cullors' Topanga mansion and that The Post and other media outlets have reported on her expensive purchase.

A Twitter spokesperson told The Post that Whitlock's tweet "violated the Twitter Rules on private information, and the account owner was required to delete the violative Tweet."

In an April 11 YouTube interview released Monday, Whitlock said he decided not to heed Twitter's demand.
"I'm going to play Nelson Mandela in Twitter jail," he said.

"There's so much hypocrisy here," Whitlock said of Cullors, a self-described Marxist. "They want the state to own all the property, but she's out buying property all across the country. She's acting like a capitalist."
(NY Post, April 13, by Noah Manskar)
---
UPDATE: On Tuesday night (April 13), Ryan Glasspiegel tweeted: 
@WhitlockJason  is unlocked and tweeting again after a few days in Twitter jail. While he says he never reached out to them (several media outlets that covered the story did), Twitter sent him this note saying he was locked in error: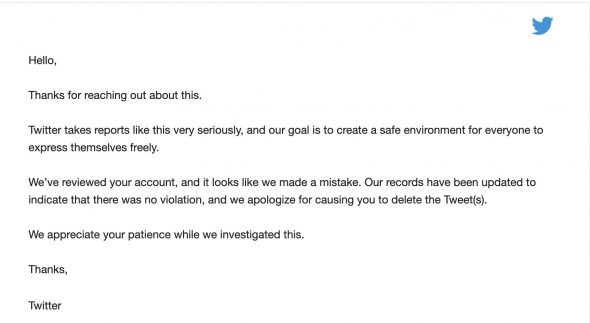 Identifying Media Bias
To accurately identify different types of bias, you should be aware of the issues of the day, and the liberal and conservative perspectives on each issue.
Types of Media Bias:
Questions
1. What type of bias did Twitter display by blocking well-known sports journalist Jason Whitlock when he pointed out the hypocrisy of BLM's Marxist co-founder?
2. After the lock on his account was widely publicized, Twitter unlocked Whitlock's account, sending him a note saying he was "locked in error."  Twitter locked the account by falsely claiming he violated a rule. It was not an error – Twitter regularly locks the accounts of people who express opinions that do not fall in line with progressive/leftist beliefs, or of people they do not like.  Twitter is a private company, but a public forum.  Being blocked on Twitter silences the free speech of users. What is your reaction to Twitter's censorship?
3. Watch the discussion between Jason Whitlock and Curtis Scoon. Do you agree with the assertions the two make about BLM? Explain your answer.

Scroll down to the bottom of the page for the answers.
Resources
Whitlock and Scoon discuss their Twitter ban and BLM founder Patrisse Cullors:
Answers
1. Bias by censorship, by violating Mr. Whitlock's First Amendment right to free speech.  Twitter is a public forum.
2. Opinion question. Answers vary.
3. Opinion question. Answers vary.