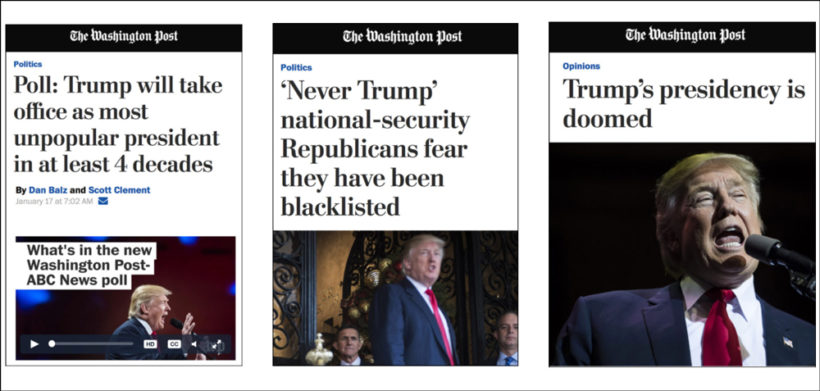 redo Jump to...
print Print...
Example of Media Bias:
Half of the country voted for Donald Trump. He made history by being the first candidate who has never held office or been appointed to any job in the government. In this week leading up to his inauguration, negative stories have received continuous, widespread media attention – multiple headlines feature stories such as:
"Poll: Donald Trump's Transition Gets 'Historically Low' Marks" (those who voted for him question who was polled)
"No-one wants to play Donald Trump's inauguration" (with many stories criticizing the few "B-listers" who will perform)
"Civil Rights Icon John Lewis Boycotts Trump Inauguration" (he also boycotted George W. Bush's inauguration – this was publicized after conservative commentators pointed it out)
"At Least 50 Democrats to Boycott Inauguration" (but none are senators–why aren't any Democratic Senators boycotting?)
These true headlines did not get as much attention:
Identifying Media Bias
To accurately identify different types of bias, you should be aware of the issues of the day, and the liberal and conservative perspectives on each issue.
Types of Media Bias:
Questions
What types of media bias does this excerpt illustrate?
CHALLENGE:  Do your own review. Over the next week, make a list of headlines, including news source, having to do with Donald Trump's inauguration (his family, his speech, the inauguration balls, guests, performers), his cabinet picks, etc.  What did you find: if there is something positive to report, is the story featured as often as negative stories? Are some stories actually not negative, but just spun that way?

Scroll down to the bottom of the page for the answers.
Answers
Bias by story selection and spin.