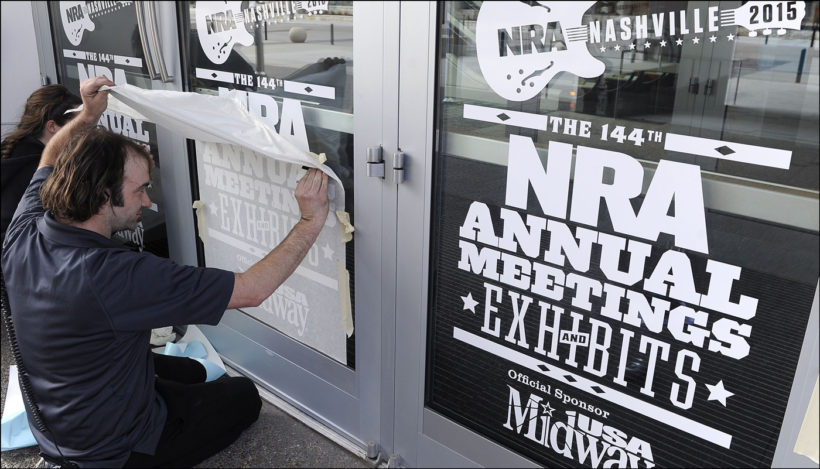 redo Jump to...
print Print...
Example of Media Bias:
[From an April 14 post by Don Irvine at Accuracy in Media:]
The New York Times was a little too quick to pull the trigger in an April 10 editorial, which blasted the annual NRA meeting in Nashville for banning working guns. They wrote:
No Firing Pins, Please, as the N.R.A. Gathers

Seventy-thousand people are expected to attend the National Rifle Association's convention opening on Friday in Tennessee, and not one of them will be allowed to come armed with guns that can actually shoot. After all the NRA propaganda about how 'good guys with guns' are needed to be on guard across American life, from elementary schools to workplaces, the weekend's gathering of disarmed conventioneers seems the ultimate in hypocrisy.
While that may sound like hypocrisy to the gun control crowd and the Times' editorial board, that is dead wrong.
Attendees were required to follow all federal, state and local laws applicable to the host city. In Nashville, firearms are allowed in the main convention venue, the Music City Center, with a proper license.
The nearby Bridgestone Arena, which was host to an NRA sponsored Alan Jackson concert on Saturday, prohibits firearms on the premises – it wasn't the NRA's prohibition.
In their zeal to rip the NRA, the Times apparently mistook the requirement that all weapons on the exhibit floor have their firing pins removed – which is a common safety practice at every major sporting-goods show – for a ban on all weapons, including those carried by attendees.
The Times did run the following correction, but failed to apologize for incorrectly calling the NRA hypocrites:
An editorial on Friday about the National Rifle Association's convention incorrectly described the rules for carrying concealed firearms at the event. Carrying is prohibited at one of the main convention venues [Bridgestone Arena], not all of them.
Maybe the next time the Times should actually try and check the facts before going off on the NRA – but that's probably about as likely as the NRA banning all firearms at its meetings.
Identifying Media Bias
To accurately identify different types of bias, you should be aware of the issues of the day, and the liberal and conservative perspectives on each issue.
Types of Media Bias:
Questions
NOTE: Although an editorial is the editor(s)' opinion, it is important that the facts/details included are correct. Editorials are meant to influence public opinion. Accuracy is essential if journalism is to inform the public debate.
1.  The NY Times editorial wrongly accused the NRA of banning firearms at their annual convention. Why do you think the Times' editors wrongly accused the NRA of hypocrisy?
2.  Do you think the editors are biased against the NRA and/or gun owners?  Explain your  answer.

Scroll down to the bottom of the page for the answers.
Answers
1.  Opinion question. Answers vary.
2.  Opinion question. Answers vary.