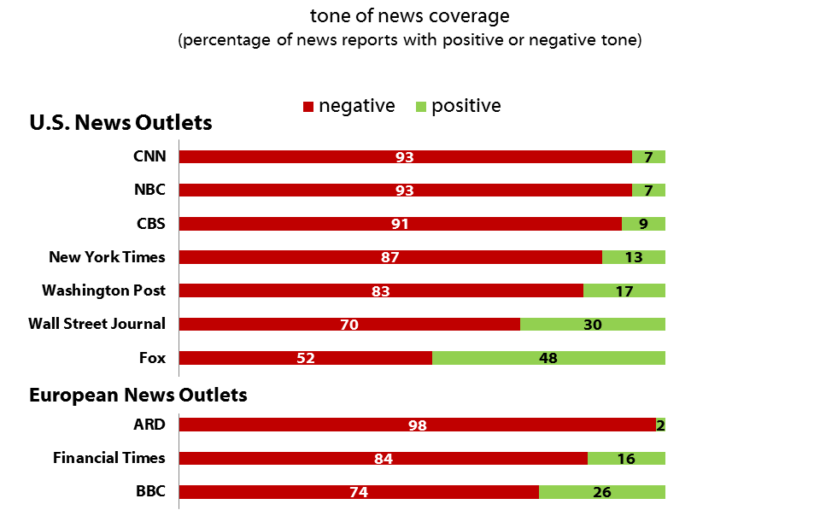 redo Jump to...
print Print...
Example of Media Bias:
A new report from Harvard Kennedy School's Shorenstein Center on Media, Politics and Public Policy analyzed news coverage of President Trump's first 100 days in office.
The report is based on an analysis of:
news reports in the print editions of The New York Times, The Wall Street Journal, and The Washington Post
the main newscasts of CBS, CNN, Fox News, and NBC
and three European news outlets – the UK's Financial Times and BBC, and Germany's ARD
To arrive at the percentages, Harvard obtained data from Media Tenor, which "codes" media according to its topic, source, and tone. The broadcast portion of the study accounts for reporting on CNN's The Situation Room, CBS Evening News, Fox's Special Report, and NBC Nightly News, but does not represent talk show coverage. Newspaper analysis incorporates all sections but obituaries, sports, and letters to the editor.
Trump's coverage during his first 100 days set a new standard for negativity. Findings include:
President Trump has received unsparing coverage for most weeks of his presidency, without a single major topic where coverage, on balance, was more positive than negative, setting a new standard for unfavorable press coverage of a president.
Every news outlet in the study was negative more often than positive.
Fox was the only news outlet that came close to giving Trump positive coverage overall – though they did not – 52% of news reports on Fox were negative towards President Trump. Only 48% were positive. (There was variation in the tone of Fox's coverage depending on the topic. Trade and terrorism were news categories where Fox's coverage was starkly different from that of the other outlets. Whereas their coverage in these areas tipped strongly in the negative direction, Fox's coverage tipped strongly positive. This just shows that those are two areas where Fox executives agree with Trump's position. Thus the positive coverage.)
The study also divided news items across topics. On immigration, healthcare, and Russia, more than 85% of reports were negative. (Consider the fact that on illegal immigration, President Trump has broad public support in his effort to crack down on sanctuary cities.)
On the economy, news reports were still negative, but less negative than other topics – 54% negative to 46% positive.  It should be difficult to publish negative stories about the economy when it is improving.
The study highlighted one exception: Trump got overwhelmingly positive coverage for launching a cruise missile attack on Syria.
Around 80% of all reports were positive about that.
A third major part of Harvard's study compared coverage of President Trump to that of the three previous presidents – Barack Obama, George W. Bush, and Bill Clintons' first 100 days.
Trump received 80 percent negative coverage, with only 20 percent of news reports were positive. Compare that to:
President Obama, who received 41 percent negative coverage and 59 percent positive coverage.
President Bush's news coverage was 57 percent negative – 43 percent positive
President Clinton, 60 percent negative, 40 percent positive
"The media needs different narrative frames [when reporting on President Trump] – not just an antagonistic one," said Nicco Mele, director of Harvard's Shorenstein Center, to The Daily Caller News Foundation.
(Compiled from reports at: Harvard's shorensteincenter.org, dailycaller.com and heatst.com.)
Identifying Media Bias
To accurately identify different types of bias, you should be aware of the issues of the day, and the liberal and conservative perspectives on each issue.
Types of Media Bias:
Questions
1. How do you think persistent and widespread negative coverage of President Trump affects the way people view him and his administration?
2. What to you do to avoid being influenced / having your views shaped by the media?
CHALLENGE: Check out the editorial cartoons found at several of the media sources evaluated in the Harvard study. What percentage of the cartoons about President Trump are positive? negative? neutral?

Scroll down to the bottom of the page for the answers.
Answers
1. Opinion question. Answers vary.
1. Opinion question. Answers vary.