print Print Cartoons
Questions
The White House Correspondents' Association (WHCA) is an organization of journalists who cover the White House and the President of the United States.
The WHCA's most high-profile activity is the annual White House Correspondents' Dinner, which is traditionally (though not always) attended by the President and covered by the news media.  The intended purpose of the dinner is to "acknowledge award-winners, present scholarships, and give the press and the president an evening of friendly appreciation."
The featured speaker has usually been a comedian, with the dinner taking on the form of a supposedly friendly 'roast' of the president and his administration.
Question:  What do you think is the point of both Dana Summers' and Steve Kelley's cartoons? Explain your answer.

Scroll down to the bottom of the page for the answers.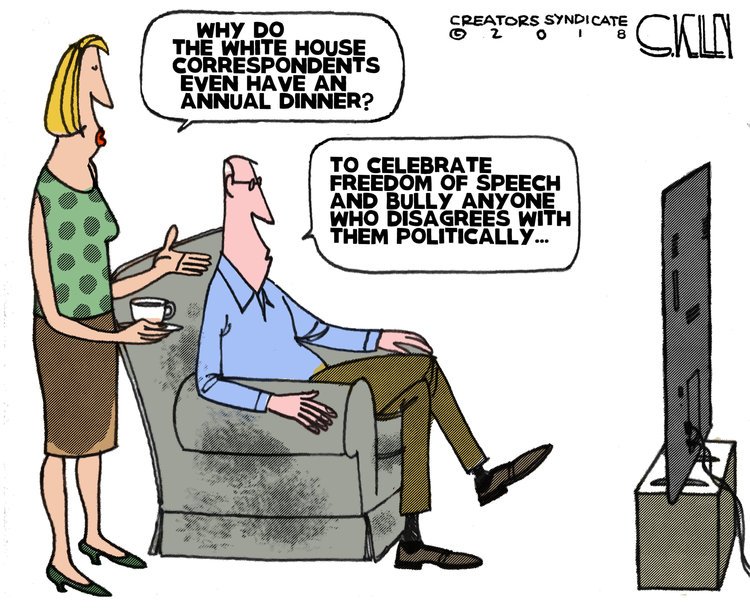 Cartoon by Steve Kelley
Answers
Both cartoonists' message is the same: the White House Correspondents' Dinner is only welcoming to those who agree with jounalists' liberal ideology. Anyone who holds opposing viewpoints (in this case President Trump, his staff and family and half of the American people) is ridiculed and scorned in a mean-spritied way.  The jokes again this year at the dinner were malicious and degrading to the President's family and his administration.
For the second year, President Trump skipped the event. The headlining comedian launched into a profanity-laced diatribe that mocked White House Press Secretary Sarah Huckabee Sanders' appearance, among other members of the Trump administration and his family. (Do your own comparison – watch the comedian's "jokes" at this year's dinner and compare it with any of the dinners during President Obama's eight years in office.)
---
Some journalists acknowledged the liberal bias of the dinner:
Axios editor Mike Allen said the dinner showed the press corps' bias before Wolf [the comedian] even began speaking. "If the dinner can only attract liberal presidents and liberal comedians, the conclusion is inevitable," Allen wrote.
"Unfortunately, I don't think we advanced the cause of journalism tonight," tweeted Peter Baker, New York Times chief White House correspondent.
"If the #WHCD dinner did anything tonight, it made the chasm between journalists and those who don't trust us, even wider. And those of us based in the red states who work hard every day to prove our objectivity will have to deal with it." tweeted AP reporter Meg Kinnard.