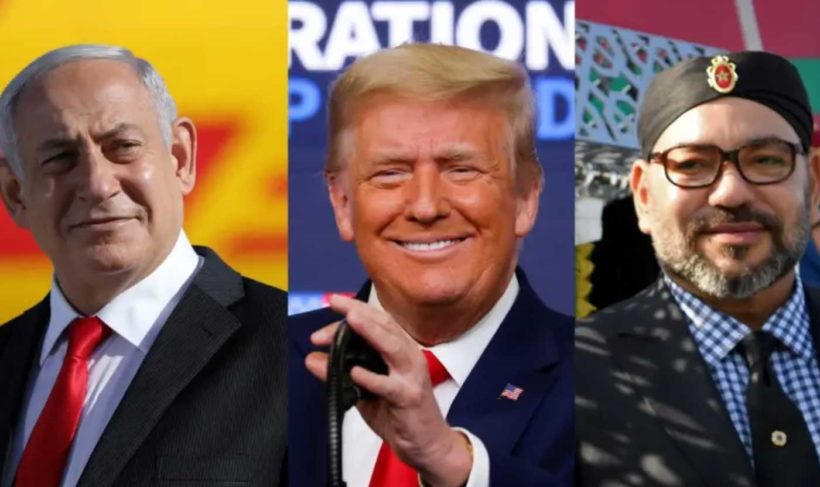 redo Jump to...
print Print...
(by Steve Herman, VOA) WHITE HOUSE — In a U.S.-brokered deal, Israel and Morocco have agreed to recognize each other.
This follows three other Arab (/Muslim) countries — Bahrain, Sudan and the United Arab Emirates — recently establishing ties with the Jewish state, which several times since its modern founding in the late 1940s has found itself at war with its Muslim-majority neighbors.
U.S. President Donald Trump on Thursday announced the deal between Morocco and Israel on Twitter, hailing it as a historic and massive breakthrough for peace in the Middle East and a continuation of his regional diplomacy known as the Abraham Accords.
Israeli Prime Minister Benjamin Netanyahu, welcoming the Jewish festival of Hanukkah, called the establishment of ties with the North African kingdom "another great light of peace." He said it would lead to direct flights between the countries and the opening of diplomatic missions.
Moroccan King Mohammed, speaking to Trump on Thursday by phone, confirmed the plans for direct flights for Israeli tourists to and from Morocco.
["As part of this deal, Morocco will establish full diplomatic relations and resume official contacts with Israel. They will grant overflights and direct flights to and from Israel for all Israelis," White House adviser Jared Kushner told reporters in a press call Thursday.

"They'll reopen the liaison offices in Rabat and Tel Aviv immediately, with the intention to open the embassies in the near future. They'll be promoting economic cooperation between Israeli and Moroccan companies."].
As part of the agreement, the United States agreed to recognize Moroccan sovereignty over the entire Western Sahara, a former Spanish territory where international negotiators have failed to resolve a long-running dispute.

[The U.S. will also] open a consulate in the Western Sahara as part of the agreement.

Morocco has claimed the territory as its "southern provinces" in opposition to the Polisario Front, based in Southern Algeria, which has been fighting for independence for Western Sahara.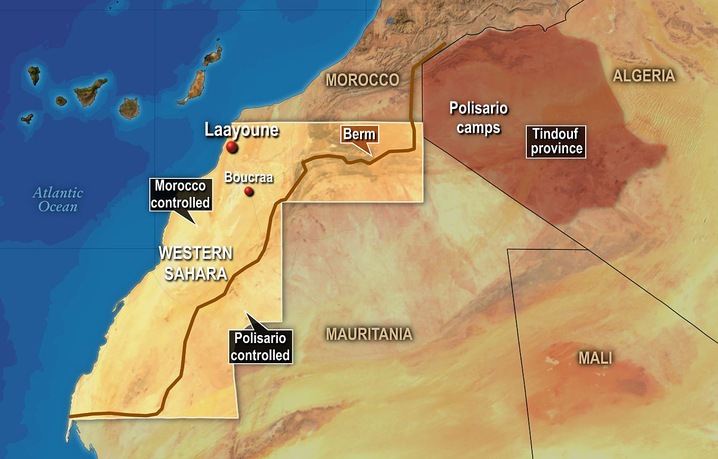 "This will not change an inch of the reality of the conflict and the right of the people of Western Sahara to self-determination," said the Polisario's Europe representative, Oubi Bchraya, who vowed the movement would continue its struggle.
…On recognizing the Western Sahara as Morocco's, Kushner…told reporters,"It's recognizing the inevitability of what is going to occur, but it also can possibly break the logjam, to help advance the issues in the Western Sahara." He added the United States wanted the "Polisario people to have a better opportunity to live a better life" and Trump "felt like this conflict was holding them back as opposed to bring it forward."
Trump administration officials predicted more countries would normalize ties with Israel.
"The fruits of these efforts have been become very apparent," Kushner told reporters on the conference call. "But we also believe that there is a lot more fruits to come in the short, medium and long term."
Kushner specifically mentioned Saudi Arabia as one country that will inevitably establish relations with Israel. …
"Over four years, he hasn't started wars. He's ended wars," Kushner said of Trump. "He showed strength. I mean, he's struck when needed. He's enforced his red lines. He's liked, he's respected, and he's feared, which is critical in the Middle East and in those areas toward making progress."
VOA U.N. Correspondent Margaret Besheer contributed to this report from New York. Published at voa .com. Reprinted here for educational purposes only. May not be reproduced on other websites without permission from Voice of America.
Questions
1. The first paragraph of a news article should answer the questions who, what, where and when (although in this article see paragraphs 1 and 3). List the who, what, where and when of this news item. (NOTE: The remainder of a news article provides details on the why and/or how.)
2. Name the three Arab (Muslim-majority) countries that have normalized relations with Israel following Trump administration negotiations.
3. What is the name of the foreign policy program President Trump initiated to broker these agreements?
4. What does "normalizing relations" include, as listed in the article?
5. Which additional Arab country did Jared Kushner name as one that is expected at some point to also establish relations with Israel?
6. Ask a parent (and a grandparent): How significant do you think the normalization of relations between Israel and several of its Arab neighbors is? Please explain your answer.
Background
The Abraham Accords  are named after the patriarch Abraham, regarded as a prophet by both the religions of Judaism and Islam, and traditionally considered a shared patriarch of the Jewish and Arab peoples (by way of Isaac and Ishmael).
The Abraham Accords are a joint statement between Israel, the United Arab Emirates and the United States, reached on August 13, 2020.  Subsequently the term was used to refer collectively to agreements between Israel and the United Arab Emirates (the Israel–United Arab Emirates normalization agreement) and Bahrain, respectively (the Bahrain–Israel normalization agreement).
The statement marked the first normalization of relations between an Arab countryand Israel since that of Egypt in 1979 and Jordan in 1994. The original Abraham Accords were signed by the UAE's Foreign Minister Abdullah bin Zayed Al Nahyan, Bahrain's Foreign Minister Abdullatif bin Rashid Al Zayani, and Israeli Prime Minister Benjamin Netanyahu on September 15, 2020, at the South Lawn of the White House in Washington, D.C.
The agreement with the UAE was officially titled the Abraham Accords Peace Agreement: Treaty of Peace, Diplomatic Relations and Full Normalization Between the United Arab Emirates and the State of Israel, The agreement between Bahrain and Israel was officially titled the Abraham Accords: Declaration of Peace, Cooperation, and Constructive Diplomatic and Friendly Relations, and was announced by the United States on September 11. (from wikipedia)
Read about the Trump administration's plan "The Abraham Accords" (includes text of the declaration sgined by the U.S., Israel, and partner countries).
---
Did you know?  Twenty-two countries ban direct flights and overflights to and from Israel. These are Afghanistan, Algeria, Bahrain, Bangladesh, Brunei, Iran, Iraq, Kuwait, Lebanon, Libya, Malaysia, Morocco, Oman, Pakistan, Qatar, Saudi Arabia, Somalia, Sudan, Syria, Tunisia, UAE, Yemen. (from wikipedia: NOTE: Wikipedia hasn't updated this: Bahrain, Sudan and UAE have signed Abraham Accords to normalize relations which includes flights for Bahrain and UAE, not sure about Sudan)
Fourteen countries do not accept Israeli passports: Algeria, Bangladesh, Brunei, Iran, Iraq, Kuwait, Lebanon, Libya, Malaysia, Pakistan, Saudi Arabia, Sudan, Syria and Yemen. (from wikipedia; Sudan made an agreement with Israel on Oct. 23, 2020, but might not yet accept Israeli passports?)
Israel has diplomatic relations with 163 of the other 192 UN member states as of December 2020:
Israel maintains full diplomatic relations with two of its Arab neighbors, Egypt and Jordan, after signing peace treaties in 1979 and 1994 respectively.
In 2020, Israel signed agreements establishing diplomatic relations with two other Arab countries, Bahrain and the United Arab Emirates.
Thirty-one UN member states do not have relations with Israel: 17 of the 21 UN members in the Arab League (Algeria, Comoros, Djibouti, Iraq, Kuwait, Lebanon, Libya, Mauritania, Morocco, Oman, Qatar, Saudi Arabia, Somalia, Sudan?, Syria, Tunisia and Yemen), 10 other members of Organisation of Islamic Cooperation (Afghanistan, Bangladesh, Brunei, Indonesia, Iran, Malaysia, Maldives, Mali, Niger and Pakistan), Bhutan, Cuba, North Korea and Venezuela. Israel is a member of a number of United Nations and other international organisations. (from wikipedia)
Daily "Answers" emails are provided for Daily News Articles, Tuesday's World Events and Friday's News Quiz.