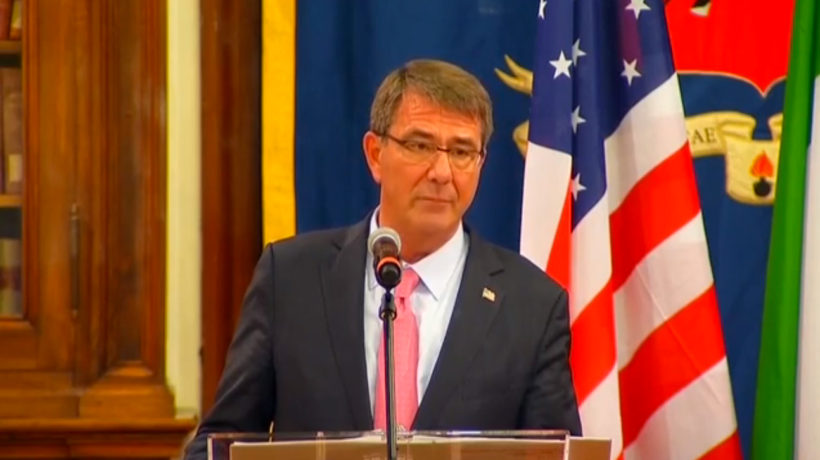 redo Jump to...
print Print...
(by Julian E. Barnes, Gordon Lubold, Sam Dagher and Philip Shishkin, The Wall Street Journal) – The U.S. ruled out strategic collaboration with Moscow in the Middle East and said Russia has built up a ground force inside Syria with heavy weaponry that could support a Syrian army offensive.
Russia escalated its assault on opponents of Syrian President Bashar al-Assad's regime with its first naval bombardment on Wednesday. It launched a volley of 26 medium-range cruise missiles from four warships in the Caspian Sea nearly 1,000 miles away.
For the first time since Moscow's direct intervention in the Syrian conflict a week ago, Russian warplanes and helicopters appeared to be aiding a ground assault by pro-regime forces and militias against rebel forces focused in the central Syrian province of Hama, according to opposition activists and fighters.
The developments [indicate a rapidly growing] Russian military campaign based on land, air and sea that is at odds with U.S. goals, building tensions between the two big powers.
The U.S. ambassador to the North Atlantic Treaty Organization (NATO), Douglas Lute, said Wednesday that Russia has deployed rocket artillery, its most advanced tanks, air defense systems and attack helicopters. The retired three-star general called the rapid military deployment "quite impressive." Russia has also built up its naval forces, positioning some 10 ships in the Mediterranean, he said.
"We will see what they intend to do. Some of the capabilities brought to that Russian base in Latakia suggest more than simply base protection," Mr. Lute said at a news conference ahead of Thursday's gathering of NATO defense ministers in Brussels.
Last week, Russia's head of presidential administration, Sergey Ivanov, ruled out direct Russian participation in ground combat.
The U.S. has since observed deployments of Russian military equipment away from the air base that Moscow has been reinforcing in the regime stronghold of Latakia province and toward areas where there is fighting, said Capt. Jeff Davis, a Pentagon spokesman.
The equipment include artillery and multiple-rocket launchers, and seem to be designed to support a ground offensive by the Syrian regime—though not a unilateral Russian operation involving Russian troops, he said. The artillery deployments are concentrated roughly in the same geographical area that has borne the brunt of the Russian airstrikes, Capt. Davis said.
Ambassador Lute said it is Russian airstrikes that pose the greatest danger, because of the threat of a clash between the U.S.-led coalition and Russian planes.
There have been aerial encounters, including one in which a U.S. plane had to modify its course to maintain a safe distance from Russian aircraft, Pentagon officials said.
Communications [between the U.S. and Russia] through Wednesday were nonexistent. U.S. officials said they weren't aware of any Russian effort to provide notice of the cruise missile launches, which had to go through Iraqi airspace to reach Syria.
U.S. officials said no U.S.-Russian cooperation was possible and that Washington would seek only narrow technical channels of communications to avoid unintended clashes among their rival military operations.
"We are not prepared to cooperate on strategy which, as we explained, is flawed, tragically flawed, on the Russians' part," U.S. Defense Secretary Ash Carter said at an appearance with Italian Defense Minister Roberta Pinotti in Rome. However, the Obama administration has yet to outline a way to safeguard its allies in the country or to counter Moscow.
"Syria is not going to turn into a proxy war between Russia and the United States," White House press secretary Josh Earnest said Wednesday. "That certainly would not be consistent with our interests."
Col. Gen. Andrei Kartapolov of the Russian General Staff said the Russian cruise missiles targeted plants producing ammunition and explosives, command centers, munitions stores and training camps in Raqqa, Idlib and Aleppo provinces. Russian Defense Minister Sergei Shoigu said all 11 targets of the barrage had been destroyed and no civilian buildings were damaged. …
Russia has struck some 112 targets since it began airstrikes against opponents of Mr. Assad on Sept. 30, said Mr. Shoigu, the Russian defense minister.
Russian officials say they are targeting Islamic State and other groups its labels terrorists—a term the Syrian regime uses to label all its opponents, including moderate rebels. But Western officials and analysts say most strikes appear aimed at regime opponents other than Islamic State.
Adam Thomson, the British ambassador to NATO, said Russia has obscured its intentions as it built a large force in Syria.
"It is clear that the Russian military deployment in Syria is the largest beyond Russia's immediate neighborhood since the Cold War," he said. "Force protection is a possible explanation, but it may not be the right one."
Mr. Thomson expressed frustration with Russia's claims to be focused on targeting Islamic State.
"One of the profound difficulties dealing with Russia in Syria or elsewhere is how opaque Putin's intentions are and how the Russian system lies about what they are up to," he said.

Many among Mr. Assad's own Shiite-linked Alawite minority—which constitutes the core of his regime and those fighting to defend it—have expressed relief over the Russian airstrikes targeting rebel groups threatening strongholds in and around Syria's Mediterranean coast.
"Many of us feel the Russians saved us but this should have happened a long time ago," said a young man in 20s from an Alawite village in the mountains overlooking the city of Latakia.
—James Marson in Moscow contributed to this article.
Copyright 2015 Dow Jones & Company, Inc. All Rights Reserved. Reprinted here for educational purposes only. May not be reproduced on other websites without permission from The Wall Street Journal. Visit the website at wsj .com.
Questions
1. Describe Russia's military build-up in and around Syria.
2. a) Describe the military action Russia has taken since entering into direct intervention in Syria last week.
b) How does this contrast with what Russian officials said about their involvement in Syria?
3. What do U.S. officials say Russia's military build-up and actions indicate?
4. Why is the U.S. most concerned about Russian air strikes in Syria?
5. a) Why doesn't the U.S. want to work with Russia on military strikes, according to U.S. Defense Secretary Ash Carter?
b) What is the U.S. doing to avoid unintended military clashes with Russia?
6. Russia is mostly targeting rebels who are not ISIS terrorists (although both groups are fighting against President Assad). Ask a parent if he/she supports U.S. strategy and to explain why or why not.
Background
More from the WSJ article above:
There was no immediate comment from Russia or the Syrian regime. But the media arm of Hezbollah—a Lebanese militant group fighting on the side of the regime in Syria—said Russian warplanes conducted dozens of airstrikes on "terrorist hide-outs" in Hama in support of a ground offensive by Syrian army units.
Over the weekend Omran al-Zoabi, the regime's information minister, said Russian airstrikes will be accompanied by sweeping military operations across the country. This was echoed Tuesday by the chief of Hezbollah, which has thousands of fighters in Syria.
"The next phase will see victories," Hezbollah leader Hassan Nasrallah said in a speech in Beirut.
Mr. Putin said Russian forces should continue to "synchronize with the actions of the Syrian army on the ground" to support offensive operations.
Resources
Watch an Oct. 8 BBC News report:
Daily "Answers" emails are provided for Daily News Articles, Tuesday's World Events and Friday's News Quiz.