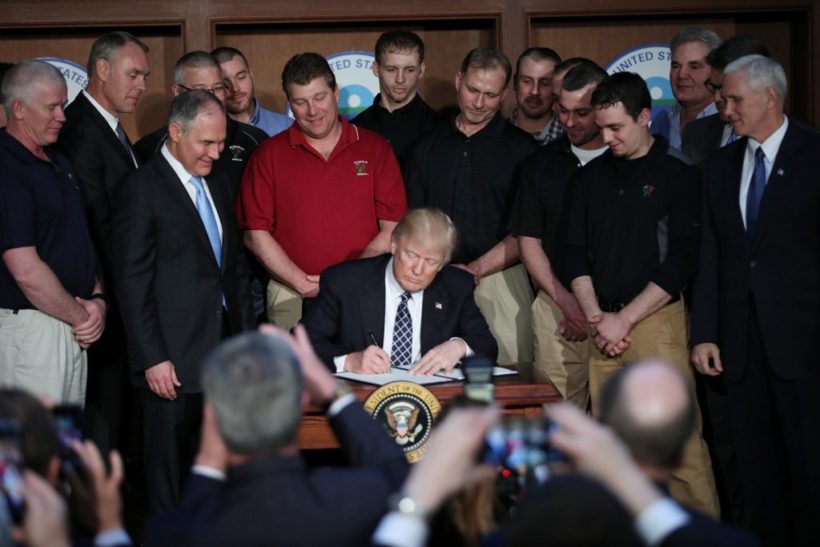 redo Jump to...
print Print...
(by Valerie Volcovici and Jeff Mason, Reuters) WASHINGTON — President Donald Trump on Tuesday signed an executive order to undo Obama-era climate change regulations, keeping a campaign promise to support the coal industry and calling into question U.S. support for an international deal to fight global warming.
Flanked by coal miners and coal company executives, President Trump proclaimed his "Energy Independence" executive order at the headquarters of the Environmental Protection Agency.
The move drew swift backlash from a coalition of 23 mostly Democrat-led states and local governments, as well as environmental groups, which called the decree a threat to public health and vowed to fight it in court.
The order's main target is former President Barack Obama's Clean Power Plan, which required states to slash carbon emissions from power plants – a key factor in the United States' ability to meet its commitments under the 2015 Paris climate change accord signed by President Obama.
President Trump's decree also reverses a ban on coal leasing on federal lands, undoes rules to curb methane emissions from oil and gas production and reduces the weight of climate change and carbon emissions in policy and infrastructure permitting decisions. Carbon dioxide and methane are two of the main greenhouse gases blamed by scientists for heating the earth.
"I am taking historic steps to lift restrictions on American energy, to reverse government intrusion and to cancel job-killing regulations," President Trump said at the EPA.
The room was filled with miners, coal company executives and staff from industry groups, who applauded loudly as President Trump spoke. Shares in U.S. coal companies edged higher in response.
The wide-ranging order is the boldest yet in President Trump's broader push to cut environmental regulation to revive the drilling and mining industries, a promise he made repeatedly during the 2016 presidential campaign. …
"I cannot tell you how many jobs the executive order is going to create, but I can tell you that it provides confidence in this administration's commitment to the coal industry," Kentucky Coal Association president Tyler White told Reuters.
…U.S. presidents have aimed to reduce U.S. dependence on foreign oil since the Arab oil embargo of the 1970s, which triggered soaring prices. But the United States still imports about 7.9 million barrels of crude oil a day, almost enough to meet total oil demand in Japan and India combined.
An overwhelming majority of scientists believe that human use of oil and coal for energy is a main driver of climate change, causing a damaging rise in sea levels, droughts and more frequent violent storms.
But President Trump and several members of his administration have doubts about climate change, and Trump promised during his campaign to pull the United States out of the Paris climate accord, arguing it hurts U.S. business.
Since being elected, President Trump has been mum on the Paris deal and the executive order does not address it. …
The order directs the EPA to start a formal process to undo the Clean Power Plan, which was introduced by Obama in 2014 but was never implemented in part because of legal challenges brought by [24] states.
President Obama's Clean Power Plan required states to collectively cut carbon emissions from power plants by 32 percent below 2005 levels by 2030. …
(Additional reporting by Timothy Gardner; writing by Richard Valdmanis; Editing by Jeffrey Benkoe and Cynthia Osterman)
Reprinted here for educational purposes only. May not be reproduced on other websites without permission from Thomson Reuters. Visit the website at Reuters .com.
---
Watch a Wednesday, March 29th interview with the President of the Ohio Coal Association:
Questions
1. The first paragraph of a news article should answer the questions who, what, where and when. List the who, what, where and when of this news item. (NOTE: The remainder of a news article provides details on the why and/or how.)
2. Why are 23 states opposed to President Trump's executive order?
3. a) Who is the head of the EPA?
b) In addition to directing the EPA to start a formal process to undo President Obama's "Clean Power Plan," what three major changes did President Trump make in U.S. energy policy?
4. What did President Trump say when he signed the order at the EPA yesterday?
5. a) What promise was President Trump fulfilling by signing this executive order?
b) Ask a parent: two months into office, President Trump has fulfilled many promises he made to voters during the campaign. Whether you support him or not, are you surprised by this? What is your reaction to his commitment to fulfill these promises? Please explain your answers.
6. Read the information under "Background" below about the two views of global warming, President Obama' Clean Power Plan and the reasons 24 states filed a lawsuit against it, as well as the Paris climate agreement. For the most part, Republicans (conservatives and libertarians) oppose strict government regulations that force people to reduce carbon emissions while Democrats (progressives/liberals) say carbon emissions must be reduced as the only way to prevent catastrophic man-made global warming. With whom do you agree? Discuss your answer with a parent.
Background
ON GLOBAL WARMING:
The theory of global warming is that the earth's temperature is rising due to man's use of fossil fuels (gas, oil, coal).  It is believed that this temperature change will result in catastrophic problems in the environment.  To prevent catastrophic climate change, countries need to restrict energy use (reduce/eliminate use of gas, oil and coal).
Global warming is a controversial issue.  Scientists today have two opposing views on global warming:
First – the planet is warming as a result of human actions; an extreme, deadly change in the earth's climate is going to occur, caused by greenhouse gas emitted by the world's use of fossil fuels (coal, oil, gas).
Check out two liberal organizations which defend this viewpoint:
Natural Resources Defense Council and Greenpeace.
Second – fossil fuels (using gas, coal and oil for energy and electricity) does not cause climate change; an extreme and catastrophic change in the earth's climate won't happen.  Global warming is not a scientifically proven fact.  Two conservative organizations which support this view are:
FriendsOfScience and ClimateDepot.
---
President Obama in August 2015 announced his Clean Power Plan which requires states to reduce carbon output from hundreds of power plants across the nation – ordering a 32 percent cut in the power sector's carbon emissions by 2030, compared with 2005 levels.
Responding the the Obama plan, a coalition of 24 states and a coal mining company filed lawsuits in October 2015 to challenge the regulations.
They accused the EPA of going far beyond the authority Congress granted to it by ordering a significant transformation of states' electricity generation, forcing states to move away from fossil fuels like coal and toward lower-carbon emitting sources like wind and solar power.
West Virginia Attorney General Patrick Morrisey listed the arguments against the rule:
that it will hurt his state's coal mining industry
it will raise power rates for consumers
it will risk electricity reliability
(from a 10/26/15 Daily News Article "24 states sue Obama over coal plant emissions rule")
Why 24 states oppose President Obama's rule for power plants:
The Rule forces States to develop plans to dramatically reduce carbon dioxide emissions by an average of 32 percent by 2030. EPA says this goal can be accomplished by reducing or eliminating coal-based energy generation.
"EPA claims to have sweeping power to enact such regulations based on a rarely-used provision of the Clean Air Act but such legal authority simply does not exist," Attorney General Morrisey said.
Forcing such drastic changes in electricity production, coal-fired plants will be subjected to costly compliance measures or closure, leading to skyrocketing electricity rates and loss of reliable electricity for West Virginian families.
"As Attorney General, I have a responsibility to protect the lives of millions of working families, the elderly and the poor, from such illegal and unconscionable Federal Government actions," Morrisey said. "It's the people who can afford it least who are going to be affected the most."
The States argue the Rule is illegal and will have devastating impacts upon the States and their citizens.
T

he Section 111(d) rule exceeds EPA's authority by unlawfully forc

ing

 States to

 

fundamentally alter state resource-planning and energy policy by shifting from coal-fired

 

generation to other sources of power generation, with a significant emphasis on renewable

 

sources.

 The Rule is also illegal because it seeks to require States to regulate coal-fired power plants under Section 111(d) of the Clean Air Act, even though EPA already regulates those same plants under Section 112 of the Act.
(from the West Virginia Attorney General's website)
---
The U.S., Europe and Japan may debate the merits of coal versus nuclear, natural gas, wind and other cleaner fuels, but for developing countries that have considerably less income and wealth to pay for power projects, those more-expensive sources of power are rarely realistic alternatives. For this vast swath of humanity, coal remains the main or only alternative to improve their lives with a reliable energy source. (from a commentary on coal)
View a chart: Sources of Energy in the U.S.
---
The goal of the Paris Climate Summit in December 2015 was to "to save the world from global warming." The aim was to get a treaty committing 196 nations to stop global temperatures rising more than 2 degrees C or even less above their pre-industrial level, by wholesale "decarbonizing" of the world's economy. World leaders insisted we must all stop using those "polluting" fossil fuels which still provide 86 percent of global energy.
To this end, the world's richer "developed nations" would also give $100 billion a year to all those countries still developing after 2020 to to enable them to rely only on "clean" energy – wind and solar – for their energy.
(from a commentary)
Read a September 2013 editorial "A science-based rebuttal to the theory of global warming?"
Resources
Watch President Trump's announcement:
Daily "Answers" emails are provided for Daily News Articles, Tuesday's World Events and Friday's News Quiz.