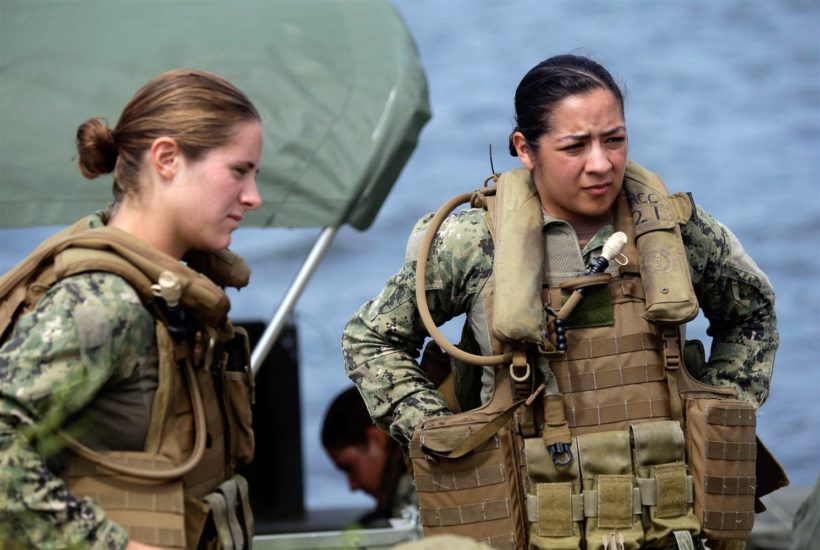 redo Jump to...
print Print...
(NJ.com) Congress is one step closer to ordering young women to register for a military draft for the first time in history, but many are outraged at the move, The Associated Press reported.
The female draft requirement was approved Thursday by the Senate Armed Services Committee.
The committee added a provision to its version of the annual defense policy bill that calls for women to sign up with the Selective Service within 30 days of turning 18 beginning in January 2018.
The House Armed Services Committee narrowly adopted a provision to its bill last month.
"This is a highly consequential — and, for many American families, a deeply controversial — decision that deserves to be resolved by Congress after a robust and transparent debate in front of the American people, instead of buried in an embargoed document that is passed every year to fund military pay and benefits," said Sen. Mike Lee, R-Utah.
The U.S. has not had a military draft since 1973, when it was suspended in the waning years of the Vietnam War era. Still, the Selective Service System has remained in place and all men between the ages of 18 and 25 are required by law to register. 
Women were nearly drafted during World War II due to a shortage of military nurses. But a surge of volunteers made it unnecessary, according to the Government Accountability Office.
The White House has declined to say whether President Barack Obama would sign into law legislation that expands the draft to include women.
Reprinted here for educational purposes only. May not be reproduced on other websites without permission from NJ .com. 
Questions
PLEASE NOTE: Daily posting and "Answers" emails will end for the school year on Friday, May 27th.
1. What is the Senate Armed Services Committee?
2. What will the provision added to the Senate's annual defense policy bill do?
3. When did the House Armed Services Committee adopt the same provision?
4. a) How did Senator Mike Lee (R-Utah) react to the inclusion of the draft provision in the bill?
b) Do you agree with Senator Lee's assertion? Explain your answer.
5. a) When was the last year the U.S. had a military draft?
b) Despite the fact that there is no draft currently in the U.S., what must all men between the ages of 18 and 25 do?
6. The Obama administration has moved to open all combat roles to women.
a) Should women be required to register for the draft since they are now able to hold the same combat roles men do?
b) Do you think President Obama should sign the finalized bill into law, or veto the legislation?
c) Do you think our enemies today – Islamic terrorists – who captured U.S. soldiers would treat female soldiers differently than male soldiers? (better, worse, the same)?
d) List at least 3 pros and 3 cons to women in combat roles.
Explain your answers.
7. Ask a parent, and a grandparent their opinions on women in combat and women being required to register for the draft.
Background
Provision to Draft Women in Defense Bill
Republican Senator Mike Lee (UT) put forth an amendment to strike out the provision that would include women in the draft, but it was defeated 7-19. Every Democrat on the committee, along with Republican Senators: John McCain (AZ), Kelly Ayotte (NH), Deb Fischer (NE), Joni Ernst (IA), Thom Tillis (NC), Dan Sullivan (AK), and Lindsey Graham (SC) voted to include women in Selective Service.
Republican Senators Jim Inhofe (OK), Jeff Sessions (AL), Roger Wicker (MS), Tom Cotton (AR), Mike Rounds (SD), and Ted Cruz (TX) voted with Lee to strike out the requirement that women register for the draft.
View Senate Committee on Armed Services members at govtrack.us
About Congressional Committees:
Committee membership enables members to develop specialized knowledge of the matters under their jurisdiction.

As "little legislatures," committees monitor on-going governmental operations, identify issues suitable for legislative review, gather and evaluate information; and recommend courses of action to their parent body.

There are three types of committees: standing, select or special, and joint committees.

Standing committees generally have legislative jurisdiction. (Subcommittees handle specific areas of the committee's work.)
Select and joint committees generally handle oversight or housekeeping responsibilities.

The chair of each committee and a majority of its members represent the majority party. The chair primarily controls a committee's business. The chairman is always selected from the majority party and the ranking member is the most senior member of the minority party. The majority party ensures it has a majority on every committee.

There are 21 permanent committees in the House of Representatives, and 20 in the Senate. Four joint committees operate with members from both houses on matters of mutual jurisdiction and oversight.
The Senate Armed Services Committee is a standing committee.  It is empowered with legislative oversight of the nation's military, including the Department of Defense, military research and development, nuclear energy (as pertaining to national security), benefits for members of the military, the Selective Service System and other matters related to defense policy.
It is considered one of the most powerful Senate committees. The committee tends to take a more bipartisan approach than other committees, as many of its members formerly served in the military or have major defense interests located in the states they come from. (from wikipedia)
Daily "Answers" emails are provided for Daily News Articles, Tuesday's World Events and Friday's News Quiz.