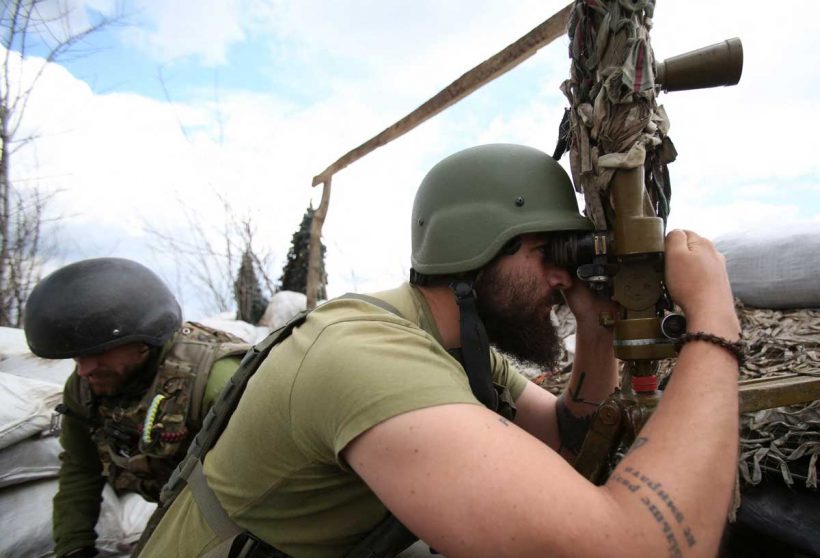 redo Jump to...
print Print...
(by John Haltiwanger, Business Insider) — Russia on Thursday abruptly announced it's pulling troops back from Ukraine's borders, just one day after President Vladimir Putin warned that anyone who threatens Russia's security will "regret" it.
The buildup of well over 100,000 Russian troops over the past few weeks along the eastern Ukrainian border and in Crimea, which Putin unilaterally annexed [took over by force] in 2014, raised alarms across the West and sparked fears of an invasion.
But Russian Defense Minister Sergei Shoigu on Thursday said that the exercise had achieved its goal and ordered the troops to withdraw from the area to their permanent bases by May 1. "The troops have demonstrated their ability to provide a credible defense for the country," Shoigu said, per BBC News.
The pull-back order also specified, however, that the troops in one field camp roughly 100 miles from the eastern Ukrainian border leave their armored vehicles [and other equipment] there until fall [for another military exercise].
Ukrainian President Volodymyr Zelensky cautiously welcomed [Russia's announcement].
"The reduction of troops on our border proportionally reduces tension," Zelensky said in a tweet. He added that Ukraine is "always vigilant" but "welcomes any steps to decrease the military presence" and "deescalate the situation" in Donbass — the war-torn eastern region where Ukraine has been fighting a war against Kremlin-backed rebels since 2014. More than 13,000 people have been killed as a result of the conflict.
Russia's massive troop buildup in recent weeks came amid heightened tensions with the US and NATO. As Western countries raised concerns about the tens of thousands of Russian troops amassing on Ukraine's borders, Russia said the troop buildup was part of readiness drills in response to NATO threats.
Military leaders and analysts generally interpreted the buildup as saber-rattling, or an attempt by Russia to display what it's capable of militarily. Last week, the top US general in Europe said there was a "low to medium" risk of a Russian invasion in Ukraine, but added that the likelihood of such an incursion would "start to wane" based on "the trend that I see right now."
Published at businessinsider .com on April 22. Reprinted here for educational purposes only. May not be reproduced on other websites without permission.
Questions
NOTE: Before answering the questions, read the "Background" and check out the video and links under "Resources" below.
1. The first paragraph of a news article should answer the questions who, what, where and when. List the who, what, where and when of this news item. (NOTE: The remainder of a news article provides details on the why and/or how.)
2. a) Name the presidents of Russia and Ukraine.
b) Who is Sergei Shoigu?
c) How did Mr. Shoigu explain Russia's decision to pull troops back from the border with Ukraine?
3. What warnings had President Putin issued prior to the announced troop withdrawal?
4. What is Russia leaving behind when the troops depart? Why?
5. What reason did Russia give for the troop buildup on Ukraine's borders?
6. According to the reporter, how did military leaders and analysts interpret the Russian troop buildup? (Note: other reports expressed great concern and the possibility of imminent Russian invasion into Ukraine.)
7. Ask a parent: what do you think? Did western/NATO/U.S. sanctions and threats of sanctions, as well as President Biden's support for Ukraine (despite reversing plans to deploy U.S. warships in the Black Sea) cause Putin to back down – or was he just saber-rattling, or was it something else? Please explain your answer.
Background
Most of Ukraine was absorbed into the Russian Empire in the late-18th century and Ukraine was a founding republic of the former Soviet Union. It finally gained independence from Moscow (in 1991) with the collapse of the USSR (Soviet Union). Although not currently a NATO member, Ukraine has long expressed a desire to join the Western alliance – a move Russia says would be a "huge strategic mistake."
Earlier this month, Ukrainian President Zelenskiy said Ukraine was hoping to hasten progress toward NATO membership and announced that it would take part in joint military exercises known as "Exercise Cossack Mace" with NATO forces later this year.
The Kremlin had rebuffed U.S. and European concern over the buildup, saying it will defend its national interests the way it sees fit. On Wednesday, Putin — who has ignored calls by Ukraine for talks to defuse the situation — warned NATO against "crossing a red line" in his state-of-the-nation address.
Russia ordering troops back to base after their deployment to the border is an important and timely move, a NATO official told Reuters.
"Any steps towards de-escalation by Russia would be important and well overdue," the unnamed NATO official said. "NATO remains vigilant and we will continue to closely monitor Russia's unjustified military build-up in and around Ukraine," the official said.
(NPR, April 22, by Scott Neuman)
---
What is Russia doing?
Russia said all along that these were nothing more than military exercises.
But Moscow knew very well that its troop movements close to Ukraine and in annexed Crimea were making a lot of people very nervous: in Ukraine, Europe and in America.
Moscow may well have been using the build-up of troops to send a signal to Kyiv, Brussels and, especially, to Washington that Russia is a force to be reckoned with.
US President Joe Biden took notice. Last week, he telephoned President Putin and proposed a summit. True, he also imposed a new round of sanctions over Russia's "malign activity."  But inside Russia these were perceived as not particularly tough.
[In addition, the UK Guardian notes, "President Biden offered strong support for Ukraine…and warned Putin not to take military action. At the same time, Biden backed down from plans to deploy warships in the Black Sea].
A reduction in tension…does not mean the end of tension. Russia's defense minister has made it clear that "Russia is taking measures in response to threats from Nato."
For example, Moscow is planning to block areas of the Black Sea to foreign shipping for six months.
Daily "Answers" emails are provided for Daily News Articles, Tuesday's World Events and Friday's News Quiz.