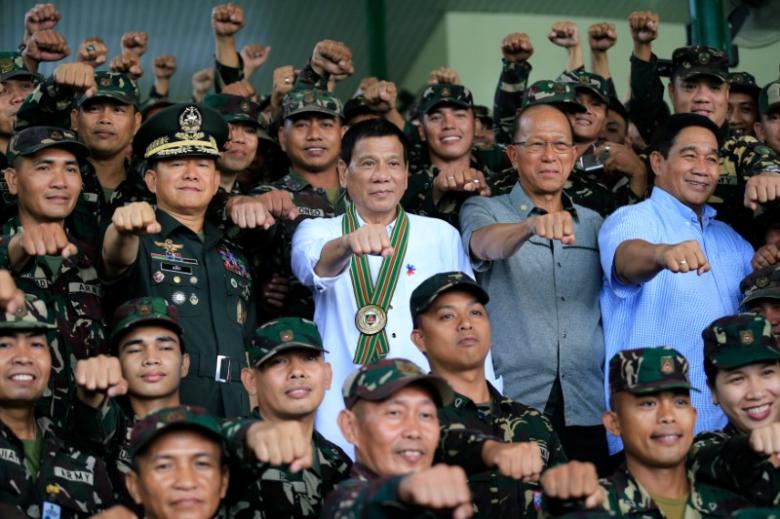 redo Jump to...
print Print...
(by Jim Gomez, Associated Press) MANILA, Philippines — Philippine president Rodrigo Duterte told President Barack Obama "you can go to hell" in a speech Tuesday that was his strongest tirade so far against the U.S. over its criticism of his deadly anti-drug campaign, adding that he may eventually decide to "break up with America."

…Since taking office June 30, Duterte has had an uneasy relationship with the U.S. and with Obama and has declared intentions to bolster relations with China and Russia as he revamps Philippine foreign policy that has long [been a strong ally of] Washington.

[Duterte] also has been [upset with Obama's] criticism over his anti-drug crackdown, which has left more than an estimated 3,000 suspected drug dealers and pushers dead in just three months, alarming the United Nations, the EU, the U.S. and human rights watchdogs.

In a speech before a local convention attended by officials and business executives, Duterte outlined his disappointments with the U.S., which has asked his government to stop the widespread killings and has questioned whether human rights are being violated. He also described Washington as an unreliable ally, saying Filipino forces have not benefited from joint combat exercises with U.S. troops [and expressed his displeasure at the U.S. for refusing to sell the Philippines missiles and other weapons, according to Reuters. Duterte said the U.S. did not want to sell missiles and other weapons, but Russia and China had told him they could provide them easily. "If you don't want to sell arms, I'll go to Russia. I sent the generals to Russia and Russia said 'do not worry, we have everything you need, we'll give it to you'. And as for China, they said 'just come over and sign and everything will be delivered'."]  He then said,
"Instead of helping us, the first to criticize is this State Department, so you can go to hell, Mr. Obama, you can go to hell," Duterte said. Then addressing the EU, [which has also expressed concern over his drug policy], he said: "Better choose purgatory, hell is filled up."
In a later speech at a synagogue in Makati city in the Manila metropolis, Duterte warned he may decide to "break up with America" in his most serious threat so far to push relations back with Washington.
"Eventually I might, in my time, I will break up with America," he said without elaborating. "I would rather go to Russia and to China."
In Washington, White House spokesman Josh Earnest said Tuesday that the U.S. had not received any official request from Duterte or any other Philippine official to alter any aspect of bilateral cooperation.
"This is an alliance that is robust and that benefits both of our countries," Earnest said. "Even as we protect this strong alliance, the administration and the United States of America will not hesitate to raise our concerns about extrajudicial killings*. We remain deeply concerned by reports of widespread extrajudicial killings by or at the behest of government authorities in the Philippines. The use of that kind of tactic is entirely inconsistent with universal human rights and the shared values of our two countries." [*An extrajudicial killing is the killing of a person by governmental authorities without the sanction of any judicial proceeding or legal process. Extrajudicial punishments are mostly seen by humanity to be unethical, since they bypass the due process of the legal jurisdiction in which they occur.]
Duterte has given assurances that he would not abrogate [end] a 1951 Mutual Defense Treaty with the U.S. and will maintain the long alliance with America, one of his country's largest trading partners and provider of development and military aid and defense equipment.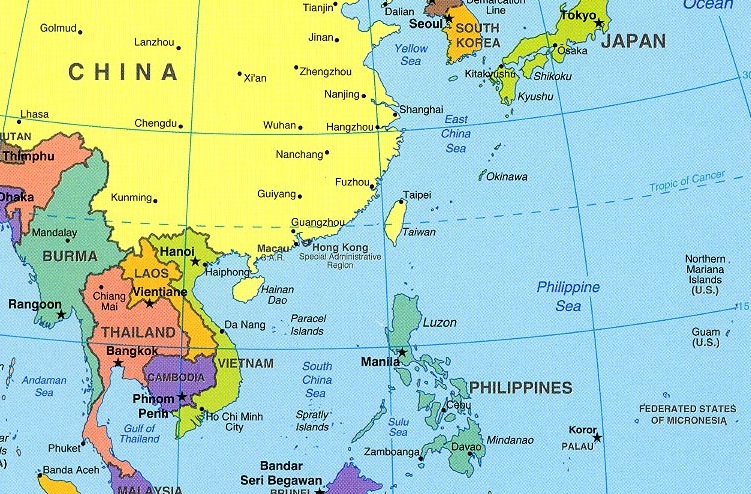 The U.S. has expressed concern over the extrajudicial killings and urged Duterte's government to ensure law enforcement efforts comply with human rights obligations. Last month, Obama canceled a planned first meeting with Duterte on the sidelines of an Asian summit in Laos after the Filipino leader [referred to President Obama as] "son of a _" in warning the U.S. leader not to lecture him on human rights ahead of their meeting. Duterte later expressed regrets over his remarks.
Angered by U.S. criticism, Duterte has made a series of public pronouncements that he could scale back the activities and presence of visiting U.S. troops in the country.
Last week, Duterte said the joint U.S.-Philippine combat exercises to be held this week, the first of his presidency, would also be the last. The exercises, centering on amphibious landing drills, started Tuesday under some uncertainty because of those remarks.
Marine commanders from both sides said at the opening ceremony that the exercises, involving 1,100 American and 400 Filipino military personnel, are aimed at improving readiness by the two countries to respond to a range of crises while deepening their historic ties.
U.S. Embassy officials said Washington has not been formally notified by the Philippine government of any move to scrap other planned drills. Such a move by the Philippines would impede Washington's plans to expand the footprint of U.S. forces in Southeast Asia to counter China.
A Philippine military spokesman for the ongoing exercises, Capt. Ryan Lacuesta, sidestepped the question of whether Duterte's remarks have affected the troops and the atmosphere of the drills.
U.S. Marine Brig. Gen. John Jansen said that aside from promoting regional security, the exercises have helped save lives in terms of fostering more rapid and organized responses to disasters like Typhoon Haiyan in 2013.
"Our alliance remains a key source of stability in the Asia-Pacific region," Jansen said, expressing confidence "that we will continue to build our partnership and capabilities together."
While the Obama administration maintains that its alliance with the Philippines remains "ironclad," a senior U.S. diplomat cautioned Duterte last week against more anti-U.S. posturing. Many of Duterte's stunning pronouncements have typically been walked back by other Philippines officials. …
Reprinted here for educational purposes only. May not be reproduced on other websites without permission from the Associated Press. 
Questions
NOTE TO STUDENTS: Before answering the questions, read the "Background" below and watch the news report under "Resources."
1. For what reasons is Philippines president Rodrigo Duterte upset with President Obama and the U.S.?
2. What threats did President Duterte make regarding the historic alliance between the U.S. and the Philippines?
3. How did the White House respond to President Duterte's threats?
4. What type of relations have the U.S. and the Philippines had for the past 70 years? Be specific.
5. What is the purpose of the joint military drills conducted by the U.S. and the Philippines?
6. What negative effect could President Duterte's threats have on U.S. military plans?
7. According to some U.S. officials, Washington has been doing its best to ignore Duterte's rhetoric and not provide him with a pretext for more outbursts. Several of Duterte's allies on Monday suggested he act more like a statesman because his comments had created a stir. On Tuesday, he said his outbursts were because he was provoked by criticism of his crackdown on drugs. "When you are already at the receiving end of an uncontrollable rush, the only way out is to insult," he said. "That is my retaliation."
Do you support the Obama administration's response to President Duterte's rhetoric and threats? Explain your answer.
8. Do you think the White House should take the same vocal, public opposition to U.S. ally Saudi Arabia's human rights violations? Explain your answer.
Background
NOTE: Before a scheduled meeting with Duterte in September, when President Obama was asked if he would raise the issue of extrajudicial killings with President Duterte, Obama said he would, saying, "if and when we have a meeting this is something that is going to be brought up." Duterte responded, saying that nobody "has the right to lecture me. …I am a president of a sovereign state and we have long ceased to be a colony. I do not have any master except the Filipino people." He also made derogatory remarks about Obama, who then cancelled the meeting.
U.S. – Philippines relations and treaties: (from wikipedia)
The relationship between the United States and the Philippines has historically been strong and has been described as a Special Relationship. The Philippines considers the U.S. its closest ally in the world, though relations have recently been strained under the administration of President Rodrigo Duterte. The Philippines is one of the oldest Asian partners of the U.S. and a strategic major non-NATO ally. The U.S. has consistently been cited as one of the Filipinos' favorite nations in the world…92% of Filipinos viewing the U.S. favorably in 2015, and 89% having confidence in President Obama in 2014, making the Philippines the most pro-American country in the world.  History:
The Philippines became a colony of the United States following the Spanish–American War and the subsequent Philippine–American War.
In 1935,the Philippines became a self-governing commonwealth, the Philippine Commonwealth, with full independence planned for ten years later.
Delayed by World War II and the Japanese invasion and occupation of the Philippines, the Philippines became fully independent on July 4, 1946.
Following independence there remained in the Philippines a strong American military presence including a number of U.S. military bases in the Philippines, all allowed by treaties between the newly independent Philippines and the U.S.
There were also a number of treaties that created a strong bond between the Philippines and the U.S. which gave both countries rights not enjoyed by other nations:
The Mutual Defense Treaty was signed in 1951 in between the Philippines and the U.S. The overall accord dictated that both nations would support each other if either the Philippines or the United States were to be attacked by an external party.
An Enhanced Defense Cooperation Agreement (EDCA) was signed on April 28, 2014 to enhance cooperative capacities and efforts in humanitarian assistance and disaster relief. The EDCA is designed to promote the following between the Philippines the United States:
Interoperability
Capacity building towards AFP [Armed Forces of the Philippines] modernization
Strengthening AFP for external defense
Maritime Security
Maritime Domain Awareness
Humanitarian Assistance and Disaster Response (HADR)
The agreement allows U.S. forces access to and use of designated areas and facilities owned and controlled by the Armed Forces of the Philippines at the invitation of the Philippine Government. It contains clear provision that the U.S. will not establish a permanent military presence or base in the Philippines and a prohibition of entry to the Philippines of nuclear weapons. The EDCA has an initial term of ten years, and thereafter will continue in force until terminated by either party after having given a one-year notice of intention to terminate.
Resources
Watch a CNN report:
Daily "Answers" emails are provided for Daily News Articles, Tuesday's World Events and Friday's News Quiz.