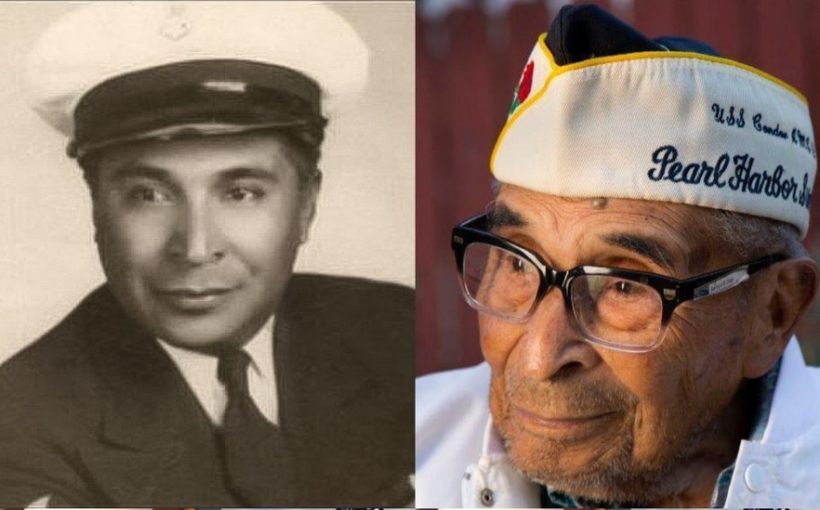 redo Jump to...
print Print...
(First published Nov. 23 by AP at SunJournal) LOS ANGELES — Ray Chavez, the oldest U.S. military survivor of the Dec. 7, 1941, attack on Pearl Harbor that plunged the United States into World War II, died Wednesday, Nov. 21. He was 106.
Chavez, who had been battling pneumonia, died in his sleep in the San Diego suburb of Poway, his daughter, Kathleen Chavez, told The Associated Press.
As recently as last May he traveled to Washington, D.C., where he was honored on Memorial Day by President Trump. The White House tweeted a statement Wednesday saying it was saddened to hear of his passing.
"We were honored to host him at the White House earlier this year," the statement said. "Thank you for your service to our great nation, Ray!"
Daniel Martinez, chief historian for the National Park Service at Pearl Harbor, Hawaii, confirmed Wednesday that Chavez was the oldest survivor of the attack that killed 2,335 U.S. military personnel and 68 civilians.
"I still feel a loss," Chavez said during 2016 ceremonies marking the attack's 75th anniversary. "We were all together. We were friends and brothers. I feel close to all of them."
Hours before the attack, he was aboard the minesweeper USS Condor as it patrolled the harbor's east entrance when he and others saw the periscope of a Japanese submarine. They notified a destroyer that sunk it shortly before Japanese bombers arrived to strafe the harbor.
By then Chavez, who had worked through the early morning hours, had gone to his nearby home to sleep and [asked] his wife not to wake him because he had been up all night.
"It seemed like I only slept about 10 minutes when she called me and said, 'We're being attacked,' " he recalled in 2016. "And I said, 'Who is going to attack us?' "

"She said, 'The Japanese are here, and they're attacking everything.' "
He ran back to the harbor to find it in flames.
Chavez would spend the next week there, working around the clock sifting through the destruction that had crippled the U.S. Navy's Pacific fleet.
Later he was assigned to the transport ship USS La Salle, ferrying troops, tanks and other equipment to war-torn islands across the Pacific, from Guadalcanal to Okinawa.
Although never wounded, he left the military in 1945 suffering from post-traumatic stress disorder…
Returning to San Diego, where he grew up, he took a job as a landscaper and groundskeeper, attributing the outdoors, a healthy diet and a strict workout program that he continued into his early 100s with restoring his health.
"He loved trees and he dearly loved plants and he knew everything about a plant or tree that you could possibly want to know," his daughter said Wednesday with a chuckle. "And he finally retired when he was 95."
Still, he would not talk about Pearl Harbor for decades. Then, on a last-minute whim, he decided to return to Hawaii in 1991 for ceremonies marking the attack's 50th anniversary.
"Then we did the 55th, the 60th, the 65th and the 70th, and from then on we went to every one," his daughter recalled, adding that until Chavez's health began to fail he had planned to attend this year's gathering.
Born March 12, 1912, in San Bernardino, California, to Mexican immigrant parents, Chavez moved to San Diego as a child, where his family ran a wholesale flower business. He joined the Navy in 1938.
In his later years, as he became well known as the attack's oldest military survivor, he'd be approached at memorial services and other events and asked for his autograph or to pose for pictures. He always maintained that those events were not about him, however, but about those who gave their lives.
"He'd just shrug his shoulders and shake his head and say, 'I was just doing my job,' " said his daughter. "He was just a very nice, quiet man. He never hollered about anything, and he was always pleasant to everybody."
Chavez was preceded in death by his wife, Margaret. His daughter is his only survivor.
From an Associated Press report at sunjournal .com. Reprinted here for educational purposes only. May not be reproduced on other websites without permission from the Sun Journal
Read a 2016 Daily News article on Ray Chavez: Oldest Pearl Harbor Survivor, 104, Flies Back to Honolulu
Questions
1. The first paragraph of a news article should answer the questions who, what, where and when. List the who, what, where and when of this news item. (NOTE: The remainder of a news article provides details on the why and/or how.)
2. a) How long did Ray Chavez spend at the port after the attack? – What did he do there?
b) What did Mr. Chavez do for the remainder of the war?
3. Answer the following questions about Pearl Harbor from the information under "Background" below the questions:
a) How many U.S. battleships were at Pearl Harbor when the Japanese attacked?
b) How many of these battleships were sunk?
c) How many other vessels were sunk or damaged?
d) How many U.S. aircraft were destroyed?
e) How many aircraft carriers were destroyed or damaged? Why is this so?
f) How many American military personnel were killed? – How many were wounded?
g) Who was president when Pearl Harbor was attacked? How did he refer to the attack on Pearl Harbor when requesting Congress to declare war the next day?
4. Today's Daily News Article is a human interest news story. Human interest stories differ from the regular news – they are sometimes referred to as "the story behind the story." The major news articles of the day tell of important happenings. Human interest stories tell of how those happenings have impacted the people or places around the story.
Seventy-seven years after the Japanese attack on Pearl Harbor, why is this human interest story newsworthy?
5. What 2 adjectives do you think best describe Ray Chavez? Explain your answer.
6. What inspires you most about Mr. Chavez?
CHALLENGE: Ask a grandparent to describe what he/she learned about Pearl Harbor in elementary school. How does this compare to what you learned?
Background
Facts About Attack by Japan on United States 76 Years Ago:
(by John Haltiwanger, Newsweek.com, Dec. 7, 2107) – [Seventy-seven] years ago, the United States was "suddenly and deliberately" attacked by Japan. President Franklin Roosevelt famously described December 7, 1941, as a date that will "live in infamy."
The attack began before 8 a.m. on a Sunday morning, with hundreds of Japanese planes swooping in for a surprise assault on U.S. warships in Pearl Harbor, Hawaii. America had not been expecting an attack, and Pearl Harbor found itself relatively undefended when Japan launched its assault.
The raid left almost 20 U.S. naval vessels, including eight battleships, damaged or destroyed, as well as more than 300 aircraft.
More than 2,400 Americans were killed, and about 1,000 were wounded.
The Japanese attacked Pearl Harbor to cripple the U.S. Pacific Fleet, but America's aircraft carriers––perhaps the most vital type of warship––were not stationed there on December 7. Not long after the attack, these ships would go on the offensive against the Japanese.
(Read about U.S. victories involving aircraft carriers:  Battle of the Coral Sea and Lessons from the Battle of Midway).
The surprise assault on Pearl Harbor was a devastating moment for the U.S. that catapulted it into World War II, the deadliest conflict in human history.
"No matter how long it may take us to overcome this premeditated invasion, the American people in their righteous might will win through to absolute victory," Roosevelt said as he addressed Congress on December 8 and asked it to declare war on Japan.

"With confidence in our armed forces, with the unbounding determination of our people, we will gain the inevitable triumph—so help us God," the president said.
Congress gave full support to war against Japan: The Senate voted 82-0 in favor, while the House approved the resolution by a 388-1 vote. The only person to vote against entering the war was Representative Jeannette Rankin of Montana, a devout pacifist. Rankin had also voted against the U.S. entering World War I.
Days later, on December 11, 1941, Germany and Italy declared war on America, and the U.S. government promptly returned the gesture. The war, which would last until 1945, turned America into a global power and changed the world irrevocably.
Few survivors of the Pearl Harbor attack are still alive. Five of the remaining survivors from the USS Arizona, the ship hit hardest by the attack, reunited at Arlington National Cemetery in July to pay tribute to those who were killed. The Arizona sank after it was hit by an 1,800-pound bomb, killing 1,177 sailors.
THE ATTACK ON PEARL HARBOR The attack on Pearl Harbor was a surprise military strike conducted by the Imperial Japanese Navy against the United States naval base at Pearl Harbor, Hawaii on the morning of December 7, 1941.
The base was attacked by 353 Japanese aircraft in two waves, launched from six aircraft carriers.
Four of the 8 U.S. Navy battleships at Pearl Harbor were sunk (two of which were raised and returned to service later in the war) and the four other battleships present were damaged*
The Japanese also sank or damaged three cruisers, three destroyers, an anti-aircraft training ship and one minelayer.
188 U.S. aircraft were destroyed, 2,402 personnel were killed and 1,282 were wounded.
The power station, shipyard, maintenance, and fuel and torpedo storage facilities, as well as the submarine piers and headquarters building (also home of the intelligence section) were not attacked.
Japanese losses were light, with 29 aircraft and five midget submarines lost, and 65 servicemen killed or wounded. One Japanese sailor was captured.
The following day (December 8) the United States declared war on Japan.
Subsequent operations by the U.S., as well as the Axis alliance, prompted Germany and Italy to declare war on the U.S. on December 11, which was reciprocated by the U.S. the same day.
Despite numerous historical precedents for unannounced military action, the lack of any formal warning by Japan, particularly while negotiations were still apparently ongoing, led to President Franklin D. Roosevelt proclaiming December 7, 1941, "a date which will live in infamy."  (exerpted from wikipedia)
*About the Battleships:
USS Arizona (Kidd's flagship): hit by four armor-piercing bombs, exploded; total loss. 1,177 dead.
USS Oklahoma: hit by five torpedoes, capsized; total loss. 429 dead. Refloated November 1943; capsized and lost while under tow to the mainland May 1947.
USS West Virginia: hit by two bombs, seven torpedoes, sunk; returned to service July 1944. 106 dead.
USS California: hit by two bombs, two torpedoes, sunk; returned to service January 1944. 100 dead.
USS Nevada: hit by six bombs, one torpedo, beached; returned to service October 1942. 60 dead.
USS Tennessee: hit by two bombs; returned to service February 1942. 5 dead.
USS Maryland: hit by two bombs; returned to service February 1942. 4 dead (including floatplane pilot shot down).
USS Pennsylvania (Kimmel's flagship):[111] in drydock with Cassin and Downes, hit by one bomb, debris from USS Cassin; remained in service. 9 dead.
In a speech Dec. 8, 1941 asking Congress to declare war on Japan after the bombing of Pearl Harbor, President Franklin D. Rooselvelt said in part:

"Yesterday, December 7, 1941 – a date which will live in infamy – the United States of America was suddenly and deliberately attacked by naval and air forces of the Empire of Japan… No matter how long it may take us to overcome this premeditated invasion, the American people will through their righteous might win through to absolute victory… With confidence in our armed forces – with the unbounded determination of our people – we will gain the inevitable triumph – so help us God. I, therefore, ask that the Congress declare that since the dastardly and unprovoked attack by Japan on Sunday, December 7th, a state of war has existed between the United States and the Japanese Empire."

-Read FDR's speech to Congress at fdrlibrary.marist.edu, or the National Archives website at archives.gov
-Listen to FDR's speech to Congress at historymatters.gmu.edu
Resources
Watch a Pearl Harbor video below:
---
Watch President Franklin D. Roosevelt's speech to Congress on Dec. 8, 1941 the day after the Japanese bombing of Pearl Harbor, in which he asks Congress to declar war on Japan:
---
Watch "Pearl Harbor survivor stories," including Ray Chavez's, from the History Channel, published December 8, 2016:
Daily "Answers" emails are provided for Daily News Articles, Tuesday's World Events and Friday's News Quiz.