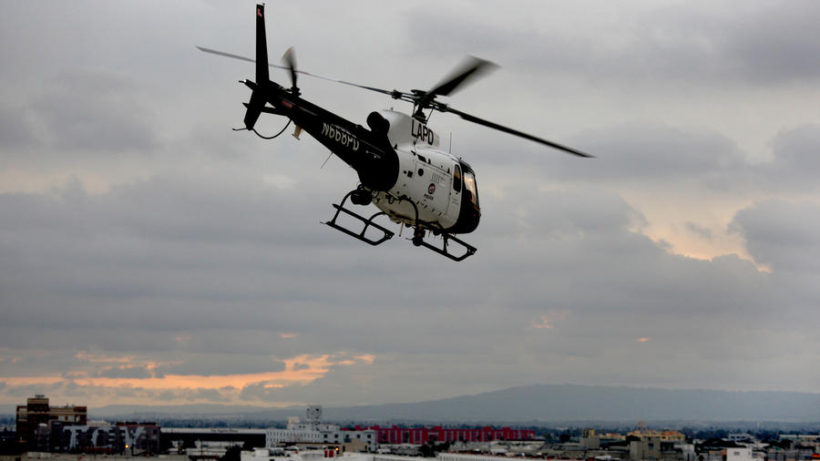 redo Jump to...
print Print...
(by Kate Mather and Richard Winton, LA Times) — …In a city of 469 sprawling square miles, few doubt that more bad guys would get away without the nation's largest police helicopter fleet to help chase them.
Now the LAPD is pioneering the use of helicopters to stop crimes before they start.
Tapping into the data-driven policing trend, the department uses heat maps, technology and years of statistics to identify crime "hot spots." Pilots then use their downtime to fly over them, on the theory that would-be criminals tend to rethink their nefarious plans when there's an airship hovering overhead.
What some see as an innovative tool for keeping the peace, however, others call a deafening intrusion. …
The Los Angeles Police Department began exploring the deterrent approach a few years ago with a new model called predictive policing that deployed officers and patrol cars to areas where data suggested crime was more likely to occur.
Criminologists say the use of helicopters is a natural, if highly unusual, expansion of that policing strategy.
So far, LAPD officials say, the stats show the strategy is having a positive effect. Months of data show that the number of serious crimes reported in the LAPD's Newton Division in South L.A. fell during weeks when the helicopters conducted more flights.
"It's extremely cutting edge," says Capt. Gary Walters, who heads the LAPD's air support unit. "It's different. It's nothing that we've ever done before with this specificity."
During the week of June 21, 2013, the helicopter unit flew 36 times over Newton, which saw 125 crimes reported in that period. During another week in July, the number of flights rose to 91 and the recorded crimes dropped to 86.
The most pronounced difference came last September. During the week of Sept. 13, when the helicopter unit flew over Newton 65 times, the division recorded 90 crimes. A week later, the number of flights dropped to 40 and the number of reported crimes skyrocketed to 136, with rises seen among almost all types of crime, including burglary, car theft and thefts from vehicles.   …..
Professor Geoffrey Alpert of the University of South Carolina, a policing expert who has studied the use of police helicopters in Miami and Baltimore, says the choppers can deter crime in the short-term but criminals will likely return when they're not around.
"You are deterring the criminals but you aren't getting rid of them and their intent," he says. "Those criminals could strike in a different time and place."
Andrew Guthrie Ferguson, an associate professor of law at the University of the District of Columbia, agrees that helicopters have a "great deterrent value." But, he says that during a time of increased public concern over police militarization, a loud and visible helicopter could make residents feel like the police are an occupying force.
Police departments increasingly say that one of their goals is to "engage the community" and a hovering helicopter can get in the way of that, Ferguson says. "[Americans] are sending a message that they don't want our police militarized, they don't want that occupying army feel. And the use of helicopters fits in that frame."
Peter Bibring, a senior staff attorney for the American Civil Liberties Union's Southern California chapter, said using helicopters to monitor neighborhoods could set a problematic precedent for how the LAPD conducts other surveillance.
Critics challenged the LAPD last year when it received two drones from Seattle police. The department does not use the drones – they remain locked away until the Police Commission decides if and how they might be used – but they have still sparked privacy concerns.
"If this experience is successful," Bibring says of the helicopters, "this could be a preview of how one day the LAPD could use drones for this purpose."
Walters, commander of the LAPD's air support unit, says the program was recently expanded to include the department's Devonshire Division in the San Fernando Valley.
Cmdr. Sean Malinowski, who helped develop the predictive policing model the LAPD now uses, says the helicopter project represents how innovative policing has become. He says there is "untapped potential" for similar projects.
"The future of this thing is going to be how creative cops can be in using predictive or other data-driven strategies," he says. "That gets people pumped up to do something different. It kind of injects life into the crime fighting."
Published March 7 at LATimes.  Reprinted here for educational purposes only. May not be reproduced on other websites without permission from the Los Angeles Tmes. Visit the website at latimes.com.
Questions
1. How do supporters and opponents of the police use of helicopters to prevent crime view the practice?
2. Pioneering is defined as using new methods to do something. Describe the strategy the LAPD is pioneering.
3. a) Define deterrent.
b) When/how did the LAPD start its new deterrent approach?
4. What effect is the strategy having? How is it working out, according to police data? Be specific.
5. a) What point does policing expert Professor Geoffrey Alpert make about the use of police helicopters in this manner?
b) Why does law professor Andrew Ferguson think the use of helicopters are probably not a good way to fight crime?
c) What do you think of the professors' observations?
6. a) What is more important to you: safety or privacy?
b) If a police helicopter hovering constantly over your neighborhood eliminated all crime, would you support its use?
c) If it eliminated all crime in a high crime neighborhood that you didn't live in, would you change your answer?
d) Ask a parent and then a grandparent the same questions.
Explain all answers.
Daily "Answers" emails are provided for Daily News Articles, Tuesday's World Events and Friday's News Quiz.