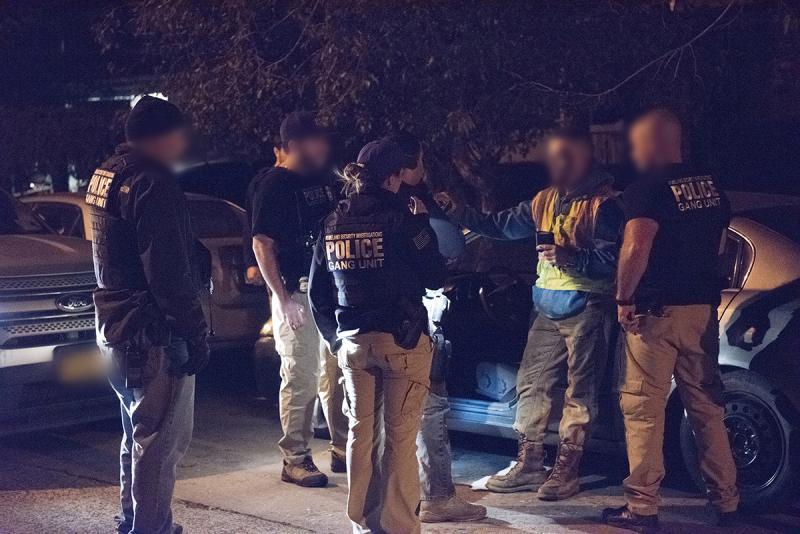 redo Jump to...
print Print...
(Compiled from reports by Phil McCausland, NBC News and Charles Fain Lehman, Washington Free Beacon) – More than 250 alleged MS-13 gang members and associates were arrested after an investigation that lasted more than a year across two countries, authorities announced Wednesday.
"Today I am pleased to announce the arrest of 267 MS-13 gang members and associates in conjunction of ICE's most recent targeted anti-gang effort known as 'Operation Raging Bull,'" said Acting ICE Director Thomas Homan. [Led by ICE Homeland Security Investigations' (HSI) National Gang Unit, the operation was a multi-phase, multi-month project of numerous federal law enforcement agencies, including ICE, U.S. Customs and Immigration Service, the U.S. Border Patrol, and the Department of Justice.]
"Operation Raging Bull" moved in two phases. The first netted 53 alleged gang members and associates in El Salvador in September after an 18-month investigation. They will mostly face charges in the Central American nation.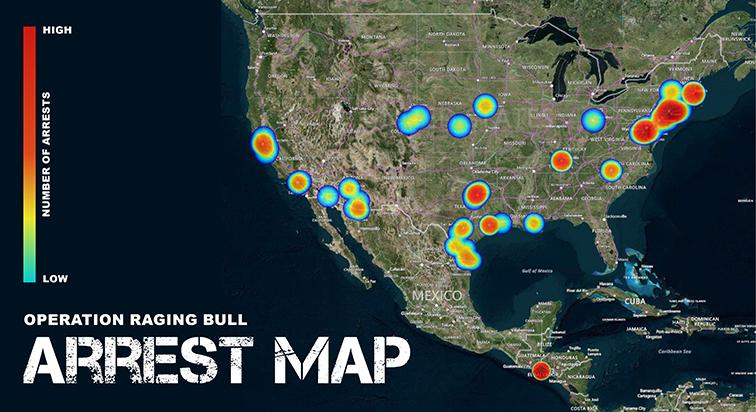 The second phase of "Operation Raging Bull" occurred between Oct. 8 and Nov. 11, the Department of Homeland Security conducted a series of nationwide raids, which led to 214 arrests of people who allegedly had connections to the MS-13 gang.
"Enhancing public safety goes to the core of Homeland Security Investigation mission is," said Derek Benner, the acting director of Homeland Security Investigations. "By taking criminal street gang members and associates off the streets — if they are here illegally, removing them from the country — we are addressing a significant security and safety vulnerability."
Of the 214 arrested, 93 were detained on federal or state criminal charges that ranged from assault to murder, Benner said. More than half of those arrested, 121 people, were held on immigration violations.
Benner also noted that 16 of the alleged MS-13 members or associates were U.S. citizens. The remaining 198 were foreign nationals, all but five were in the U.S. illegally. (Only five had legal status in the U.S.)
"This is a great operation, but we are not done," said Homan. "And we will not be done until we totally dismantle this organization. The President of the United States has made this a priority and ICE joins him in this."
There are about 30,000 MS-13 members worldwide, including 10,000 in the United States, according to information provided by the Justice Department. The gang has a "large presence" in New York, Virginia, and Washington, D.C., and a reach affecting 46 states.
"In their relentless effort to expand gang membership and gang traction within our communities, they aggressively target our children in our schools. The violence they perpetrate is shocking, and shows no remorse, or even a basic respect for human life," director Homan added.
The FBI lists drug distribution, murder, rape, prostitution, robbery, home invasions, immigration offenses, kidnapping, carjackings/auto thefts, and vandalism among MS-13's illegal activities.
Raging Bull is only the latest bust of MS-13 members. In October, the Justice Department announced the arrest of 3,800 members in a gang bust coordinated between the United States and law enforcement in El Salvador, Guatemala, and Honduras.
Compiled from news reports at NBC News and the Washington Free Beacon. Reprinted here for educational purposes only. May not be reproduced on other websites without permission.
Questions
Please Note: In place of next week's content there will be a special Thanksgiving post and quiz (check the homepage for both on Monday). Regular schedule will resume Monday, Nov. 27. Best wishes for a Happy Thanksgiving!
1. The first paragraph of a news article should answer the questions who, what, where and when. List the who, what, where and when of this news item. (NOTE: The remainder of a news article provides details on the why and/or how.)
2. a) When/where/how many MS-13 gang members were arrested in the first phase of ICE's targeted anti-gang effort known as 'Operation Raging Bull'?
b) When/where/how many MS-13 gang members were arrested in phase two of 'Operation Raging Bull'?
3. What is the mission of ICE's Homeland Security Investigation, according to Derek Benner of HSI? (How/what does HSI do?)
4. What charges were brought against those arrested in the U.S. during the second phase of Operation Raging Bull?
5. a) How many of those arrested are U.S. citizens?
b) How many are in the country illegally?
6. What types of crimes does the FBI list as among many of MS-13's illegal activities?
Background
The arrests come several months after President Trump gave a speech in Long Island detailing his administration's plan to crack down on MS-13, also known as Mara Salvatrucha. Speaking in a town where MS-13 has launched attacks, Trump linked the gang violence to soft immigration enforcement.
"It is the policy of this administration to dismantle, decimate and eradicate MS-13," Trump said at the time.
Attorney General Jeff Sessions last month declared MS-13 a priority for his department's Organized Crime Drug Enforcement Task Forces (OCDETF).
"Now they will go after MS-13 with a renewed vigor and a sharpened focus.  I am announcing that I have authorized them to use every lawful tool to investigate MS-13—not just our drug laws, but everything from RICO to our tax laws to our firearms laws," Sessions said at the time, referring to a federal anti-racketeering law. "…We will use whatever laws we have to get MS-13 off of our streets."
Tom Homan, deputy director of Immigrations and Customs Enforcement (ICE),  told CBS News that he has been able to detain more people under the Trump administration because he can make individuals who illegally cross the U.S.-Mexico border a priority. (from thehill.com, Nov. 16)
In written testimony to the Senate Judiciary Committee in June, ICE officials Derek Benner and Matthew Albence said that MS-13 leadership in El Salvador often "directs and controls" cells, or "cliques," in the United States.
"Transnational gangs, specifically the Mara Salvatrucha, or MS-13, perpetrate numerous violations within ICE's purview," Benner and Albence testified, "including human smuggling and trafficking, narcotics smuggling and distribution, identity theft and benefit fraud, money laundering, weapons smuggling and arms trafficking, cyber-crimes, kidnapping, extortion, and export violations."
An FBI threat assessment from 2008 said MS-13 engages in murder, rape, prostitution, robbery, home invasions, kidnapping, carjacking, and more.
"Most of these crimes, you'll notice, have one thing in common—they are exceedingly violent," the FBI assessment said. "And while most of the violence is directed toward other MS-13 members or rival street gangs, innocent citizens often get caught in the crossfire."
(from a July 28 fox5ny .com report, reporting on President Trump's speech that day in Long Island)
Daily "Answers" emails are provided for Daily News Articles, Tuesday's World Events and Friday's News Quiz.