Hundreds of MS-13 gang members arrested in 'Operation Raging Bull'
Daily News Article — Posted on November 17, 2017
(Compiled from reports by Phil McCausland, NBC News and Charles Fain Lehman, Washington Free Beacon) – More than 250 alleged MS-13 gang members and associates were arrested after an investigation that lasted more than a year across two countries, authorities announced Wednesday.
"Today I am pleased to announce the arrest of 267 MS-13 gang members and associates in conjunction of ICE's most recent targeted anti-gang effort known as 'Operation Raging Bull,'" said Acting ICE Director Thomas Homan. [Led by ICE Homeland Security Investigations' (HSI) National Gang Unit, the operation was a multi-phase, multi-month project of numerous federal law enforcement agencies, including ICE, U.S. Customs and Immigration Service, the U.S. Border Patrol, and the Department of Justice.]
"Operation Raging Bull" moved in two phases. The first netted 53 alleged gang members and associates in El Salvador in September after an 18-month investigation. They will mostly face charges in the Central American nation.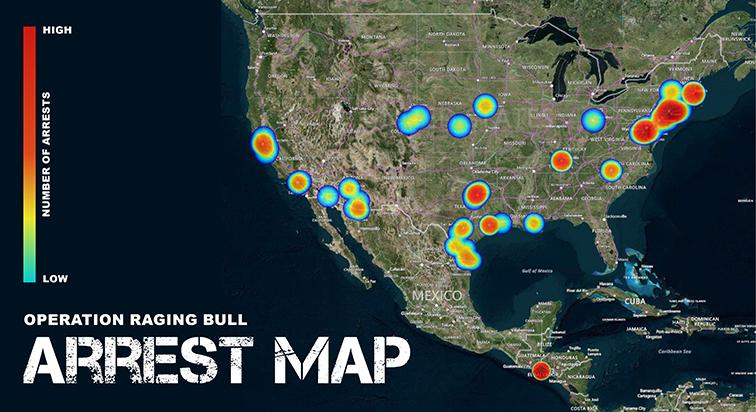 The second phase of "Operation Raging Bull" occurred between Oct. 8 and Nov. 11, the Department of Homeland Security conducted a series of nationwide raids, which led to 214 arrests of people who allegedly had connections to the MS-13 gang.
"Enhancing public safety goes to the core of Homeland Security Investigation mission is," said Derek Benner, the acting director of Homeland Security Investigations. "By taking criminal street gang members and associates off the streets — if they are here illegally, removing them from the country — we are addressing a significant security and safety vulnerability."
Of the 214 arrested, 93 were detained on federal or state criminal charges that ranged from assault to murder, Benner said. More than half of those arrested, 121 people, were held on immigration violations.
Benner also noted that 16 of the alleged MS-13 members or associates were U.S. citizens. The remaining 198 were foreign nationals, all but five were in the U.S. illegally. (Only five had legal status in the U.S.)
"This is a great operation, but we are not done," said Homan. "And we will not be done until we totally dismantle this organization. The President of the United States has made this a priority and ICE joins him in this."
There are about 30,000 MS-13 members worldwide, including 10,000 in the United States, according to information provided by the Justice Department. The gang has a "large presence" in New York, Virginia, and Washington, D.C., and a reach affecting 46 states.
"In their relentless effort to expand gang membership and gang traction within our communities, they aggressively target our children in our schools. The violence they perpetrate is shocking, and shows no remorse, or even a basic respect for human life," director Homan added.
The FBI lists drug distribution, murder, rape, prostitution, robbery, home invasions, immigration offenses, kidnapping, carjackings/auto thefts, and vandalism among MS-13's illegal activities.
Raging Bull is only the latest bust of MS-13 members. In October, the Justice Department announced the arrest of 3,800 members in a gang bust coordinated between the United States and law enforcement in El Salvador, Guatemala, and Honduras.
Compiled from news reports at NBC News and the Washington Free Beacon. Reprinted here for educational purposes only. May not be reproduced on other websites without permission.