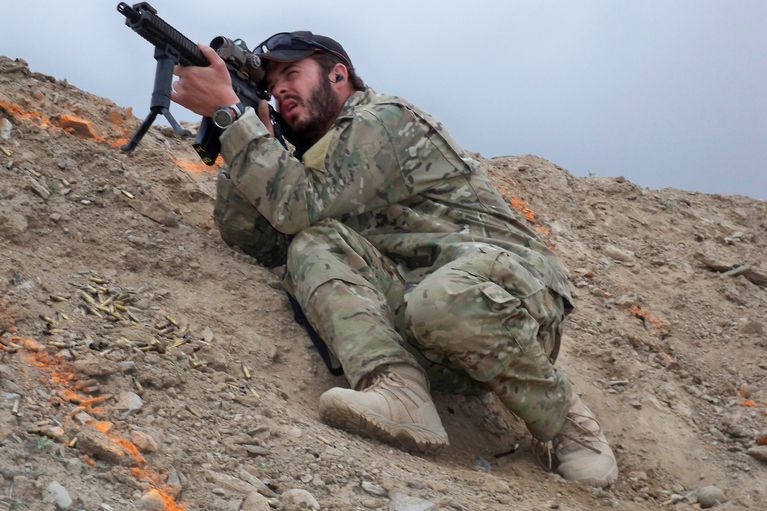 redo Jump to...
print Print...
(by Joshua Nelson, Fox News) – After being awarded the nation's highest military honor on Wednesday, Master Sgt. Matthew O. Williams made his first television appearance Friday and said that the ceremony was "overwhelming, to say the least, and extremely humbling."
"It's a real testament to the capabilities and what the U.S. Special Forces, specifically the Green Berets, are capable of," Williams told "Fox & Friends."
President Trump awarded the Medal of Honor to Williams, an Army Green Beret who fought his way up a frozen mountain in Afghanistan to help rescue wounded comrades during a mission to kill or capture a terrorist leader. [He was awarded the medal for "going above and beyond the call of duty."]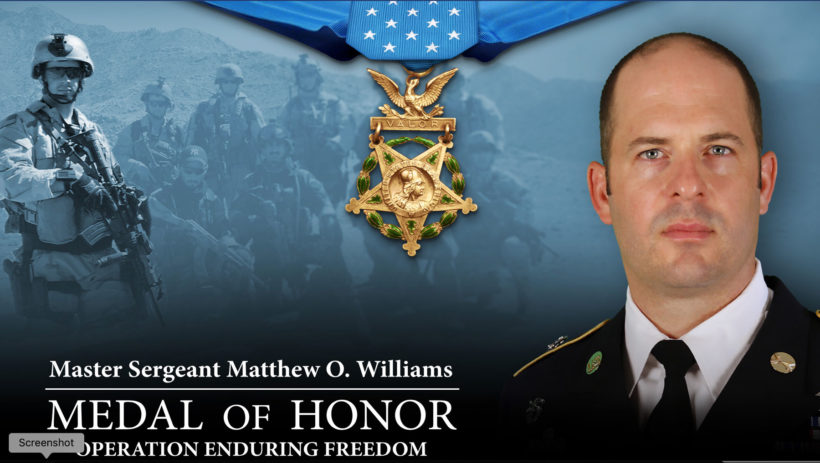 Williams, who helped save four critically wounded comrades and prevented the lead element of a special operations force from being overrun in Afghanistan, was at the White House Wednesday, joined by his wife, Kate, and their 2-year-old son, Nolan.

Williams "put his own life in great peril to save his comrades," Trump said during the White House ceremony.

The Texas native previously was awarded the Silver Star for his heroics during the six-hour battle on April 6, 2008, in Afghanistan's Shok Valley. Williams was part of a joint U.S.-Afghan raid hunting Gulbuddin Hekmatyar, the leader of the former Hezebela Islami Gulbadin militia, the Army Times reported.

He was serving as a weapons sergeant with the Special Forces Operational Detachment Alpha 3336 at the time. [A weapons sergeant is someone who knows U.S. and foreign weaponry well and often goes behind enemy lines to help friendly forces train and recruit.].

[Members of Williams' Green Beret team from that 2008 operation, as well as one of their Afghan interpreters, were present at the White House ceremony.]
"Definitely one of the best parts is having everybody together," Williams said. "Reuniting with the team and having family and friends joining me for this moment. It's extremely special."
Williams joined the Army in 2005. He deployed to Afghanistan multiple times throughout his military career. The battle was one of the most difficult during his time in Afghanistan, he told Stars and Stripes.

Williams has continued to serve in the Army, assigned to the 3rd Special Forces Group at Fort Bragg, N.C.

[President Trump praised Williams for his service, describing how he has completed five tours in Afghanistan and one deployment to Africa.
"And he continues to serve our country on active duty today," Trump said. "That's something — to have the Congressional Medal of Honor and be serving on active duty. It's very rare."].

"Matt, we salute your unyielding service, your unbreakable resolve and your untiring devotion to our great nation and the nation that we all love," Trump said before presenting Williams with the Medal of Honor.
Fox News' Talia Kaplan contributed to this report. Published at FoxNews .com on November 2, 2019. Reprinted here for educational purposes only. May not be reproduced on other websites without permission from Fox News.
Questions
1. What is the Medal of Honor? Be specific.
2. For what actions did Sgt. Williams receive the Medal of Honor, according to the citation he received? When and where did this occur?
3. How many tours of duty has Sgt. Williams completed in Afghanistan?
4. What is unusual about Sgt. Williams' status as a Medal of Honor recipient?
5. Read about Master Sgt. Williams' heroic actions that day at defense.gov and at army.mil.  Read the "Background" and watch the video under "Resources" below. How does the story of Sgt. Williams' mission inspire you?
Background
Sgt. Williams initially was awarded the Silver Star for his actions that day in 2008. It was upgraded to the Medal of Honor. Read the original citation below:
The President of the United States of America, authorized by Act of Congress July 9, 1918 (amended by an act of July 25, 1963), takes pleasure in presenting the Silver Star to Sergeant Matthew O. Williams, United States Army, for exceptionally valorous conduct in the face of the enemy of the United States as Weapons Sergeant, Operational Detachment Alpha 3336 (ODA-3336), 3d Special Forces Group (Airborne), Special Operations Task Force – 33, Combined Joint Special Operations Task Force – Afghanistan, in support of Operation ENDURING FREEDOM on 6 April 2008.
Sergeant Williams heroically fought for over an hour up a mountain while under intense enemy fire to help rescue wounded members of his ODA pinned down by Insurgent fire. Sergeant Williams was pinned down in a wadi by heavy sniper, Rocket Propelled Grenade, and machine gun fire after initial contact, as the ODA Command and Control (C2) element was fixed by multiple Insurgent firing positions on the mountain.
Sergeant Williams, recognizing the gravity of the situation, heroically and with disregard for his own safety, exposed himself to Insurgent fire on multiple occasions to rescue the C2 element and evacuate numerous casualties.
Sergeant Williams helped organize a counter assault to ascend up the mountain and reinforce his besieged teammates. With RPG and machine gun fire impacting all around his element, Sergeant Williams led a Commando element across a fast-moving, ice cold and waist deep river, in order to fight their way up a terraced mountain to the besieged element.
After fighting his way with his Team Sergeant up to the C2 element, Sergeant Williams positioned his Afghan Commando to provide a violent base of suppressive fire. This violent base of fire ensured the C2 element was not overrun by assaulting Insurgent fighters. His actions allowed the assault and C2 elements to consolidate and move their causalities down the mountain.
After his Team Sergeant was wounded by sniper fire, and with disregard for his own safety, Sergeant Williams courageously maneuvered through a gauntlet of heavy machine gun fire to render aid.
While under Insurgent sniper and machine gun fire, Sergeant Williams descended with his Team Sergeant off a 60 foot near vertical cliff to the Casualty Collection Point (CCP) and continued providing him first aid.
Sergeant Williams observed, shot and killed two Insurgent fighters attempting to maneuver on the CCP. Sergeant Williams then braved a hail of small arms fire and climbed back up to the cliff in order evacuate other injured Soldiers, and repair his ODA Commander's radio.
After returning to the CCP with three wounded US Soldiers, Insurgent fighters began maneuvering to overrun the CCP for the second time. Sergeant Williams and the Afghan Commandos launched a counter attack and gallantly fought for several hours against at least two hundred Insurgents.
With disregard for his personal safety, he exposed himself to Insurgent fire from multiple directions and carried casualties to the Medical Evacuation helicopter, then continued to suppress numerous Insurgent positions and direct Commando fires.
His valorous actions allowed the patrol to MEDEVAC the wounded and dead comrades without further casualties. His actions are in keeping with the finest traditions of military heroism and reflect distinct credit upon himself, Special Operations Task Force – 33, The Combined Joint Special Operations Task Force – Afghanistan, Special Operations Command Central, and the United States Army. (from valor.militarytimes.com)
---
THE MEDAL OF HONOR:
The Medal of Honor is the highest military decoration awarded by the United States government.
It is bestowed by the President in the name of Congress on members of the United States Armed Forces who distinguish themselves through "conspicuous gallantry and intrepidity at the risk of his or her life above and beyond the call of duty while engaged in an action against an enemy of the United States." 
Due to the nature of its criteria, it is often awarded posthumously (more than half have been since 1941).

Members of all branches of the armed forces are eligible to receive the medal, and there are three versions (one for the Army, one for the Air Force, and one for the Navy, Marine Corps and Coast Guard).
The Medal of Honor is bestowed upon an individual by the passing of a Joint Resolution in the Congress; and is then personally presented to the recipient or, in the case of posthumous awards, to next of kin, by the President of the United States, on behalf of the Congress, representing and recognizing the gratitude of the American people as a whole.
Due to its honored status, the medal is afforded special protection under U.S. law.
As the award citation includes the phrase "in the name of Congress", it is sometimes erroneously called the Congressional Medal of Honor; however, the official title is simply the Medal of Honor. (from wikipedia)
Read about the Medal of Honor at history.army.mil.
Resources
Watch the interview with Sgt. Williams:
---
Read about Master Sgt. Williams' heroic actions that day at defense.gov and at army.mil
Watch a clip from the Medal of Honor ceremony at the official WhiteHouse YouTube page.
---
Read the stories of a few other Medal of Honor recipients:
Daily "Answers" emails are provided for Daily News Articles, Tuesday's World Events and Friday's News Quiz.