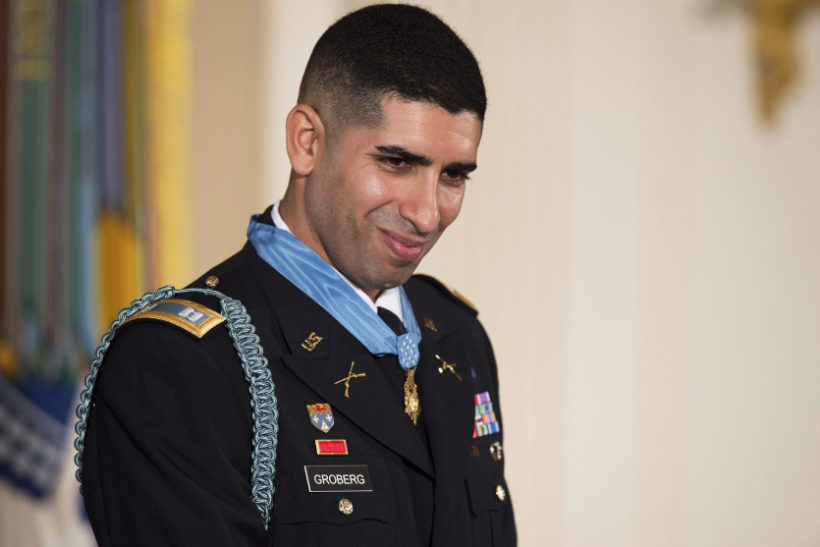 redo Jump to...
print Print...
(by Geoff Earle, New York Post) WASHINGTON — Army Capt. Florent Groberg, who saved lives and was severely injured when he tackled a suicide bomber in Afghanistan, was awarded the Medal of Honor at the White House on Thursday.

President Obama said Groberg's story "speaks not only of gallantry* on the battlefield but resilience** here at home." [*gallantry is courageous behavior, especially in battle.  **Resilience means to recover quickly from difficulties; toughness]

Groberg, who grew up in Bethesda, Md., and ran track and cross country in high school and college before enlisting in the military, accepted the nation's highest military honor while keeping alive the memories of four comrades who didn't make it home.

His face was filled with emotion during the reading of an official citation of his "extraordinary heroism." [It was when the president praised the fallen that Groberg showed the most emotion as he stood onstage, nodding when Obama mentioned each of their names and accomplishments.] Groberg did not speak at the ceremony, which is customary.

Groberg was deployed inside Afghanistan's Kunar Province in 2012, where he was the commander of a security detachment.  He jumped into action on Aug. 8, 2012, when he was working on the personal security detail of an Army colonel.

Two motorcycles approached, and an Afghan man came forward with his finger on what looked to be the trigger of a suicide bomb.

That's when Groberg's training kicked in. "You just react. You don't have time to analyze the situation," he said earlier.

Groberg noticed a bulge in the man's clothing. He says he hit the man with his rifle and thought he felt something on the man's chest – a suicide bomb.

"The only thing I could think of … [was], 'I have to get him away. I have to get him away from the boss. I have to get him away from everybody,'" he told Army Times.

He jumped on the bomber, pushing him away from the detail, aided by Sgt. Andrew Mahoney., who received the Silver Star for his actions in 2013.

The attacker's suicide vest detonated, killing four of Groberg's colleagues and wounding others.

"He detonated right in front of my feet," Groberg said.

The blast caused the explosive vest worn by a second suicide bomber to detonate prematurely.

"His actions prevented an even greater catastrophe," Obama said at the ceremony, likely preventing other members of his company from getting hit.

"Had both bombs gone off as planned, who knows how many could have been killed. Those are the lives Flo helped to save," Obama said.

The explosion ripped apart Groberg's leg.  He lost 45 to 50 percent of his calf muscle, according to the Army, while sustaining nerve damage, injuring an eardrum, and sustaining mild traumatic brain injury.

It took him three years to recover at Walter Reed Medical Center in DC.

Groberg still thinks about those who didn't make it back – Command Sgt. Maj. Kevin J. Griffin, Maj. Thomas E. Kennedy, Air Force Maj. Walter D. Gray and foreign service officer Ragaei Abdelfattah — and has inscribed their names on a bracelet he wears.

Family members of those killed in the attack were on hand for the ceremony, along with Groberg's friends and family and some of the people he saved.

The "gold star" families were applauded by Groberg and others when Obama asked them to stand. Groberg is the 10th living recipient of the prestigious honor for actions in Afghanistan. …

Groberg, 32, now works at the Pentagon as a civilian. Like many recipients of the honor, he expressed conflicted feelings about receiving it. "You go through your little demons," he said. "Why am I here when four guys are not? Why are four incredible, family men not here and I am? Did I do everything I was supposed to do? Did my guys do everything they were supposed to do? What do I do now?"

Groberg's leg went through "hell and back," Obama said. A quick-thinking medic helped provide immediate treatment and pulled Groberg away from the scene. Groberg was able to keep the leg, but went through 33 surgeries. He retired from the Army in July.

Groberg, born in Poissy, France, became a naturalized U.S. citizen in 2001, months before graduating from Walter Johnson High School in Bethesda, Md. In 2006, he earned a bachelor's degree in criminology and criminal justice from the University of Maryland.

Two years later, he joined the Army and was commissioned as an officer. He deployed twice to Afghanistan.

In brief remarks after the ceremony, Groberg said he was "honored and overwhelmed" to receive the medal and hoped "to be the right carrier" for the victims and their families.

"They made the ultimate sacrifice and didn't come home," Groberg said. Their families, he said, are the "true heroes who live through that day, every day, missing one of the members of their families."

[The Medal of Honor, which is awarded for personal acts of valor involving risk to life, has been awarded to more than 3,400 recipients since its establishment during the Civil War.]

With Post wire services. Reprinted here for educational purposes only. May not be reproduced on other websites without permission from the New York Daily News. 
Questions
1. Who is Florent Groberg?
2. What is the Medal of Honor? Be specific. (see "Background" below the questions for details)
3. Why has Florent Groberg been awarded the Medal of Honor? (What did he do?) Be specific.
4. What words did President Obama use to describe Capt. Groberg and his actions?
5. a) How much do you know about each of the following people?  Why are they famous?
Taylor Swift
Justin Bieber
Drake
Jennifer Lawrence
Fetty Wap
Kim and Kanye
b) How many heroes of the Iraq or Afghanistan Wars can you name? Why do you think this is so?
6. Why is it important for Americans to know the stories of Florent Groberg and other soldiers like him?
Background
THE MEDAL OF HONOR:
The Medal of Honor is the highest military decoration awarded by the United States government.
It is bestowed by the President in the name of Congress on members of the United States Armed Forces who distinguish themselves through "conspicuous gallantry and intrepidity at the risk of his or her life above and beyond the call of duty while engaged in an action against an enemy of the United States." 
Due to the nature of its criteria, it is often awarded posthumously (more than half have been since 1941).

Members of all branches of the armed forces are eligible to receive the medal, and there are three versions (one for the Army, one for the Air Force, and one for the Navy, Marine Corps and Coast Guard).
The Medal of Honor is bestowed upon an individual by the passing of a Joint Resolution in the Congress; and is then personally presented to the recipient or, in the case of posthumous awards, to next of kin, by the President of the United States, on behalf of the Congress, representing and recognizing the gratitude of the American people as a whole.
Due to its honored status, the medal is afforded special protection under U.S. law.
As the award citation includes the phrase "in the name of Congress", it is sometimes erroneously called the Congressional Medal of Honor; however, the official title is simply the Medal of Honor. (from wikipedia)
Daily "Answers" emails are provided for Daily News Articles, Tuesday's World Events and Friday's News Quiz.