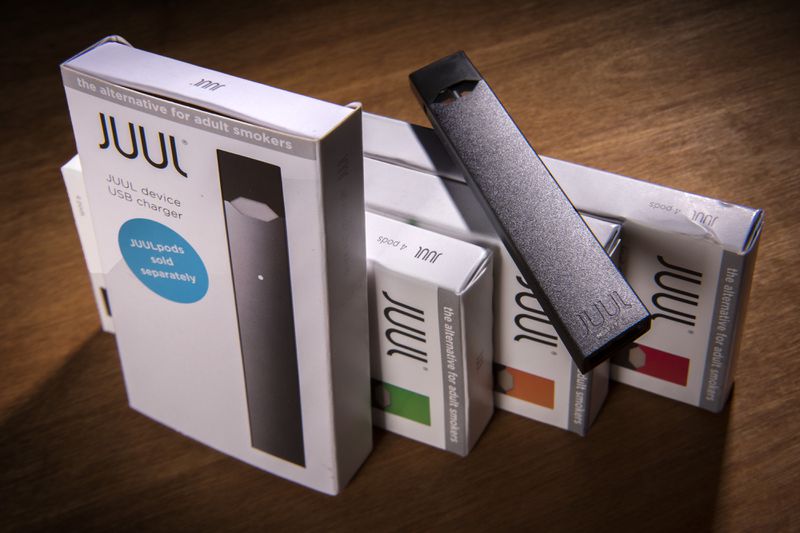 redo Jump to...
print Print...
(by Richard Morgan, New York Post) – Juul Labs violated US rules against marketing to teens by telling a group of New York high school kids that its wildly popular e-cigarettes were "totally safe," according to the Food and Drug Administration (FDA).
In letters to the vaping giant on Monday, the FDA ordered Juul to stop making unproven claims to children and adults that its vaping devices are safer than cigarettes. It also demanded that Juul turn over documents on its marketing, educational programs and nicotine formula.
"Before marketing tobacco products for reduced risk, companies must demonstrate with scientific evidence that their specific product does in fact pose less risk or is less harmful," Acting FDA Commissioner Ned Sharpless said in a statement.

"Juul has ignored the law, and very concerningly, has made some of these statements in school to our nation's youth."
The FDA highlighted an incident recounted by two New York high school students during a congressional hearing in July. The students said a Juul rep was invited to address the school as part of an assembly on mental health and addiction issues.
During the presentation, the students said the rep told them the company's product was "totally safe." The rep also showed students a Juul device and claimed the FDA "was about to come out and say that Juul was 99 percent safer than cigarettes." [In the year since the incident, Juul has not received FDA approval as a smoking cessation device.]
Juul says it discontinued its school programs — which they claim were intended to discourage underage use — last September. [In a statement, Juul said the presentation was part of a "short-lived Education and Youth Prevention Program which was ended in September 2018 after its purpose — to educate youth on the dangers of nicotine addiction — was clearly misconstrued."]
In a letter to Juul CEO Kevin Burns, FDA regulators said they also were "troubled" by a number of other points raised at the congressional hearing. The letter cites testimony that Juul's advertising "saturated social media channels frequented by underage teens," and "used influencers and discount coupons to attract new customers."
Last year, Juul closed down its social media sites. And under pressure, it voluntarily removed its fruit and dessert flavors from retail stores.
The FDA also quotes from a "Letter from the CEO" that appeared both on Juul's website and in an email response to a parent's complaint about her child being sold Juul products.
The letter touted Juul's ability "to heat nicotine liquid and deliver smokers the satisfaction that they want without the combustion and the harm associated with it."
The FDA gave Juul 15 working days to respond in writing about its plans for correcting unproven statements about its e-cigarettes. Failure to do so, the agency said, could lead to financial penalties, product seizures or an injunction.
Juul told The Post that it "will fully cooperate" with the FDA.
FDA warning letters are not legally binding, but regulators can take companies to court if they don't comply with the government's requests.
E-cigarettes have been on the U.S. market for more than a decade, but the FDA didn't gain the authority to regulate them until 2016. E-cigarette makers have until next May to submit their products to the FDA for health reviews. …
Published at NYPost .com on September 9, 2019. Reprinted here for educational purposes only. May not be reproduced on other websites without permission from the New York Post.
Questions
1. How did Juul Labs violate FDA rules against marketing their nicotine filled vaping devices to teens? Be specific.
2. What two things has the FDA ordered Juul to do?
3. What did the FDA Commissioner say companies must do before marketing their products as being much safer than regular cigarettes?
4. a) What did Juul claim was the company's purpose for sending reps to high schools to talk to students about Juul?
b) Do you think the company is sincere? Explain your answer. (What ulterior motive might the company have?)
5. What advertising/marketing tactics used by the company did the FDA point out as troubling in a letter to Juul CEO Kevin Burns?
6. What unproven claims did Juul make in a presentation to students in a high school?
7. a) What has the FDA asked Juul to do within 15 days?
b) What steps did Juul take last year to address widespread concerns over its marketing tactics?
c) What do you think? too little, too late? a socially responsible company?… Explain your answer.
8. Do an internet search for "lung illnesses among vaping teens."
Do you think teens should continue to vape while waiting for a government regulator to decide whether vaping/Juuling is bad for a person's health? Should you trust companies such as Juul who say that vaping is a safe alternative to smoking? Why or why not?
Background
Read the first letter to Juul from the FDA.
In a separate letter to Juul CEO Kevin Burns, the FDA additionally requested more information about the company's marketing practices. Specifically, the agency is looking for any scientific evidence or data that shows whether its use of words like "switch" and "alternative" give people the idea that Juul's e-cigarettes are less harmful than combustible cigarettes.
The FDA also said it was investigating whether the company withheld materials from the agency that were otherwise provided to Congress. The agency asked Juul to turn over everything it sent to the Hill in its separate investigation.
Juul spokesman Ted Kwong said the company was "reviewing the letters and will fully cooperate." (from a CNBC report)
Daily "Answers" emails are provided for Daily News Articles, Tuesday's World Events and Friday's News Quiz.