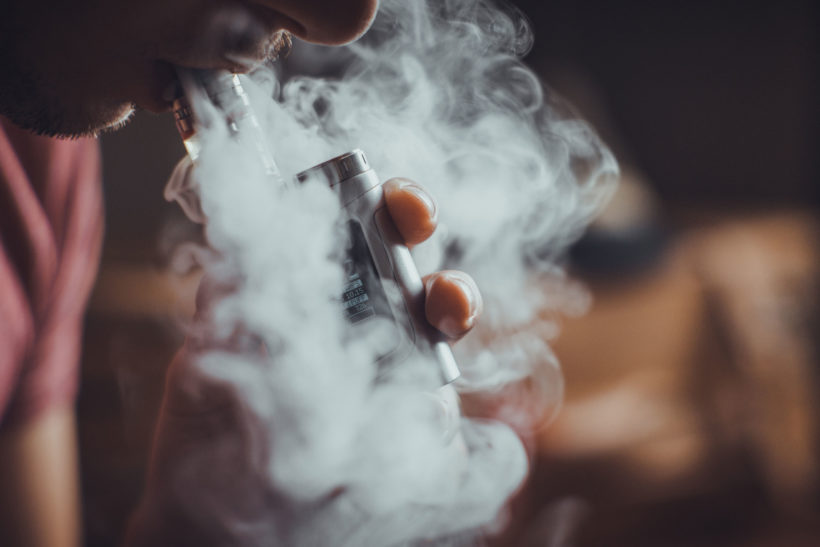 redo Jump to...
print Print...
(by Erika Edwards, NBC's Today) – At least [215 people from 25] states have fallen seriously ill with lung damage and difficulty breathing this year, confounding doctors struggling to diagnose and treat these patients.
The only thing linking the cases is that the patients all reported using vaping products that contain either nicotine or THC, the psychoactive ingredient in marijuana.
NBC News reached out to state health departments and physicians nationwide, and found that cases of the mystery illness now stretch from coast to coast. …
…Some patients have developed severe, progressive lung disease, and have required ongoing mechanical breathing assistance. [NOTE: This article was written on Aug. 21 and noted that "no deaths have been reported."  However, on Aug. 23, CBS News reported that an Illinois man who vaped and went to the hospital with the same symptoms of the other lung illness patients died of a respiratory illness.]
The Centers for Disease Control and Prevention (CDC) is working with states to try to pinpoint an e-cigarette ingredient, e-liquid, device or purchase method linking all of the cases.  …
Patients have typically arrived in the emergency department or hospital with cough, shortness of breath, fatigue and chest pain. The illness initially looks like a bad respiratory infection, but does not get better with usual treatment, like antibiotics.
This can delay a diagnosis and lead disease detectives down the wrong path.
Further muddling the investigation is that hospitals don't have a good way of tracking cases, because there is no specific diagnostic code* for either vaping or the emerging disease. [*In health care, diagnosis codes are used as a tool to group and identify diseases, disorders, symptoms, poisonings, adverse effects of drugs and chemicals, injuries and other reasons for patient encounters.]
"Since this is so new, physicians may miss the association with vaping," said Dr. Humberto Choi, a pulmonologist and critical care specialist at the Cleveland Clinic.
Choi has been treating some of the patients in the hospital's intensive care unit in recent days and weeks.
"Suspected cases should be reported to the CDC, but at this point, it's difficult to track," Choi said. "As more cases are confirmed, we will be better able to characterize the disease and determine the best treatment for patients."
Dr. Choi has also seen people with similar but less severe disease in an outpatient setting.
"People with a history of recent vaping are coming in with abnormal CT scans," Choi told NBC News. "The only treatment is just to stop vaping."
Published at NBC's Today .com on August 21, 2019. Reprinted here for educational purposes only. May not be reproduced on other websites without permission from Today.
Questions
1. The first paragraph of a news article should answer the questions who, what, where and when. List the who, what, where and when of this news item. (NOTE: The remainder of a news article provides details on the why and/or how.)
2. What one thing did all of those hospitalized have in common?
3. a) What symptoms do patients exhibit upon arriving at the hospital?
b) What problem do the patients experience with the treatment they receive for these symptoms?
4. What has been the longer-term effect for these patients?
5. What is the CDC working with states to determine about the cases?
6. Why might doctors still miss an association with vaping when treating these patients?
7. What is the only effective treatment for this concerning illness, according to Dr. Humberto Choi?
8. Read the excerpt under "Background" (below) from a Chicago Sun-Times editorial on vape companies. Do you think vape companies (Juul et al) know that their products could/do harm a user's health? Explain your answer.
9. Watch the videos under "Resources" (below). Would these reports cause you to stop vaping – or to not start vaping? Explain your answer.
Background
From an August 28 Chicago Sun-Times editorial:
The exact cause of the [lung] illnesses is still a mystery. Investigators "have not identified any specific product or compound that is linked to all cases," the CDC said.
The vaping industry is eager to cast blame for the 200 problem cases on "black market" products.
"Each day of this crisis brings more evidence that street vapes containing THC or other illegal drugs are responsible for these illnesses, not nicotine vaping products," the American Vaping Association's president, Gregory Conley, said in a statement.
There's no solid evidence to support that, though.
What's more, the claims of e-cigarette safety have come from the manufacturers, who have tens of billions in revenue at stake.
The public needs independent scientists, not industry-paid so-called experts, to find out the truth.
Scientists from an independent, scientific institution, like the CDC. They're the ones the public can trust to give us a definitive answer.
In the meantime, other serious health questions persist. A recently published study by researchers at the University of Pennsylvania's Perelman School of Medicine found that smoking even one nicotine-free e-cigarette can be harmful to a person's blood vessels.
"While e-cigarette liquid may be relatively harmless, the vaporization process can transform the molecules . . . into toxic substances," the study's main investigator, professor Felix Wehrli, says. "Beyond the harmful effects of nicotine, we've shown that vaping has a sudden, immediate effect on the body's vascular function, and could potentially lead to long-term harmful consequences."
And the Food and Drug Administration earlier this year began investigating dozens of reports of seizures or other neurological symptoms, such as fainting or tremors, that may well be related to vaping.
Here are some other reasons not to trust the vaping industry's word:
Even though manufacturers repeatedly denied targeting young people as consumers of their products, they kept on making products with bubble gum, candy and other flavors popular with teens.
The Vapor Technology Association, another trade group, sued the FDA earlier this month to keep the agency from reviewing the e-cigarettes currently on the market for safety.
Resources
Watch a news report of 18-year old Maddie Nelson, who vaped every day for three years:
---
Watch a CBS News report on the increasing cases of lung illness across the country:
Daily "Answers" emails are provided for Daily News Articles, Tuesday's World Events and Friday's News Quiz.