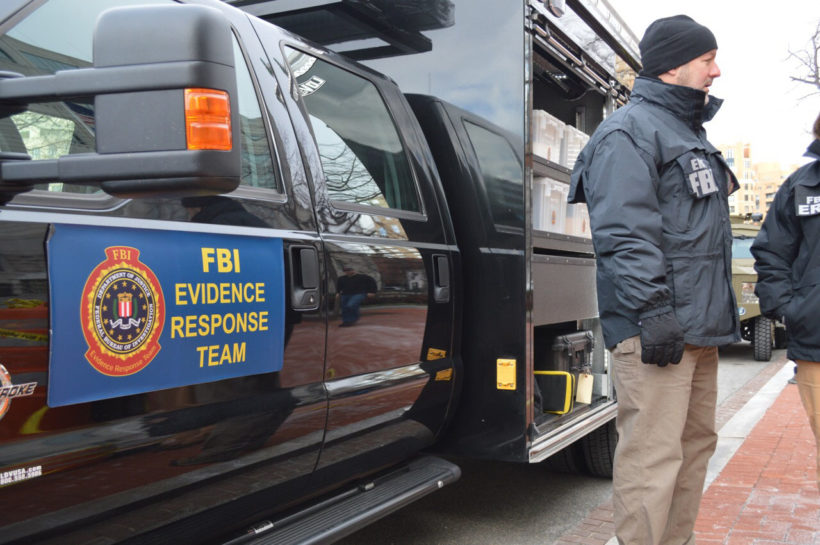 redo Jump to...
print Print...
(by JJ Green, WTOP) WASHINGTON — On a bone-chilling Monday morning, agents and technical specialists from the Washington Field Office of the Federal Bureau of Investigation…prepared to demonstrate to the media a half-dozen reasons anyone or any organization planning to attack the 2017 inauguration should think twice.
Rhetoric from hostile nation-states, active threats on social media and angry protesters are just part of what authorities are preparing for.
Six units including the Hazardous Evidence Response Team, Special Agent Bomb Technicians, the Operational Medicine Team, the Evidence Response Team, the Crisis Negotiations Team and the Special Weapons and Tactics team gave detailed explanations about their capabilities.
The objective of the presentation, according to Dave Sundberg, special agent in charge of the [FBI] field office, was to illustrate to the media they are ready for whatever comes their way on Jan. 20th and "to show informally what each of these teams does both every day and in support of the national special security event."
Just a few blocks from the U.S. Capitol, the leadership and agents of the field office are well aware of the severity of the threats facing Washington and the gravity of their response.
There have been 58 inaugurations for 44 Presidents since 1789. After 1998, all have been designated as a "national special security event." They are events that are deemed to be a potential target for terrorism or other criminal activity and, by procedure, mean the U.S. Secret Service is put in charge of event security.
Brian Ebert, special agent in charge of the Secret Service Washington field office told WTOP the agency uses a 360-degree "protective methodology." He added, "We're paying attention to the physical, the cyber, the aerial."
Ebert said the Secret Service will use a "robust security perimeter to defend against a number of threats. This will be a multilayered, buffer zone surrounding protected venues as well motorcade routes and of course the parade route."
That perimeter will also include National Guardsmen and police officers, he said.
Under the special security event planning, the FBI handles intelligence, counterterrorism, hostage rescue and investigation of incidents of terrorism or other major criminal activities.
And the Federal Emergency Management Agency [FEMA] is responsible for recovery management in the aftermath of terrorist or other major criminal incidents, natural disasters or other catastrophic events.
Those and many other law enforcement partners are working to lock down the nation's capital during what may be the most dynamic threat environment in history.
Looking at what's known about the threats as Donald Trump prepares to be sworn in as the 45th President of the U.S., there is good and troubling news, officials said.
"On a positive note, the benefit that the U.S. Secret Service has is that the geography doesn't change, and that the plans for inauguration security are off the shelf and they're able to tweak those every time we have a new president," said Fred Burton, a retired diplomatic security agent.
But Burton, currently vice president of intelligence at Stratfor, told WTOP he and many active law enforcement officials are worried about one problem above all others — "the crazy factor."

According to Burton, "individuals like John Hinckley and Sirhan Sirhan, those individuals that are out there and you've not been able to investigate or identify," pose a weighty threat.

In addition, D.C. is a significant target for terrorists.

"When we look at the threat reporting emanating from ISIL and other [homegrown violent extremists] around the country, we know there is a constant and persistent threat to the District," Joseph Skule, FBI Assistant Director of Intelligence told WTOP last year.

That assessment has not changed according to several U.S. intelligence sources WTOP spoke to on Monday.

In the four years since the second Obama inauguration, terror attacks have skyrocketed globally and the U.S. suffered the largest terror attack since Sept. 11, 2001 in the Orlando nightclub shooting in June.

And that, Burton said generates a different level of worry. "I would be concerned about ISIS-inspired, lone-wolf attacks like we've seen in Orlando, and in all probability in Fort Lauderdale, as that investigation shakes out," he said.

[FBI special agent] Sundberg said the FBI teams gearing up for the inauguration are not unfamiliar with the activity.
"Throughout the year, the FBI works collaboratively to prepare to support these events with any specialty equipment or personnel that may augment the resources of our partner agencies, be they state local or federal."
Reprinted here for educational purposes only. May not be reproduced on other websites without permission from WTOP Radio. Visit the website at WTOP .com.
Questions
1. List the types of threats law enforcement agencies need to guard against at the presidential inauguration next week.
2. List the six FBI units that gave the media detailed explanations about their capabilities to address any threats/attacks during the presidential inauguration next week.
3. What was the objective of the FBI's Washington Field Office presentation to the media?
4. a) How many presidential inaugurations have there been in U.S. history?
b) How did security for the inauguration change after 1998?
5. How/what part of security does each department handle?
a) Secret Service
b) FBI
c) FEMA
6. a) What is the good news about security, according to retired security agent Fred Burton?
b) What challenge do the security agencies face, according to Burton and the FBI's Joseph Skule?
7. Re-read the last two paragraphs of the article. What assurance does this give you that the federal agents will succeed in protecting the event?
8. Many people who hate Donald Trump and refuse to accept him as their president plan on protesting in Washington on and around inauguration day. What do you think: is there is a better time/place to stage a protest and they could/should do so, OR:
those upset with the outcome of the election are just exercising their first amendment rights (freedom of speech and assembly) and should protest on inauguration day to make their voices heard.
Explain your answer.
Daily "Answers" emails are provided for Daily News Articles, Tuesday's World Events and Friday's News Quiz.