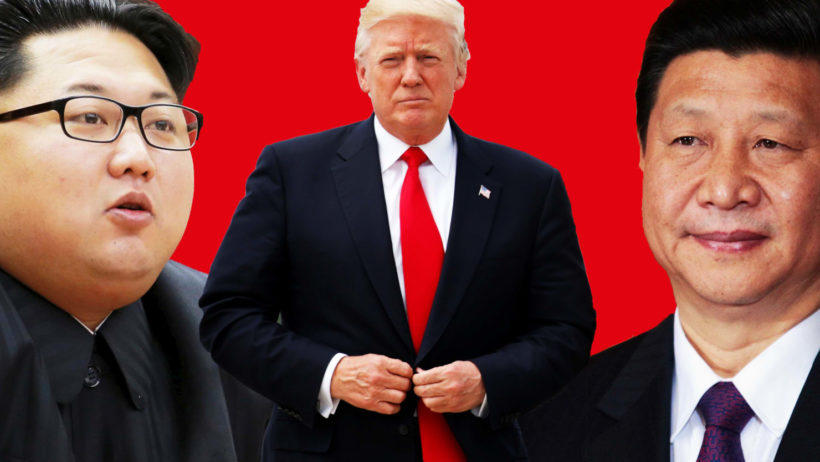 redo Jump to...
print Print...
(by Mark Moore, New York Post) – China upped the pressure to isolate North Korea on Thursday by ordering [North Korean companies operating in its territory to close down as it implements United Nations sanctions against] Pyongyang's nuclear and missile programs, according to reports.
China, Pyongyang's only major ally, has already banned textile trade and limited oil exports following previous sanctions. The goal of the sanctions is for the complete, verifiable and irreversible denuclearization of North Korea (the Korean Peninsula).
China, the main trading partner with North Korea, said the businesses must close within 120 days of the UN Security Council's Sept. 11 vote to impose strict trade penalties against President Kim Jong Un's government for detonating a nuclear device earlier this month, China's Ministry of Commerce said. China accounts for more than 80% of North Korea's trade.
The move is part of an international response – orchestrated by the Trump administration – to North Korea's sixth and most powerful nuclear test. The UN Security Council, of which China is a member, voted unanimously for new sanctions (written by the U.S.) on September 11.
The [closures will] severely crimp Kim Jong Un's ability to generate revenue to fund his weapons program because many North Korean companies run restaurants in China and a large part of the country's laborers work in Chinese factories and other businesses and send money back home.
Despite the sanctions, the Chinese ministry still encouraged the US to engage North Korea in a dialogue to defuse the escalating conflict between the two countries.
"The Korean Peninsula nuclear issue is related to regional peace and stability," ministry spokesman Lu Kang said. "Breaking the deadlock requires all relevant parties to show their sincerity."
President Trump, during a speech to the United Nations General Assembly last week, said "Rocket Man" Kim was on a "suicide mission for himself" and warned the US would "totally destroy North Korea" if forced to defend itself or its allies.
Beijing has been under public pressure from President Donald Trump to take action against North Korea's nuclear weapons program.
Along with the nuclear device, North Korea has been test-firing intercontinental ballistic missiles with enough range to strike the US mainland.
The latest UN sanctions against the regime put tight restrictions on the government's importing of oil, natural gas and textiles.
President Trump also signed an executive order last week that gave the Treasury Department "enhanced" authority to target financial institutions [banks] that do business with North Korea.
"North Korea's nuclear weapons and missile development is a grave threat to peace and security in our world. And it is unacceptable that others financially support this criminal, rogue regime," Trump said after signing the order last Thursday.
Reprinted here for educational purposes only. May not be reproduced on other websites without permission from the New York Post.
Questions
1. Define the following as used in the article:
-sanctions
-textiles
-denuclearization
2. Last Monday, China ordered its banks to stop doing business with North Korea. What new move has China made after agreeing to the U.S.-written UN sanctions against North Korea?
3. What is the ultimate goal of the sanctions against North Korea?
4. What action taken by North Korea caused the U.S., China, and the rest of the UN Security Council to agree unanimously to the sanctions? (What action had North Korea taken?)
5. North Korea has been working on its nuclear weapons program through several administrations – eight years each of Presidents Clinton, Bush and Obama. Negotiations, financial incentives, and lesser sanctions have failed for years. They have not had an effect on stopping North Korea's pursuit of these weapons. North Korea now has been test-firing intercontinental ballistic missiles with enough range to strike the US mainland. President Trump has taken a different and much stronger approach to dealing with North Korea than any of his predecessors. Ask a parent:
Do you think the president has the right strategy of trying to completely cut off North Korea from any outside trade, persuading China to go along with the plan, working within the UN Security Council – all while talking tough about Kim Jong Un? Please explain your answer.
Background
From a Sept. 12 CNN report: On Monday, September 11, the United Nations Security Council unanimously adopted a US-drafted resolution to impose new sanctions on North Korea  — a move that came just one week after the rogue nation carried out its sixth and largest nuclear test.
The resolution is designed to accomplish six major goals, according to a US official familiar with negotiations:
cap North Korea's oil imports
ban textile exports
end additional overseas laborer contracts
suppress smuggling efforts
stop joint ventures with other nations and
sanction designated North Korean government entities
Following the vote Monday US ambassador to the UN Nikki Haley said:
"Today, we are saying the world will never accept a nuclear armed North Korea, and today the Security Council is saying that if the North Korean regime does not halt its nuclear program, we will act to stop it ourselves,"

"We are done trying to prod the regime to do the right thing, we are now trying to stop it from having the ability to do the wrong thing," she added.
---
From a June 27 Business Insider report:  Chinese state media reported that China and the U.S. agreed that efforts to denuclearize the Korean Peninsula should be "complete, verifiable and irreversible," after high level talks in Washington.
During his meeting with top Chinese diplomats and defense chiefs, U.S. Secretary of State Rex Tillerson had said that the U.S. pressed China to ramp up economic and political pressure on North Korea.
China's top diplomat Yang Jiechi and General Fang Fenghui met Tillerson and Defense Secretary Jim Mattis during the talks. Yang later met with U.S. President Donald Trump in the White House, where they also discussed North Korea, Xinhua reported.
Chinese state media described the talks, the first of their kind with the Trump administration, as an upgrade in dialogue mechanisms between China and the U.S., following  President Xi Jiping's meeting with President Trump in Florida in April.
Resources
Watch a September 29 Fox Business report:
Daily "Answers" emails are provided for Daily News Articles, Tuesday's World Events and Friday's News Quiz.