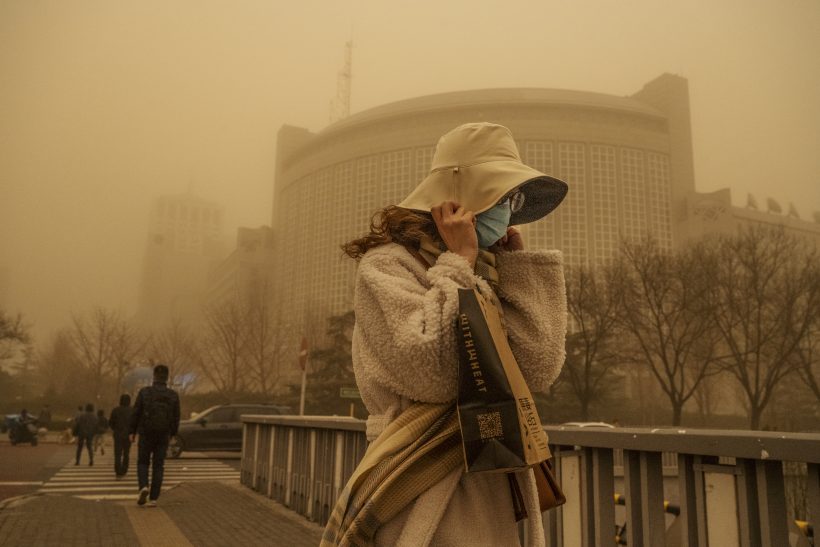 redo Jump to...
print Print...
(Reuters) — The Chinese capital Beijing woke on Sunday morning shrouded in thick dust carrying extremely high levels of hazardous particles, as a second sandstorm in two weeks hit the city due to winds from drought-hit Mongolia and northwestern China.
Visibility in the city was reduced, with the tops of some skyscrapers obscured by the sandstorm, and pedestrians were forced to cover their eyes as gusts of dust swept through the streets.
"It's quite serious today. There's always a day or two like this (of pollution or dust) each month," said Mr. Fan, 39, who did not wish to disclose his full name.
Beijing's official air quality index reached a maximum level of 500 on Sunday morning, with floating particles known as PM10 surpassing 2,000 micrograms per cubic meter in some districts.
Readings of smaller PM2.5 particles were above 300 micrograms per cubic meter, far higher than China's standard of 35 micrograms.
PM2.5 particles are especially harmful because they are very tiny and can enter the bloodstream, while PM10 is a larger particle that can enter the lungs.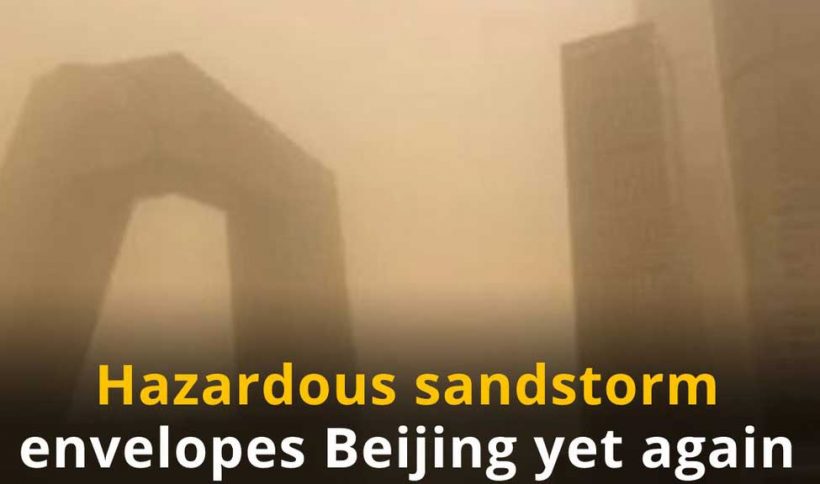 The China Meteorological Administration issued a yellow alert on Friday, warning that a sandstorm was spreading from Mongolia into northern Chinese provinces including Inner Mongolia, Shanxi, Liaoning and Hebei, which surrounds Beijing.
The meteorological office said the recent sandstorms to hit Beijing originated from Mongolia, where relatively warmer temperature this spring and reduced rain resulted in larger areas of bare earth, creating favorable conditions for sandstorms.
Beijing might face more sandstorms in April due to the unfavorable weather this year, the meteorological office said.
Published by Reuters on March 28, 2021. Reprinted here for educational purposes only. May not be reproduced on other websites without permission.
Questions
NOTE: Before answering the following questions, read the "Background" and watch the video under "Resources" below.
1. List the who, what, where and when of the news item.
2. How often does Beijing experience sandstorms like the one that occurred this week, according to resident Mr. Fan?
3. How does the dust affect humans?
4. What caused the recent Beijing sandstorms?
5. Consider the steps the Chinese government has taken to reduce the severity/number of sandstorms (under "Resources"). What is your reaction to this?
Background
Sandstorms used to be a regular occurrence in spring. In previous decades, each May saw at least two rounds of sandstorms, according to state-run Xinhua news agency.The frequency and severity of sandstorms was partly due to drought, growing population pressure and poor progress in revegetation, which caused rapid desertification of land in the north and northwest.
But sandstorms have since decreased dramatically; the annual number of sandstorm-impacted days in Beijing fell from a peak of 26 in the 1950s to just three days after 2010, Xinhua reported.
Since 2000, the Chinese government has invested billions of dollars toward sandstorm prevention. Authorities have launched various reforestation and ecological projects, and installed satellites to monitor sandstorms and alert weather agencies ahead of time. (from a March 15 CNN report)
---
CNN also reported on March 15: The World Air Quality Index measures the concentration of different pollutants in the air — the most important being PM 2.5. This harmful microscopic particulate matter is smaller than 2.5 micrometers in diameter, and is considered particularly dangerous as it can lodge deep into the lungs and pass into other organs and the bloodstream.
Beijing measured a maximum of 655 micrograms per cubic meter on Monday. The World Health Organization considers anything above 25 to be unsafe.
The sandstorm originated in Mongolia, where six people have died, and 81 are missing, according to Chinese state-run outlet The Paper.
From Mongolia, the sandstorm gradually moved southward. Beijing saw concentrations of the larger PM 10 particles exceed 8,100 micrograms per cubic meter according to the city's environmental monitoring center, prompting the Central Meteorological Observatory to issue a yellow alert for sandstorms — the second level in a four-tier color-coded weather warning system.
Authorities advised the public to avoid going outside if possible, and the Beijing Municipal Commission of Education asked schools and educational committees on Monday to suspend outdoor activities.
---
Resources
From Financial Times: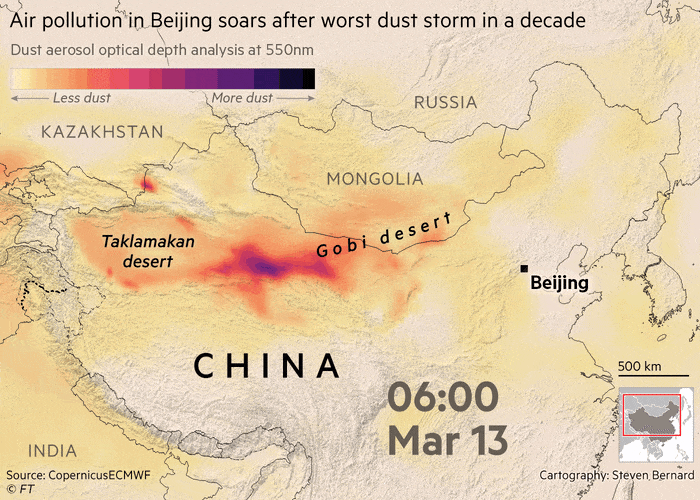 ---
Watch a March 28, 2021 report from Global News:
---
Watch a March 28, 2021 Reuters report:
Daily "Answers" emails are provided for Daily News Articles, Tuesday's World Events and Friday's News Quiz.