redo Jump to...
print Print...
(by Christopher Bodeen, YahooNews.com) AP, BEIJING – The dust works its way through keyholes and window frames, and smells like a filthy brew of dirt, smoke and metallic particles. The sky turns magenta and whole buildings disappear. Eyes tear up and throats get sore from coughing.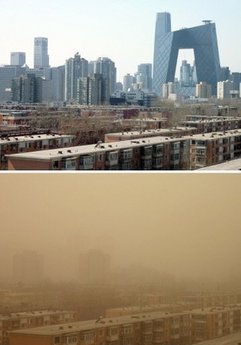 Northern China's spring sandstorms blew in with particular ferocity over the weekend, bringing misery to people working outdoors Monday in Beijing and across a wide swath of the country. (This photo combo shows the same view before and after: the top is of a clear day in Beijing on March 17 before a sandstorm covered the capital city in yellow dust (bottom) on March 22. (AFP/Goh Chai Hin)
"It gets in your throat, under your clothes, in your bed," said Beijing street sweeper Xue Yuan. "I hate it, but there's really nothing you can do."
The storms are a product of worsening desertification in Inner Mongolia and other Gobi Desert regions hundreds of miles to the north and west of Beijing caused by overgrazing, deforestation, drought and urban sprawl. Strong winds pick up the loose dust and dirt, mixing them with industrial pollution.
Beijing's air quality index was set at Level 4, one grade better than the most serious Level 5 that was reached Saturday as the mixture of sand, dust and pollution blasted the capital. City meteorologists said conditions would improve, but warned the sand would linger through midweek.
Record pollution levels were registered in Hong Kong, 1,240 miles (2,000 kilometers) to the south, partly due to the storms. Schools were advised to cancel outdoor activities and at least 20 elderly people sought medical assistance for shortness of breath, Hong Kong's radio RTHK reported.
Across the 100 mile-(160-kilometer)-wide Taiwan Strait, island residents covered their mouths to avoid breathing in the grit that can cause chest discomfort and respiratory problems even in healthy people. Sand covered cars in just 10 minutes and some flights were canceled due to poor visibility caused by the sandstorm.
Beijing residents hunkered indoors as the fine dust worked its way into homes and offices, cutting visibility to around 3,000 feet (1,000 meters).
Outside, people scurried along sand-strewn sidewalks, covering their faces with gauzy handkerchiefs or donning surgical masks. There were no immediate reports of illnesses connected to the dust.
In a warning posted Monday on its Web site, China's Central Meteorological Station urged Beijing's 22 million people to close doors and windows and safeguard sensitive electronic and mechanical equipment.
China Central Television told viewers to clean out their noses with salt water and remove grit from ears with cotton swabs dipped in alcohol.
In the past decade, Beijing has sought to counter the effects of desertification by planting grasses and billions of trees to hold back the desert, mostly to no avail. Along with bringing pollution, the storms underscore a looming water crisis in the north that the government is seeking to head off with a massive project to pump water from the south. …..
The latest sandstorm was expected to sweep into South Korea on Tuesday, said Kim Seung-bum of the Korea Meteorological Administration. The sandstorm that raked across China over the weekend caused the worst "yellow dust" haze in South Korea since 2005, and authorities issued a rare nationwide dust advisory.
Grit from Chinese sandstorms has been found to travel as far as the western United States.
State television's noon newscast showed the tourist city of Hangzhou on the east coast of China, where graceful bridges and waterside pagodas were hidden in a mix of sand and haze.
The U.S. Embassy in Beijing warned that particulate matter in the air made conditions "hazardous," although high winds dispersed some of the pollution and the air quality was later upgraded to "very unhealthy."
Duan Li, a spokeswoman for the Beijing Meteorological Station, said conditions in the city seemed more severe because a sandstorm Saturday deposited grit on rooftops, sidewalks and trees. The winds Monday carried in even more sand and stirred up what was already there.
The last massive sandstorm to hit Beijing was in 2006, when winds dumped about 300,000 tons of sand on the capital.
Associated Press writers Debby Wu in Taipei, Anita Chang in Beijing, Joyce Woo in Hong Kong, and Hyung-jin Kim in Seoul and researcher Zhao Liang in Beijing contributed to this report. NOTE: This story first published at YahooNews on March 22nd.
Copyright ©2010 The Associated Press. All rights reserved. Reprinted here for educational purposes only. The information contained in this AP News report may not be published, broadcast, rewritten, or redistributed without the prior written authority of The Associated Press. Visit news.yahoo.com/s/ap/20100322/ap_on_re_as/as_china_sandstorm for the original post.
Questions
1. What is said to be the cause of sandstorms occurring in northern China?
2. What other countries are affected by the Chinese sandstorms?
3. How are people affected by the sandstorms?
4. What warning did China's Central Meteorological Station post on its website this week?
5. What warning did the U.S. Embassy in Beijing issue regarding the sandstorms?
6. How has the Chinese government attempted to counter the effects of desertification that in turn partially causes the sandstorms?
Background
Dust storms frequently hit the arid north of China in the spring, when temperatures start to rise, stirring up clouds of dust that can travel across China, to South Korea and Japan and even as far as the United States.
Scientists blame a combination of deforestation and prolonged drought in northern China for the phenomenon. (from dailytelegraph.com.au/news/world/sandstorms-blanket-beijing-in-yellow-dust/story-e6frev09-1225843204055.)
Daily "Answers" emails are provided for Daily News Articles, Tuesday's World Events and Friday's News Quiz.