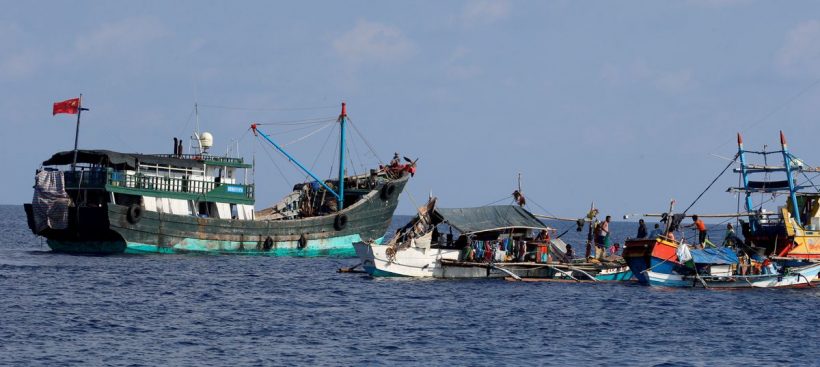 redo Jump to...
print Print...
(Reuters) — The Philippine foreign minister [same as U.S. Secretary of State] on Monday demanded in an expletive-laced message on Twitter that China's vessels get out of disputed waters, marking the latest exchange in a war of words with Beijing over its activities in the South China Sea.
The comments by Teodoro Locsin, known for making blunt remarks at times, follow Manila's protests for what it calls the "illegal" presence of hundreds of Chinese boats inside the Philippines 200-mile Exclusive Economic Zone (EEZ).
"China, my friend, how politely can I put it? Let me see… O…GET THE [@$%&] OUT," Locsin said in a tweet on his personal account.

"What are you doing to our friendship? You. Not us. We're trying. You. You're like an ugly oaf forcing your attentions on a handsome guy who wants to be a friend; not to father a Chinese province…", Locsin said.
China's embassy in Manila did not immediately respond to a request for comment. Chinese officials have previously [claimed] the vessels at the disputed Whitsun Reef were Chinese fishing boats taking refuge from rough seas.
China claims [ownership of] almost the entire South China Sea, through which about $3 trillion of ship-borne trade passes each year. In 2016, an arbitration tribunal in The Hague* ruled that the claim, which Beijing bases on its old maps, was inconsistent with international law. [*The Hague in the Netherlands hosts The International Court of Justice, the main judicial arm of the United Nations, as well as the International Criminal Court].
In a statement on Monday, the Philippine foreign ministry accused China's coast guard of "shadowing, blocking, dangerous manoeuvres, and radio challenges of the Philippine coast guard vessels."
Philippine officials believe the Chinese vessels are manned by militia.
On Sunday, the Philippines vowed to continue maritime exercises in its EEZ (Exclusive Economic Zone) in the South China Sea in response to a Chinese demand that it stop actions it said could escalate disputes.
As of April 26, the Philippines had filed 78 diplomatic protests to China since President Rodrigo Duterte took office in 2016, foreign ministry data shows.
"Our statements are stronger too because of the more brazen nature of the activities, the number, frequency and proximity of intrusions," Marie Yvette Banzon-Abalos, executive director for strategic communications at the foreign ministry, said.
Duterte for the most part has pursued warmer ties with China in exchange for Beijing's promises of billions of dollars in investment, aid and loans.
"China remains to be our benefactor. Just because we have a conflict with China does not mean to say that we have to be rude and disrespectful," Duterte said in a weekly national address.

"So, kindly just allow our fishermen to fish in peace and there is no reason for trouble," Duterte said, addressing China.
Published by Reuters on May 3, 2021. Reprinted here for educational purposes only. May not be reproduced on other websites without permission.
Questions
NOTE: Before answering the following questions, read information under "Background" and "Resources" below.
1. List the who, what, where and when of the news item.
2. What accusation did the foreign minister make against China's coast guard?
3. What does China claim the boats are doing in Philippine waters?
4. How long ago did the international court rule that China is violating international law in the South China Sea?
5. For what reason are Philippine officials especially concerned about the Chinese boats currently in their waters?
6. Marie Yvette Banzon-Abalos of the Philippines foreign ministry defended Mr. Locsin's tweets by explaining, "Our statements are stronger too because of the more brazen nature of the activities, the number, frequency and proximity of intrusions [of China]." Consider the info under "Background" and "Resources."
a) Based on this information and what you know about the Communist leaders of China, what do you think? Are these just innocent Chinese fishing boats? Explain your answer.
b) What is your reaction to Mr. Locsin's tweet? How effective do you think it will be?
Background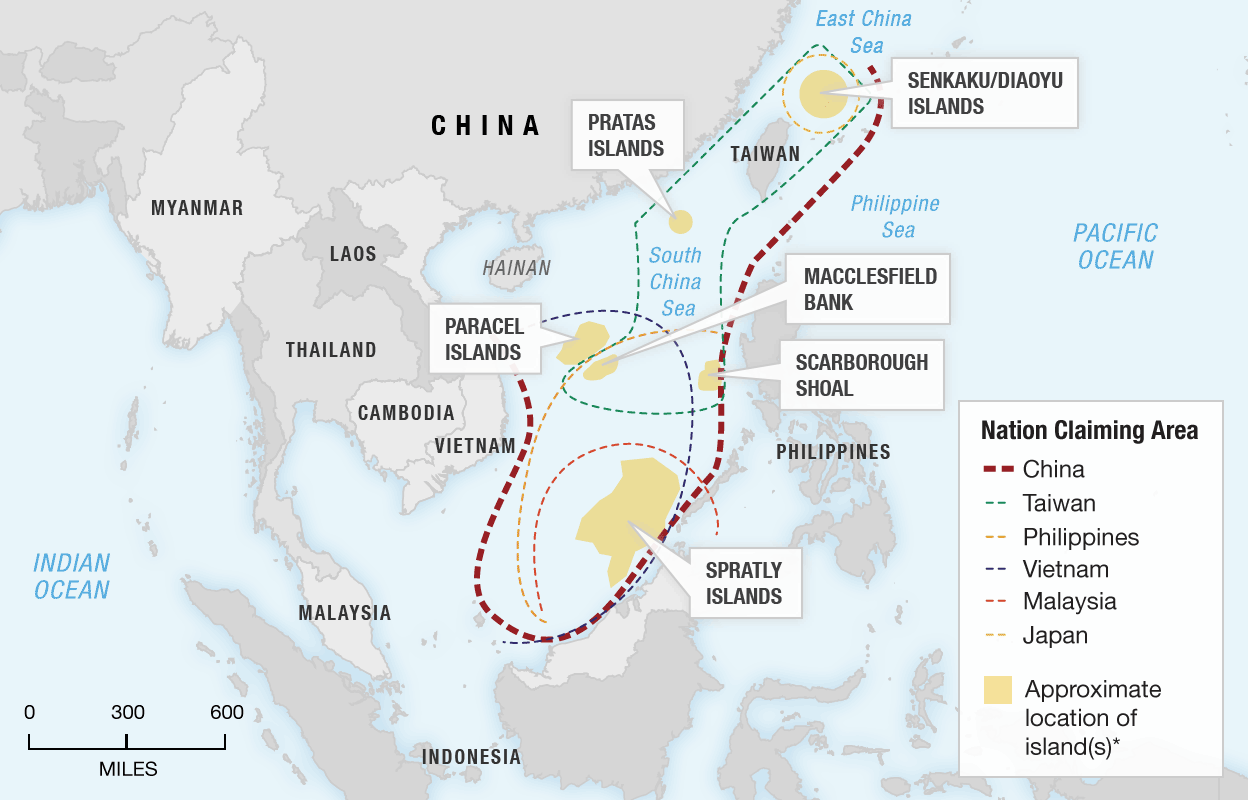 What is the South China Sea? (from Australia's New Daily)
The South China Sea is a critical commercial gateway for a large portion of the world's merchant shipping.
It is bordered by Brunei, Cambodia, China, Indonesia, Malaysia, the Philippines, Singapore, Taiwan, Thailand and Vietnam.
China claims almost all of the strategic South China Sea with Brunei, Indonesia, Malaysia, the Philippines, Taiwan and Vietnam pushing competing claims to parts of the maritime region.
China has been militarizing the region for (at least 6 years). In 2018, China placed anti-ship cruise missiles and long-range surface-to-air missiles on the contested Spratly Islands, according to a recent Pentagon report.
The US, Japan and India do not have any territorial claims there.
For more information on the South China Sea and its geo-political importance, the Lowy Institute has an excellent overview. (includes map)
Since 2014, China has forged ahead with island-building in the disputed waters of the South China Sea, despite a landmark ruling in 2016 by the Permanent Court of Arbitration in The Hague, which said there was no legal basis for China's maritime claims.
China's claims to the South China Sea stretch roughly 1,000 miles from its southern shores, pitting it against Taiwan, the Philippines, Brunei, Malaysia, and Vietnam.
High-resolution aerial images of China's reclamation efforts in the Spratly Islands show that the reefs and sandbars have been turned into island fortresses, with ports, air strips, lighthouses, hangars and multi-story buildings.
Under US President Donald Trump and his predecessor, President Barack Obama, the US has conducted "freedom of navigation" operations, sailing military vessels and flying planes close to islands China controls, often triggering heated warnings from Chinese patrols.
But it has done little to rein in China's expansionism in the South China Sea.
"The US does need to take a consistent and perhaps more assertive approach to how to deal with this advancement," said Admiral Kirby.
"I do not think it's too late to forestall further militarization, but I think we need to have a comprehensive — and not just a military — strategy for how to deal with this." (from a March 6, 2018 report at SND)
---
Read South China Sea at the Law of the Sea wikipedia entry.
Resources
Go to amti.csis.org for interactive maps of Asia Pacific.
Read previous articles on China's aggression:
Daily "Answers" emails are provided for Daily News Articles, Tuesday's World Events and Friday's News Quiz.