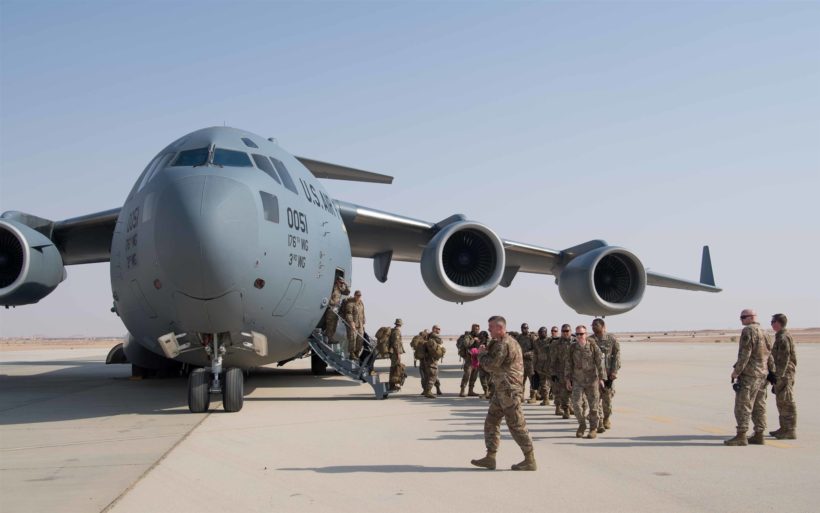 redo Jump to...
print Print...
(by Clyde Hughes, UPI) — The U.S. Defense Department announced Friday it will send thousands of additional troops and more equipment to Saudi Arabia, in response to months of heightened tensions in the region involving Riyadh and Iran.
Pentagon chief representative Jonathan Hoffman said Defense Secretary Mark Esper authorized sending more support at the behest of the U.S. Central Command, which covers military operations the Middle East and Central Asia. It will include two fighter squadrons, an Air Expeditionary Wing, two missile defense batteries and a Terminal High-Altitude Area Defense system, or THAAD.
"Taken together with other deployments this constitutes an additional 3,000 forces that have been extended or authorized within the last month," Hoffman said in a statement.
"The United States does not seek conflict with the Iranian regime, but we will retain a robust military capability in the region that is ready to respond to any crisis."
Rising tensions in the Persian Gulf region have been stoked by several attacks against various oil tankers [and Saudi oil plants] in recent months. [Iranian guards captured a British oil tanker sailing through the Strait of Hormuz on July 19 and held it until September 27.] The U.S. administration, other Western governments and Saudi Arabia have blamed Tehran for some of the strikes.
"It is clear that the Iranians are responsible for the recent attacks on Saudi Arabian oil facilities," Esper told reporters Friday. "Our international partners agree — including the United Kingdom, France and Germany."

"Iran's continued malign behavior is part of its larger campaign to destabilize the Middle East and disrupt the global economy. Iran's attempts to use terror, intimidation and military force to advance its interests are inconsistent with international norms."
Hoffman said Esper informed Saudi Crown Prince Muhammad bin Salman Friday of the decision and called on European allies and "other like-minded countries" to follow suit.
"Since May, the Department of Defense has increased the number of forces by approximately 14,000 to the U.S. Central Command area of responsibility as an investment into regional security," Hoffman said.
The U.S. aircraft carrier USS Abraham Lincoln is already in the Gulf region and will remain until the end of the year.
Published by UPI .com on October 11, 2019. Reprinted here for educational purposes only. May not be reproduced on other websites without permission from United Press International.
Questions
1. For IRAN, give the following information:
capital

location/the countries that share its borders

the religious breakdown of the population

the type of government

the chief of state (and head of government if different) If monarch or dictator, since what date has he/she ruled? – include name of heir apparent for monarch

the population
Find the answers at the CIA World FactBook website. For each country, answers can be found under the "Geography" "People" and "Government" headings.
NOTE: Before answering the following questions, read the info under "Background" and watch the video under "Resources" below.
2. For IRAN:
a) list the who, what, where and when of the news item
b) Why is the U.S. Department of Defense taking this action? Be specific.
c) What military equipment is being sent?
d) List the international partners Secretary Esper named who also say Iran is behind the attacks on Saudi oil facilities.
e) What does Sect. Esper say is Iran's purpose for the attacks?
f) Ask a parent (or a grandparent):
How important do you think it is for the U.S. to protect our interests and those of our allies in the region?
Do you think it is hypocritical or good strategy to pull our troops from Syria but send more troops to Saudi Arabia? (Does it make a difference that Saudi Arabia is our ally and Syria is our enemy?)
Please explain your answers.
Background
From an Oct. 11 ABC News report:
"We have been concerned, based on what we hear from partners and allies in the region, about continued Iranian behavior," Esper said at a Pentagon news conference on Friday.

"There are things that we pick up, if you will through intelligence, that we thought it was important to deploy forces to deter and defend and to send the message to the Iranians do not strike another sovereign state," he added.

"Do not threaten American interests, American force or we will respond," Esper warned. "And I've said time and time again do not mistake our restraint for weakness. If you will, you will regret that.

Gen. Mark Milley, the chairman of the Joint Chiefs of Staff, said the deployment to Saudi Arabia was "for the purpose of defense of our interests and assets in the region and also re-establish deterrence with respect to Iran in the wake of an attack on Saudi Arabia."
Resources
From ABC News (Oct. 11):
Daily "Answers" emails are provided for Daily News Articles, Tuesday's World Events and Friday's News Quiz.