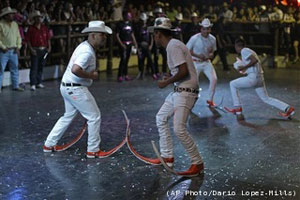 MEXICO – Mexico town's pointy boots create a craze
MATEHUALA – The customer known only as "Cesar of Huizache" had an odd request for shoemaker Dario Calderon: He showed him a cell-phone photo of a sequined cowboy boot with pointy toes so long, they curled up toward the knees. He wanted a pair, but with longer toes.
"I thought 'What's up with this dude?'" Calderon said at his shop in Matehuala, a northeastern Mexican city of farmers and cattle ranchers accustomed to a more stoic cowboy look. The boot in the photo measured 23 inches "but we made him a pair that were 35 inches long."
The mystery man from Huizache, a nearby village, wore his new boots to Mesquit Rodeo nightclub, where he danced bandido style with a handkerchief hiding his mouth and nose.
"He was dancing and having a good time and he didn't care what people were saying about him," said Fernando Lopez, the master of ceremonies at the rodeo-themed disco. …
The next thing Calderon knew, it seemed like everyone wanted the bizarre, half-Aladdin, all-Vegas pointy boots, from little boys attending church ceremonies to teenagers at the discos.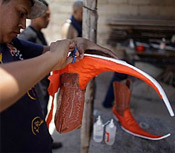 [Top photo: Saturday, May 7, 2011, the 'Aliados' dance crew performs at the Mesquit Rodeo nightclub during a dance competition in Matehuala, Mexico]
[2nd photo: taken Saturday, May 7, 2011, young men create their own pointy boots that they will use at a dance competition at night in Matehuala, Mexico.]
Calderon fashioned the elongated toes from plastic foam and charged $34 for the extensions. The competition began charging $30 per 6 inches of new toe. …..
"At the beginning I didn't like them very much, but the girls wouldn't dance with you if you weren't wearing pointy boots," said university student Pascual Escobedo, 20, his own covered with hot pink satin and glittery stars.
………
But as with every youthful fad, the pointy boots already are being replaced by low-rise Roper style boots, which also have lower heels. …..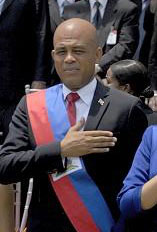 HAITI – New president takes power in struggling Haiti
PORT-AU-PRINCE – Charismatic pop star-turned-president Michel Martelly took over Haiti on Saturday (see photo), promising to rebuild its earthquake-devastated capital, develop the long-neglected countryside and build a modern army.
The 50-year-old performer known to Haitians as "Sweet Micky" was swept to power in a March 20 presidential runoff by Haitians tired of past leaders who failed to provide even basic services, such as decent roads, water and electricity in the Western Hemisphere's poorest country.
Martelly was sworn in during a power outage in front of dozens of dignitaries including former U.S. President Bill Clinton, the U.N.'s special envoy to Haiti. …..
Former Haiti President Rene Preval took off the presidential sash and put it on Martelly as they shook hands and embraced, but did not say anything to each other. …..
"Today is a party for us, for the masses, because the country is destroyed," said Esaue Rene, a 28-year-old mechanic who has high hopes for Martelly. "I would like him to bring jobs so that people aren't sitting around in public plazas because they don't have anything else to do."
Martelly appealed to young voters like Rene because he is the antithesis of Preval, who is seen as aloof and uninspiring. Martelly is effusive and charming. He once joked that he'd dance naked atop the National Palace if he were elected president.
But the challenges Martelly faces in fulfilling his ambitious promises were clear Saturday. He was sworn in front of the country's collapsed National Palace and a shantytown filled with thousands of people displaced by last year's magnitude-7.0 earthquake that killed an estimated 230,000 people.
During his campaign, he promised to build houses in the capital; bring economic development to the countryside; provide universal education for children; develop agriculture; and replace the discredited armed forces with a modern army capable of responding to natural disasters. The previous discredited army was disbanded by ousted former President Jean-Bertrand Aristide in 1995.
Political observers say speeding up the multibillion-dollar reconstruction effort is paramount. That means Martelly's administration must make progress building houses for the more than 600,000 people still living in settlements; stem a cholera epidemic that threatens to spread during the rainy and hurricane seasons; and strengthen the judiciary. And a parliament controlled by political opponents from Preval's party could make passing bills difficult.
CHINA – Shanghai's 1-dog limit causes anguish for owners
SHANGHAI – China's largest city is setting a limit of one dog per family in an effort to gain control over the soaring pet population and curb rabies.
Cao Yi already was walking her dogs at 11 p.m., hoping to avoid trouble both with neighbors and with the authorities over her brown poodle and golden retriever.
"I'm afraid one of the dogs might be taken away," she said.
The rule that [took] effect Sunday means either finding a new home for one of her pets or registering one with her parents.
Shanghai's new pet ownership rules also slash steep fees for dog registration – in hopes of bringing more undocumented dogs onto the books – and require those walking dogs to keep them on leashes.
Only about 140,000 of Shanghai's estimated 800,000 dogs have been registered under current rules, which require payment of a $300 fee every year for those living downtown and half that for those in the suburbs.
Under the new rules, annual fees drop to about $75 for downtown residents, 300 yuan $45 for those in suburbs, and $13 for rural residents. Rabies shots cost another $6 for domestic vaccines or 60 $9 for imported ones.
Beijing and the southern city of Guangzhou have similar regulations to control rabies.
……
While pedigreed animals can cost thousands of dollars, inexpensive breeds can be easily bought without any enforcement of requirements for annual rabies' vaccines. Many first-time pet owners don't bother to spay or neuter their animals and eventually abandon them when they grow tired of the burdens of keeping an animal. Bands of strays can be seen in the city's suburbs.
A recent pet population explosion has brought on a spike in rabies infections. About 2,500 people die of the disease each year in China. In big, crowded cities like Shanghai, home to 23 million people, police say they handle thousands of complaints over dog bites each year.
(The news briefs above are from wire reports and staff reports posted at BostonHerald.com on May 14th and 15th.)

Questions
1. For each of the 3 countries, give the following information:
a) location/the countries that share its borders
b) the religious breakdown of the population
c) the type of government
d) the chief of state (and head of government if different) [If monarch or dictator, since what date has he/she ruled? – include name of heir apparent for monarch]e) the population
[Find the answers at the
CIA World FactBook website
. For each country, answers can be found under the "Geography" "People" and "Government" headings. Go to
worldatlas.com
for a list of continents.]
2. For Mexico:
a) list the who, what, where and when of the news item
b) Watch the news video under "Resources" below the questions. What do you think of the pointy boot trend? Explain your answer.
3. For Haiti:
a) list the who, what, where and when of the news item
b) What promises did Mr. Martelly make during his campaign?
c) Why might Mr. Martelly's goals be hard to achieve?
4. For China:
a) list the who, what, where and when of the news item
b) Why did the city of Shanghai pass the one dog per family law?
c) Do you think limiting the number of dogs a family can own is the best way to solve the problem of irresponsible dog owners? Explain your answer.
Daily "Answers" emails are provided for Daily News Articles, Tuesday's World Events and Friday's News Quiz.