redo Jump to...
print Print...
CHINA – Police arrest dozens in unauthorized church
BEIJING | Police on Sunday detained dozens of worshippers from an unapproved Christian church who were trying to hold services in a public space, after they were evicted from their usual place of worship, a parishioner said.
Leaders of the unregistered Shouwang church had told members to gather at an open-air venue in Beijing for morning services, but police, apparently alerted to their plans, taped off the area and took away people who showed up to take part.
China's communist government allows worship only in state-approved churches, but many Christians belong to unregistered congregations. Such "house churches" are subjected to varying degrees of harassment by authorities.
More than 60 million Christians are believed to worship in China's independent churches, compared with about 20 million who worship in the state church, according to scholars and church activists.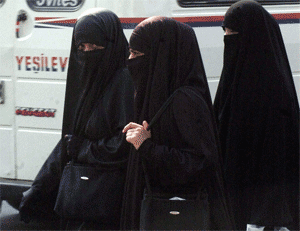 FRANCE – New veil ban to go into effect
TRAPPES | For Muslim women who cover their faces with veils [photo: example of the Muslim niqab], it is the moment for making plans. Starting Monday, a new law banning garments that hide the face takes effect. Women who disobey it risk a fine, special classes and a police record.
The law comes as Muslims face what some see as a new jab at their religion. President Nicolas Sarkozy's party is set to hold a debate Tuesday on the place of Islamic practices, and Islam itself, in strictly secular but traditionally Catholic France.
The increasing focus on France's Muslims – the largest such population in western Europe, at 5 million people – comes with presidential elections a year away and support for a far-right opposition party growing.
A recent palpable rise in tensions also has been boosted by fears of a mass migration of Muslims from the disarray in the Arab world.
"This growth in the number of [Muslims] and a certain number of behaviors cause problems," Interior Minister Claude Gueant recently said on French radio. "There is no reason why the nation should accord to one particular religion more rights than religions that were formerly anchored in our country."
France's challenge is evident in the Paris suburb of Trappes. It has a large Muslim population and is one of the few towns in France where veiled women are occasionally seen on the streets.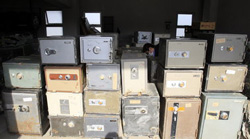 JAPAN – Safes, cash wash up on Japanese shores after tsunami
OFUNATO | Hundreds of dented metal safes, swept out of homes and businesses by last month's tsunami, crowd the parking garage at Ofunato police headquarters. [See photo taken April 7, 2011 at a police station in tsunami-hit Ofunato city, Iwate Prefecture, Japan.]
Safes are washing up along the tsunami-battered coast, and police are trying to find their owners — a unique problem in a country where many people, especially the elderly, still stash their cash at home. By one estimate, some $350 billion worth of yen [$4.1 billion in U.S. dollars] doesn't circulate.
There's even a term for this hidden money in Japanese, "tansu yokin" or literally, "wardrobe savings."
The massive post-tsunami cleanup under way along hundreds of miles of Japan's ravaged northeastern coast involves the delicate business of separating junk from valuables. As workers and residents pick through the wreckage, they are increasingly stumbling upon cash and locked safes.
…Noriyoshi Goto, head of the Ofunato Police Department's financial affairs department, which is in charge of lost-and-found items…. couldn't specify how many safes his department has collected so far, saying only that there were "several hundreds" with more coming in every day.
…Wads of cash [are also being found] in envelops, unmarked bags, boxes and furniture.
Yasuo Kimura, 67, considers himself one of the lucky ones. The tsunami swallowed and gutted his home in Onagawa, about 50 miles south of Ofunato. He escaped with his 90-year-old father and the clothes on his back. But he still has money in the bank.
That's not the case for many of his longtime friends and acquaintances, said Kimura, a former bank employee. "I spent my career trying to convince them to deposit their money in a bank," he said, staring out at his flattened city. "They always thought it was safer to keep it at home."
(The news briefs above are from wire reports and staff reports posted at: washingtontimes.com's
World Scene and Briefly, and San Jose mercurynews.com on April 10th.
Questions
1. For each of the 3 countries, give the following information:
a) the countries that share its borders
b) the religious breakdown of the population
c) the type of government
d) the chief of state (and head of government if different) [If monarch or dictator, since what date has he/she ruled? – include name of heir apparent for monarch]e) the population
[Find the answers at the
CIA World FactBook website
. For each country, answers can be found under the "Geography" "People" and "Government" headings. Go to
worldatlas.com
for a list of continents.]
2. For China:
a) list the who, what, where and when of the news item
b) Why were the Christians trying to hold their service in a public place?
c) Read about religious freedom/persecution in China, and about Chinese house churches under "Background" below. How would you describe the Christians who meet to worship God together despite government opposition?
3. For France:
a) list the who, what, where and when of the news item
b) Do you think this law is religious discrimination? Explain your answer.
c) Do you think the Muslim women who say they will refuse to obey the law have considered the reasons such a ban has been implemented?
d) In this case which is more important, national safety or the right to practice one's religion as one sees fit?
4. For Japan:
a) list the who, what, where and when of the news item
b) What do you think the police should do with the cash and safes that are not legitimately claimed by anyone?
Background
CHINA:
The Chinese government strictly controls all religious practice and represses religious activity outside state-approved organizations.
Some Chinese citizens can assemble to worship and conduct charitable projects within government-approved parameters.
Unregistered religious groups, or those deemed by the government to threaten national security or social harmony, face severe violations, including fines, confiscation of property, imprisonment, and the destruction of religious sites.
Religious freedom conditions for Tibetan Buddhists and Uighur Muslims are the worst they have been in the past ten years.
After demonstrations and riots in 2008 and 2009, the Chinese government increased efforts to weaken religious devotion, discredit and imprison religious leaders, and ban religious gatherings and "illegal religious literature" in Tibetan and Uighur areas.
Almost four hundred unregistered Protestants were detained in the past year and the Chinese government stepped up efforts to destroy churches and close "illegal" meeting points.
Unregistered Catholic clergy and Falun Gong adherents remain in detention, in home confinement, under surveillance, or have disappeared.
Detained Falun Gong adherents are tortured and mistreated.
In addition, Chinese officials harassed, detained, physically abused, and in the prominent case of Gao Zhisheng, forcibly "disappeared" attorneys who defended Falun Gong, Tibetans, Uighurs, and unregistered Protestants. (from USCIRF, the U.S. Commission on International Religious Freedom website: China is listed as a CPC "Country of Particular Concern" for its abuses against Christians and citizens of other religions) From the U.S. Department of State's USCIRF: uscirf.gov/countries/countries-of-particular-concern.html.
CHINESE HOUSE CHURCHES:
The Chinese house church movement developed after 1949 as a result of the Communist government policy which requires the registration of all religious organizations. This registration policy requires churches to become part of the government-run Three-Self Patriotic Movement (TSPM) and China Christian Council (CCC) set-up, which may involve interference in the church's internal affairs either by government officials or by TSPM/CCC officials, who are approved by the Communist Party of China's United Front Work Department.
They are called "house churches" because as they are not officially registered organizations, they cannot independently own property and hence they meet in private houses, often in secret for fear of arrest or imprisonment, as in the Early Church under pagan Roman persecution.
During the Cultural Revolution of 1966-1976 all Christian worship was forced underground, even the official churches were closed, and the house church movement was solidified as an ongoing phenomenon.
Because house churches operate outside government regulations and restrictions, their members and leaders are frequently harassed by local government officials. This persecution may take the form of a prison sentence or, more commonly, reeducation through labour. Heavy fines are also not uncommon, with personal effects being confiscated in lieu of payment if this is refused or unavailable. (from wikipedia)
——————————————–
FRANCE:
The law against covering the face in public says those who do could be given a $215 fine or special citizenship classes, though not jail.
People who force women to wear a veil are subject to up to a year in prison and a $43,000 fine, and possibly twice that if the veiled person is a minor.
The words "women," "Muslim" and "veil" are not even mentioned in the text of the law. It only says it is illegal to hide the face in the public space.
The ban affects women who wear the niqab, which has just a slit for the eyes, and the burqa, which has a mesh screen over the eyes.
from the British Daily Telegraph:
What does the new French law do?
It prevents any woman wearing full-face veils in public.
Is it directed as Muslims?
The text makes no mention of Islam, but President Nicolas Sarkozy's government promoted the law as a means to "protect" women from being forced to wear Muslim full-face veils such as the burka or the niqab.
Is it democratic?
The bill was passed by the French Parliament last year, with the Senate voting by 246 votes to 1 in favor.
Who will it affect?
Fewer than 2,000 French women are believed to actually wear a full face veil.
What is the punishment?
A $215 and/or a course of citizenship lessons. A man who forces a woman to go veiled will be fined $43,000 and serve a jail term.
What are the main arguments in favour of the ban?
The veil alienates and so stigmatises Muslim women and it creates security problems.
Who opposes the ban?
Muslims and libertarians who think people should be allowed to wear what they want.
What other European countries have voted for a ban?
The Belgian lower house of parliament voted in April to ban all clothing that covers or partially covers the face, but it was dissolved before the law could be enforced.
Will other countries follow suit?
Movements to ban the garments have gained ground across Europe. Polls in Italy, Spain, Germany and Britain have indicated widespread support.
The following is a translation of French parliamentarian (congressman) Jean Francois Cope's explanation of why the panel believed it is necessary to ban the face veil:
(from translate.google.com – paste in Mr. Cope's url found at: jeanfrancoiscope.fr)
After numerous hearings, members of the … group … expressed their conviction that extremists are testing the Republic [France]. They use democratic freedoms to turn them against the principles of coexistence. …
Opponents of the law explain that [it will] stigmatize our fellow Muslims. For months, I explain that, [we are not attempting to stigmatize Muslims]. The debate is not about secularism or the place of Islam. The fact [is] that key Muslim leaders in our country have said that the burqa was not a religious requirement… The law does not even [mention the] burqa. [Everyone knew] what was until now so obvious that there was no need to include it in our law: the visibility of the face in public is a prerequisite for living together [to ensure] security.
-Jean Francois Cope, member of the French National Assembly
Daily "Answers" emails are provided for Daily News Articles, Tuesday's World Events and Friday's News Quiz.