News from around the World
Tuesday's World Events — Posted on April 12, 2011
CHINA – Police arrest dozens in unauthorized church
BEIJING | Police on Sunday detained dozens of worshippers from an unapproved Christian church who were trying to hold services in a public space, after they were evicted from their usual place of worship, a parishioner said.
Leaders of the unregistered Shouwang church had told members to gather at an open-air venue in Beijing for morning services, but police, apparently alerted to their plans, taped off the area and took away people who showed up to take part.
China's communist government allows worship only in state-approved churches, but many Christians belong to unregistered congregations. Such "house churches" are subjected to varying degrees of harassment by authorities.
More than 60 million Christians are believed to worship in China's independent churches, compared with about 20 million who worship in the state church, according to scholars and church activists.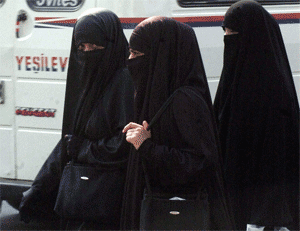 FRANCE – New veil ban to go into effect
TRAPPES | For Muslim women who cover their faces with veils [photo: example of the Muslim niqab], it is the moment for making plans. Starting Monday, a new law banning garments that hide the face takes effect. Women who disobey it risk a fine, special classes and a police record.
The law comes as Muslims face what some see as a new jab at their religion. President Nicolas Sarkozy's party is set to hold a debate Tuesday on the place of Islamic practices, and Islam itself, in strictly secular but traditionally Catholic France.
The increasing focus on France's Muslims – the largest such population in western Europe, at 5 million people – comes with presidential elections a year away and support for a far-right opposition party growing.
A recent palpable rise in tensions also has been boosted by fears of a mass migration of Muslims from the disarray in the Arab world.
"This growth in the number of [Muslims] and a certain number of behaviors cause problems," Interior Minister Claude Gueant recently said on French radio. "There is no reason why the nation should accord to one particular religion more rights than religions that were formerly anchored in our country."
France's challenge is evident in the Paris suburb of Trappes. It has a large Muslim population and is one of the few towns in France where veiled women are occasionally seen on the streets.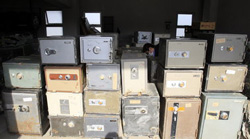 JAPAN – Safes, cash wash up on Japanese shores after tsunami
OFUNATO | Hundreds of dented metal safes, swept out of homes and businesses by last month's tsunami, crowd the parking garage at Ofunato police headquarters. [See photo taken April 7, 2011 at a police station in tsunami-hit Ofunato city, Iwate Prefecture, Japan.]
Safes are washing up along the tsunami-battered coast, and police are trying to find their owners — a unique problem in a country where many people, especially the elderly, still stash their cash at home. By one estimate, some $350 billion worth of yen [$4.1 billion in U.S. dollars] doesn't circulate.
There's even a term for this hidden money in Japanese, "tansu yokin" or literally, "wardrobe savings."
The massive post-tsunami cleanup under way along hundreds of miles of Japan's ravaged northeastern coast involves the delicate business of separating junk from valuables. As workers and residents pick through the wreckage, they are increasingly stumbling upon cash and locked safes.
…Noriyoshi Goto, head of the Ofunato Police Department's financial affairs department, which is in charge of lost-and-found items…. couldn't specify how many safes his department has collected so far, saying only that there were "several hundreds" with more coming in every day.
…Wads of cash [are also being found] in envelops, unmarked bags, boxes and furniture.
Yasuo Kimura, 67, considers himself one of the lucky ones. The tsunami swallowed and gutted his home in Onagawa, about 50 miles south of Ofunato. He escaped with his 90-year-old father and the clothes on his back. But he still has money in the bank.
That's not the case for many of his longtime friends and acquaintances, said Kimura, a former bank employee. "I spent my career trying to convince them to deposit their money in a bank," he said, staring out at his flattened city. "They always thought it was safer to keep it at home."
(The news briefs above are from wire reports and staff reports posted at: washingtontimes.com's
World Scene and Briefly, and San Jose mercurynews.com on April 10th.