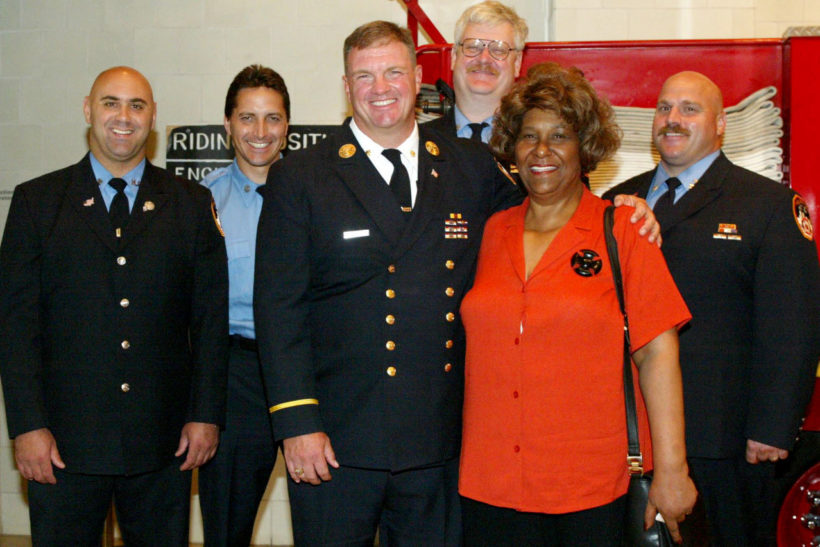 (by Thomas Kelley, YahooNews.com) – When Islamic terrorists crashed jets into the twin towers of the World Trade Center on the morning of Sept. 11, 2001, the majority of survivors fled down countless flights of stairs seeking safety. As they descended, others amazingly went in the opposite direction, up into danger, floor after floor. They were the firefighters of New York City, and Jay Jonas was one of them.
Ten years after he miraculously survived the collapse of the North Tower, Jonas's feelings about 9/11 have changed very little. It still comes down to these words: "A remarkable day."
On that bright morning, Jonas was a captain for Ladder Company 6 in Chinatown. His engine arrived soon after the North Tower was hit by the first plane.
"While we were standing there, we saw a large black shadow on the ground outside and we heard a loud boom," says Jonas, now a deputy fire chief. "We could see flaming pieces of debris falling. And that was the second plane hitting the South Tower."
After receiving orders, the firefighters went into the first tower, running up 27 floors. "We stopped to catch our breath and get a drink of water," he recalls. "And we felt an experience, something nobody had ever experienced before. Our building began to sway back and forth, and it started to shake. The lights went out for 30 seconds, and then they came back on."
Jonas quickly conferred with another captain, Billy Burke of Engine 21. They split up and went to different ends of the floor to see what had happened. Burke returned to tell him that the South Tower was gone. That would be the last time Jonas would talk to Burke, who would be killed shortly after.
"I knew what that meant," Jonas says. "The sister building to the one I was in has just collapsed and my building got hit sooner. So I just started thinking we're not going to make it out alive."
With time running out, they headed back down the stairs. But around the 20th floor they saw a woman standing in the doorway. Her name was Josephine Harris, a bookkeeper for the Port Authority who had been injured in a pedestrian-car accident two weeks earlier. She had made it down from the 73rd floor but couldn't go any farther. She was crying and couldn't walk.
"One of my guys, Tommy Falco, turned around and looked at me, says, 'Hey Cap, what do you want to do with her?'" Jonas recounts, before a long pause, stressing his words. "Keeping in mind that every fiber in my being was telling me we've got to get out of this building, we've got to get out if people are going to live. But I looked at her and I said, 'Well, all right, let's take her with us.'"
So they hoisted Harris onto their shoulders and continued their descent, which was now greatly slowed. People scrambled past them. A couple of times they had to stand aside to let others pass. When they made it to the fourth floor, Harris was in excruciating pain. She dropped to her feet and begged them to abandon her. "She couldn't go on anymore," Jonas says with a sigh of fondness. "We weren't going to leave her."
Jonas went into the fourth floor frantically searching for a chair or other support to carry Harris, but he couldn't find anything. Just as he returned, the building started to fall. He dived for the stairwell.
"The collapse was compressing the air in the building, and it created tornado-like winds," he says. The rushing air was so strong it blew one of his firefighters down two flights of stairs. "All this debris was pelting us, like you're getting punched a hundred different ways at the same time. The noise was incredible. It was a combination of noises, the loud sound of screeching steel."
The "pancake" collapse was heading toward them, crushing each floor as it got closer and closer. "You just cover up and you wait for the big beam or the big piece of concrete to come and get you," he says. "But for us it didn't come."
Encased in rubble and debris, somehow Jonas, Harris, and his crew were alive. Joining them in the twisted stairwell were a few other firefighters and a Port Authority police officer. Banged up and trapped in darkness, they tried to find a way out. They heard distress calls on their radios. One firefighter said he was on the 12th floor, but they learned later that the 12th floor had been wiped out. He didn't make it. They answered the mayday from a fire chief who was lost in the immense destruction, but they couldn't reach him. They talked to him before he went into shock and passed away.
For about 3 1/2 hours they searched for an escape from the fourth floor. They could only get to the half landing between what had been the fifth and sixth floors. Then the smoke and dust began to clear.
"All of a sudden we saw a beam of light hit the stairway," Jonas says. "We were in darkness, and we could hear fires crackling around us and things like that. And I just said, 'Hey guys, there used to be 106 floors over our heads. Now I see sunshine. I think we're on top of the World Trade Center.'"
Emerging from the fourth floor, they saw the sky above them where the towers once stood. They spotted firefighters who came to their aid, helping them climb out with rope. Jonas and his men walked Harris to the rescue teams. Then they made their way across the debris field. Fires were still erupting. A Secret Service ammunition depot at No. 6 World Trade Center ignited with live rounds as they crawled past.
After climbing 30 feet to safety from caved-in subways and subcellars, a few went to the hospital while others headed home to their families to recover. Jonas and his men realized later that Harris saved their lives too. The slower timing of their descent meant they were not in the North Tower lobby when it collapsed, where many perished. They called her their "guardian angel."
Since 9/11, the group would gather several times a year, including Harris. "Whenever we got together we invited her," Jonas says. "We became close. We all bonded because of what happened. It was a shared experience."
Sadly, in mid-January, Harris died of a heart attack. She was 69 and at home alone. When Jonas and his men found out, they tried to help collect money to pay for her funeral. After a Greenwich Village funeral director read about her death in The New York Times, he offered to pay for her ceremony and burial. Jonas and his men carried her casket at St. Joseph's Roman Catholic Church. Former Mayor Rudy Giuliani also attended.
"She was a very private person, very off to herself," Jonas says of his friend. "But she was very appreciative of what we did for her and how we continued to protect her and her privacy."
Today, Jonas takes a humble and sober view of 9/11. He notes that it was eight years between the 1993 bombing at the World Trade Center and the terrorist attacks of 2001. He worries Osama bin Laden could be replaced by equally bad men.
"These people, they're serious people," he warns. "They could come back. The more we let our guard down, the greater the chances are they will come back. I am fearful of that. As time goes by people will forget, and that's what they thrive on."
On 9/11, 343 firefighters and 60 police officers died. After the terrorists flew planes into the buildings to kill as many people as they could, first responders rushed in to save those same civilians, sacrificing everything for people they'd never met.
"On September 11th, I had 22 years on the fire department," Jonas says. "I was never so proud to be a fireman as I was on that day."
Jonas now works in the Bronx, assigned to FDNY Division 7. He was recently near Ground Zero, a location he has mostly avoided the past 10 years. "I could see the footprints of the old buildings," he says. "It looks nice. I'm anxious to see what the museum looks like and things like that. But it looks completely different."
All of his crew members stayed in the fire department after 9/11, something that made Jonas very proud. A few have since retired. Two are now lieutenants. Only one is still at Ladder Company 6.
"The outpouring of assistance and love for the people who were affected by September 11 is still remarkable to me to this day," he reflects. "I will never forget that. People are still moved by the events of that day, which is nice to see. But there's a lot of stories that will never get out, because those stories died with the collapse. There's a lot of great firemen that were doing tremendous things that day, that the world will never know."
Copyright ©2011 YahooNews. All rights reserved.  Reprinted here for educational purposes only.  The information contained in this YahooNews report may not be published, broadcast, rewritten, or redistributed without the prior written authority of Reuters.  Visit news.yahoo.com for the original post.
Questions
1. Today's editorial is a human interest news story first published in 2011.  Human interest stories differ from the regular news – they are sometimes referred to as "the story behind the story."  What most inspires you about FDNY Captain Jay Jonas' experience on 9/11?
2. Tone is the attitude a writer takes towards his/her subject: the tone can be serious, humorous, sarcastic, ironic, inspiring, solemn, cynical, optimistic, critical, enthusiastic…etc. Which word do you think best describes the tone of Mr. Jonas' recounting of his story? Explain your answer.
3. What is the main idea of Mr. Jonas' story?