(by Li Cohen, CBS News) – Starting in December, the U.S. will ban flights to all major airports in Cuba, except for the one located in Havana. The decision, according to Secretary of State Mike Pompeo, comes in response to Cuba's support for Venezuelan leader Nicolás Maduro, and aims to ensure that the Cuban government cannot profit from U.S. travel.
In a tweet, Pompeo said he asked Secretary of Transportation Elaine Chao to suspend air service so Cuba cannot profit from U.S. air travel and use the revenues to "repress the Cuban people."
According to a notice published by the Department of Transportation, the policy was created at the Department of State's request. On October 25, Pompeo wrote to Chao that banning travel to the majority of Cuba will "strengthen the economic consequences to the Cuban regime."
"To further the Administration's policy of strengthening the economic consequences to the Cuban regime for its ongoing repression of the Cuban people and its support for Nicolás Maduro in Venezuela, in the foreign policy interests of the United States, I respectfully request that the Department of Transportation suspend until further notice all scheduled U.S. carrier flights between the United States and all airports in Cuba, except José Martí International Airport (HAV) in Havana," the letter states.

"Suspending flights to these nine airports sends a clear message to the Cuban government that the United States is taking firm action in response to the regime's ongoing repression of its people and support for Maduro. Maintaining flights to José Martí International Airport preserves the main getaway for travel from the United States to Cuba on commercial flights for family visitation or other lawful purposes."
Cuban president Miguel Díaz-Canel has repeatedly shown his support for Maduro, whose self-imposed rule of the country has led to significant political and economic distress in Venezuela since 2017. Raul Castro, although no longer the leader of Cuba, is still the head of the country's Communist Party and has also spoken in support of Maduro.
Airlines, including JetBlue and American Airlines, will have a 45-day grace period to finish out service to Cuban destinations.
JetBlue said they plan to operate in "full compliance" with the policy and are still trying to understand the extent of the change.
"Due to an updated U.S. policy regarding travel to Cuba, JetBlue will no longer operate to and from Camagüey, Holguín, and Santa Clara as of December 10, 2019," the airline posted on their website. They added that customers who already booked travel to those destinations for on or after December 10 will be offered a refund or full credit. They can also rebook their flights for service to Havana.
American Airlines said they are still reviewing the policy and will "comply with federal law, work with the administration and update our policies and procedures" regarding service to Cuba.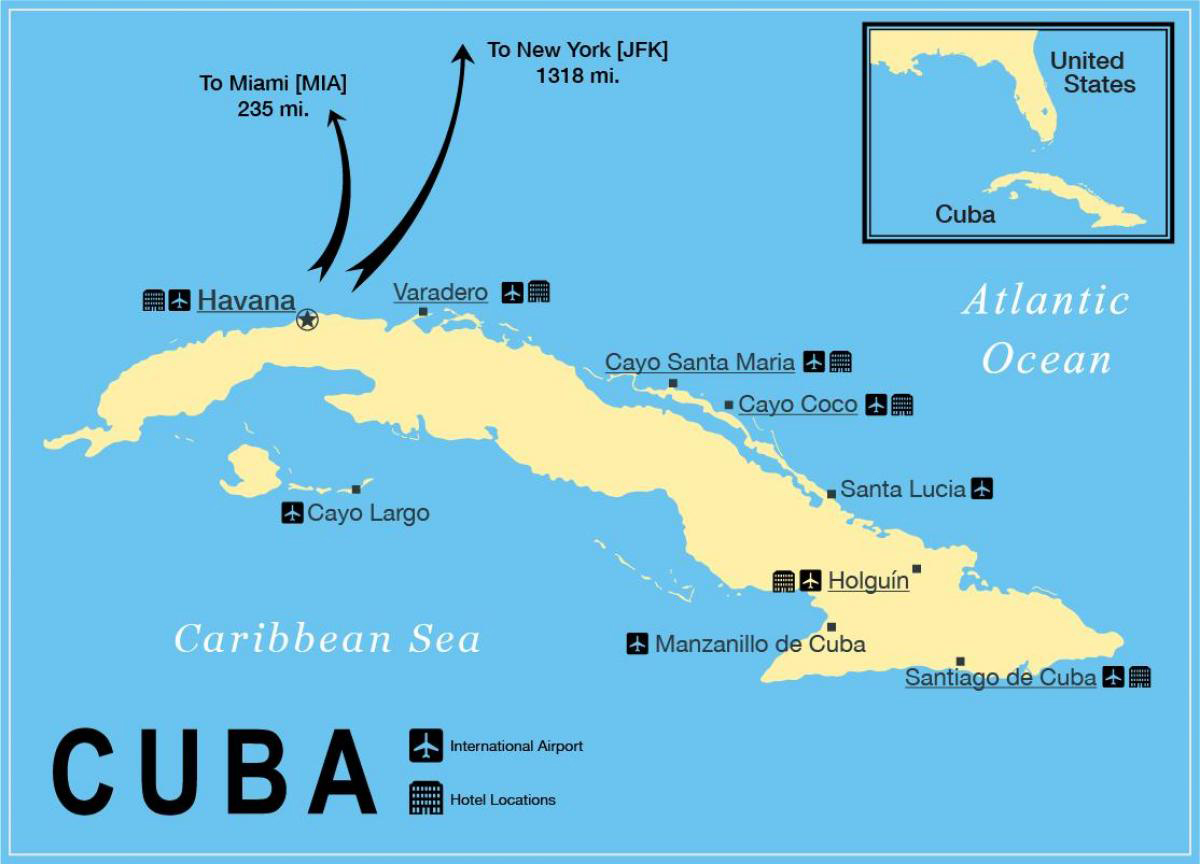 Cuba's foreign affairs minister Bruno Rodríguez Parrilla tweeted that he rejects the ban, but that Cuba will overcome the restrictions.
"I strongly reject new #US blockade measure that bans #US airlines' flights to 9 Cuban airports; strengthens US citizens' travel ban; mutilates US people liberties & damages people- to-people contacts. But they won't extract any concession from us. We shall overcome!" he wrote.
The new policy comes one month after Pompeo announced sanctions against Cuba's former dictator Raul Castro and his family, and four months after the Trump administration restricted U.S. citizens' ability to travel to Cuba, which included a ban on some educational and recreational travel.
Published at CBSNews .com on October 25, 2019. Reprinted here for educational purposes only. May not be reproduced on other websites without permission from CBS.
Questions
1. For CUBA, give the following information:
capital

location/the countries that share its borders

the religious breakdown of the population

the type of government

the chief of state (and head of government if different) If monarch or dictator, since what date has he/she ruled? – include name of heir apparent for monarch

the population
Find the answers at the CIA World FactBook website. For each country, answers can be found under the "Geography" "People" and "Government" headings.
NOTE: Before answering the following questions, watch the video under "Resources" below.
2. For CUBA:
a) list the who, what, where and when of the news item
b) Who requested the ban?
c) For what reasons is the ban being implemented? – How did Pompeo explain it to Transportation Secretary Elaine Chao? Be specific.
d) What other options or policies has the Trump administration taken against Cuba's communist leaders?
CHALLENGE: The United States embargo against Cuba is a commercial, economic, and financial embargo imposed on Cuba by the United States. It began on October 19, 1960 under President Dwight D. Eisenhower (almost two years after the Batista regime was deposed by the Cuban Revolution) when the US placed an embargo on exports to Cuba (except for food and medicine), and on February 7, 1962 was extended by President John F. Kennedy to include almost all imports.
Read about President Obama's reversal of this long-standing US policy against Cuba's communist dictatorship:
Do you think it is important for the U.S. to take this action against Cuba's communist leaders?  Explain your answer.
Resources
Watch an October 26 news report:
Daily "Answers" emails are provided for Daily News Articles, Tuesday's World Events and Friday's News Quiz.