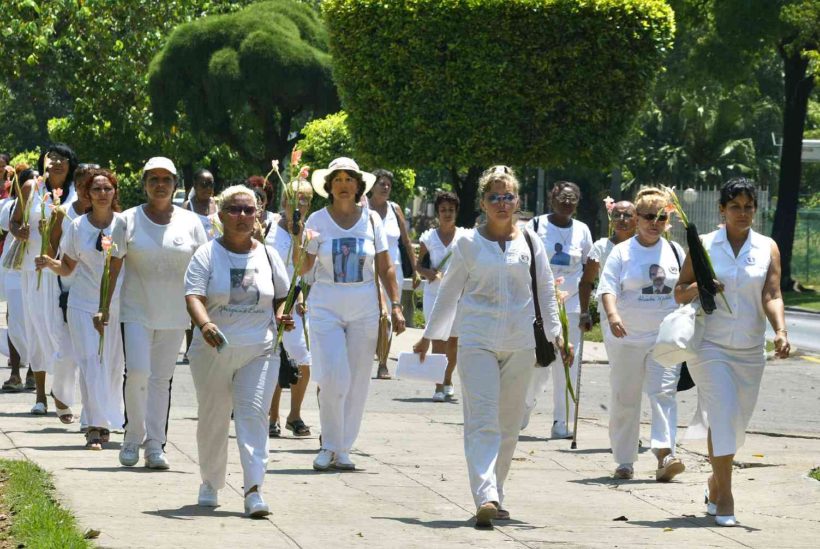 redo Jump to...
print Print...
LADIES IN WHITE (Damas de Blanco) was founded in Cuba in 2003 by wives and other female relatives of jailed dissidents. The women protest the imprisonments by attending Mass each Sunday wearing white dresses and then silently walking through the streets dressed in white clothing. The color white is chosen to symbolize peace.
---
(by Alan Gomez, USA Today) HAVANA — Just hours before President Obama landed Sunday in Cuba for his historic visit to the communist island, Cuban authorities arrested more than 50 dissidents who were marching for improved human rights.
Members of the group, known as the Ladies in White…march peacefully each Sunday after Mass at a church in a suburb of Havana called Miramar and usually get arrested and detained for hours or days.
Some in the group thought Cuban authorities would back off this Sunday out of respect for Obama's visit. Before getting arrested, Berta Soler, one of the founding members who has been marching since 2003, said while walking to the church Sunday morning that maybe they would be allowed to protest without getting arrested.
"Everything looks good so far," she said.
Despite dozens of international reporters in town for Obama's trip, the group was quickly rounded up in buses and police cars.
"For us, it's very important that we do this so President Obama knows that there are women here fighting for the liberty of political prisoners," Soler said before being arrested. "And he needs to know that we are here being repressed simply for exercising our right to express ourselves and manifest in a non-violent way."
Obama's three-day trip to Cuba is to highlight the new relationship [he has established through executive action with our] Cold War foes. After more than five decades of political and economic isolation, President Obama and Cuba's Communist dictator Raul Castro announced in December 2014 that they would re-establish diplomatic relations. Embassies have since reopened in Havana and Washington, U.S. cellphones can be used in Cuba, U.S. airlines are planning direct flights to the island, and several U.S. companies have struck deals to trade with Cuba. [There is no word on the fate of Cubans unjustly imprisoned for political or religious reasons.]
Obama is expected to embrace those changes during his trip, but the issue of human rights has been the most difficult negotiating point leading up to his visit. Secretary of State John Kerry was supposed to visit the island ahead of Obama's trip but canceled because of disagreements over whom he could meet with.
The White House has said that Obama will meet with a group of dissidents on Tuesday, but several have said they're unsure whether they'll be [permitted by the repressive regime] to attend.
Guillermo Farinas, a leading voice in Cuba's civil rights movement who is part of the group that could meet Obama, is camped out at a friend's house this week because he said Cuban authorities have ordered him to be on house arrest. He said many other dissidents like him are being blockaded in their homes ahead of Obama's visit. Because of that, he said Obama has a "moral responsibility" to strongly criticize Cuba's human rights record and push the government to improve before the U.S. further expands its relationship with Cuba.
"The most important thing for us is that President Obama doesn't allow the Cuban government to use his visit to create an image of complicity with the actions of the totalitarian regime," Farinas said.
The Communist Cuban government declined to comment on Farinas' claim that he and other dissidents were under house arrest.
Before Sunday's arrests began, some Cubans [who are favored by the communist regime] came out to shout down the Ladies in White, accusing them of being U.S.-funded protestors with no grounds to complain about their situation in Cuba.
…Felipe Hernandez Serrano shouted at the ladies as they prepared for their march. Serrano is the head of his neighborhood's Committee for the Defense of the Revolution, an organization which supports the repressive Castro regime, that critics say is designed to spy on neighbors.  Members of the group describe it as a "community organization". Serrano called the [Ladies in White] "delinquents" and defended the communist government's right to arrest them when they [protest for basic freedom and human rights].
Elizardo Sanchez, head of the Cuban Commission on Human Rights and National Reconciliation, said from his home Saturday that he hoped Obama would deliver a strong message to the Cubans. His commission has documented a rise in arrests following Cuba's opening with the U.S. so he said he has no reason to think the arrests will stop just because Obama was coming to town.
"Neither President Obama, nor the Cuban people, expect spectacular changes," Sanchez said. "These kinds of regimes are repressive. [Controlling the people] is necessary to maintain their power. So no matter what Obama says or does, it's impossible to put a good face on the human rights situation here in Cuba."
Reprinted here for educational purposes only. May not be reproduced on other websites without permission from USA Today. 
---
Although President Obama has called for human rights reforms to be imparted before lifting sanctions against the country, human rights activist have seen an increase in repression from the Castro regime.
There were more than 8,600 political arrests documented by the Cuban Commission for Human Rights and National Reconciliation in Cuba over the course of 2015. There was a sharp increase in such arrests since 2013.
While the Cuban government released 53 political prisoners as part of the terms of an agreement with the United States, five of them have since been re-arrested. (from the liberal blog thinkprogress .org.)
Questions
1. The first paragraph of a news article should answer the questions who, what, where and when. List the who, what, where and when of this news item. (NOTE: The remainder of a news article provides details on the why and/or how.)
2. Match the following terms with their definitions:
house arrest
repressive
dissident
totalitarian
a) __________________ a person who opposes official policy, especially that of an authoritarian state
b) __________________ to be officially prevented from leaving your home, usually because you have been accused of a political "crime"
c) __________________ of or relating to a system of government that is centralized and dictatorial and requires complete subservience to the state
d) __________________ (especially of a social or political system) inhibiting or restraining the freedom of a person or group of people
3. Who are the Ladies in White?
4. a) Who is Berta Soler?
b) What does she say it is important for President Obama to know as travels to Cuba to meet with communist dictator Raul Castro and his repressive regime?
5. a) Who is Guillermo Farinas?
b) What moral responsibility does Mr. Farinas say President Obama has?
6. As he began his visit to Cuba with his family, President Obama tweeted "Looking forward to meeting and hearing directly from the Cuban people."
CNN reported: "Obama will tend to the Cuban government while here [meeting with Castro including during a State Dinner]. But he'll also peel away for less formal encounters, allowing the presidential spotlight to also shine on ordinary Cubans living in a new era, including during an address to the Cuban people during a speech broadcast on state television, and the meeting with anti-Castro dissidents."
How likely is it that President Obama will "hear directly from the Cuban people"? Explain your answer.
---
CHALLENGE:
It is important to note that the re-establishing of U.S. ties with Cuba is very controversial. Because the majority of the media are Democrats who support President Obama's policies, this news event will be portrayed mostly in a very positive light, with the negatives being mainly glossed over. Polls will be presented showing that the majority of Americans support re-establishing ties with Cuba, and that a large majority of young people or young Cuban-Americans do as well.
What might not be made clear is that Cuban-Americans who remember; those who have had their houses and property confiscated, who lost family members, who were persecuted, imprisoned or denied freedom, do not support re-establishing ties with this repressive regime.
What might not be widely reported is the story of the nine Cuban migrants who died at sea and the 18 others who were rescued by a cruise ship over the weekend after their 30-foot boat was found about 130 miles from the Florida coast, according to the U.S. Coast Guard. There are no news reports questioning why these people would take this great risk to get to the U.S. if conditions were improving in Cuba and on the eve of President Obama's visit.
Just keep in mind that this is a two-sided story. Most of the news reports will portray this as an "historic" visit – not the fact that giving Castro something for nothing will not cause him to change.
========CHALLENGE #1
From a March 21, 2016 Reuters report:
U.S. President Barack Obama pushed Cuba to improve its record on democracy and human rights as he met with President Raul Castro on a historic visit to the Communist island on Monday, but Castro responded by decrying U.S. "double standards."

Obama said the two had "frank and candid" discussions about human rights as well as areas of cooperation. Castro said they could achieve much better relations if the United States lifted its 54-year-old trade embargo on the island.

"We continue to have serious differences, including on democracy and human rights," Obama said at a joint news conference, where Castro made the rare step of taking questions from journalists.

In response to a question on political prisoners, Castro angrily demanded to be shown a list of such detainees, reflecting Cuba's position that it holds no such prisoners.

"Give me a list of those political prisoners right now and if the list exists they will be released before the night is through," Castro said.

The two leaders held face-to-face meetings a day after Obama arrived for the first visit by a U.S. president in almost 90 years. The trip would for decades have been unthinkable but became possible after secret talks led to a 2014 agreement to normalize relations between the two Cold War-era foes.

The opening ended decades of U.S. efforts to force Cuba to change through isolation. But Obama is under pressure from critics at home to push Castro's Communist government to allow political dissent and further open its Soviet-style economy.
a) What paragraph(s) in this article implies that Castro has no intention of granting his citizens basic human freedoms and human rights?
b) Why do you think those opposed to President Obama's trip to Cuba do not trust the Castro brothers' communist regime?
========CHALLENGE #2
From a March 7, 2106 Washington Post Editorial:
The White House is said to be thrilled that President Obama will attend a baseball game when he visits Cuba two weeks from now: The matchup between the Tampa Bay Rays and a Cuban team will provide a splashy exhibition of the warming relations with the Castro regime. …

So let's be clear: Notwithstanding Mr. Obama's expectation that Cuba will "be fun," his visit will be an ignoble failure if he does not have a meaningful encounter with the island's most important human rights activists.

The risk of such an outcome seems to be rising. Administration officials who said Mr. Obama would choose whom he met when he is on the island are now conceding that Cuban officials are trying to prevent him from seeing true opposition leaders. Instead they are proposing that Mr. Obama gather with regime-approved members of "civil society," perhaps with a couple of moderate government critics mixed in. The disagreement reportedly contributed to a decision by Secretary of State John F. Kerry to cancel a preparatory trip to Havana last week.

The Castros' resistance is understandable. A direct meeting between Mr. Obama and leaders such as Guillermo Fariñas, the winner of the European Union's Sakharov Prize for human rights, or the Ladies in White, another winner, would give a big boost to their cause. It would legitimize their demands for free speech, free assembly and freedom for political prisoners and put pressure on the regime to respond to them. It would give hope to Cubans that Mr. Obama's engagement with their country might bring about long-overdue change.

What the Castros hope is that Mr. Obama instead will focus on baseball and new U.S. steps to bolster the Cuban economy, such as allowing use of the dollar. That would divert attention from the fact that repression in Cuba has not eased in the 15 months since the diplomatic thaw began; in fact, it has gotten worse. Dissidents who tried to meet with Pope Francis during his recent visit were detained or beaten. Will those who try to approach Mr. Obama meet the same fate? Any critic who manages to get into a "civil society" meeting such as that proposed by the regime would be drowned out by its loyalists.

As so often in its dealings with the Castros, the administration sacrificed leverage by announcing the presidential visit before the terms for a meeting with dissidents were agreed on. That makes it harder to insist on the gathering that should take place: a small, focused dialogue with internationally recognized advocates of democracy and human rights. Still, if the White House pushes as hard to see Mr. Fariñas and the Ladies in White as it has for the Tampa Bay Rays, it should succeed.
Ask a parent to read this brief editorial and ask: do you agree with the Washington Post Editors' assertions about President Obama's trip to Cuba? Explain your answer.
Background
President Obama announced on Dec. 17, 2014 that the U.S. would restore full diplomatic relations with Cuba, ending a half-century of Cold War estrangement with the Communist nation. This was the result of 18 months of secret talks between the Obama administration and Cuba's Communist regime. The sudden and shocking change in policy was announced simultaneously by Obama in Washington and Cuban President Raul Castro in Havana after a phone call between the two leaders.

As part of the policy shift, President Obama is easing restrictions on travel to Cuba, including for family visits, official government business and educational activities, and he is seeking to expand economic ties. 

It all represents an undertaking by Obama without Congress' authorization as he begins the final years of his presidency.

The U.S., he said, will establish an embassy in Havana, where the old one was shuttered in January 1961 after the revolution that brought Fidel Castro to power on Jan. 1, 1959.

After Obama's 2012 reelection, he met with advisers and asked them to "think big" about a second-term agenda, including the possibilities of new starts with longstanding U.S. foes such as Iran and Cuba, The Associated Press reported.

But the announcement was greeted with skepticism and disdain by those opposing liberalized contact with communist Cuba.  Sen. Robert Menendez (D-N.J.), who heads the Senate Foreign Relations Committee, also denounced the rapprochement. "Today's policy announcement is misguided and fails to understand the nature of the regime in Cuba that has exerted its authoritarian power over the Cuban people for 55 years," said Menendez, the son of Cuban immigrants. (from nydailynews, posted at a Jan. 2015 StudentNewsDaily post)
Resources
See previous StudentNewsDaily posts on Cuba:
Watch a video "Who Are the Ladies in White?"
Daily "Answers" emails are provided for Daily News Articles, Tuesday's World Events and Friday's News Quiz.