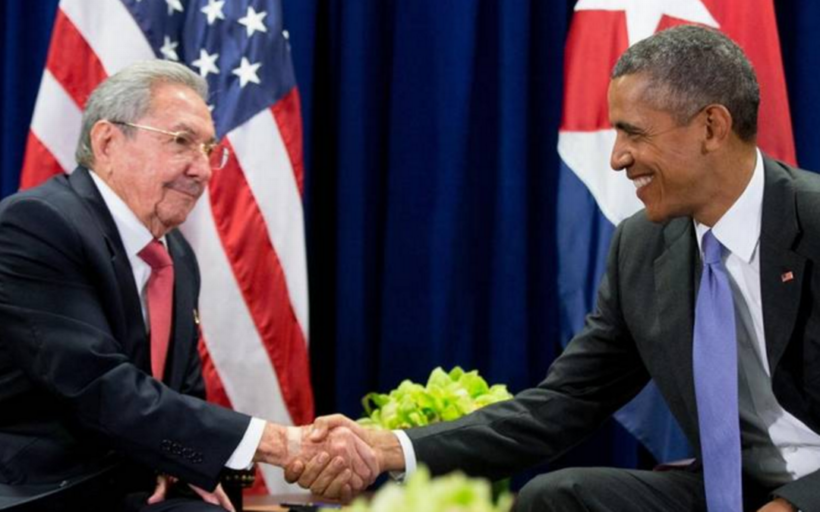 redo Jump to...
print Print...
NOTE to students:  Before reading the article, read the "Background" and "Resources" below the questions.
(by Alyana Alfaro, PolitickerNJ.com) – On Thursday, President Barack Obama officially announced on Twitter that he would embark on a historic trip to Cuba. While Obama said that his visit will advance the United States's "progress and efforts that can improve the lives of the Cuban people" many of New Jersey's Cuban-Americans (from both political parties) are taking the opposing stance.
U.S. Senator Bob Menendez, a Democrat born in New Jersey to Cuban immigrants, has been a vocal critic of Obama's efforts to thaw relations with the island nation. Following Obama's announcement, Menendez released a statement calling the March visit "totally unacceptable."
In his statement, Menendez said that Obama will come to "rue this decision" to visit Cuba. He explained:
"Since Castro seized power, nine American Presidents – Kennedy, Johnson, Nixon, Ford, Carter, Reagan, George H.W. Bush, Clinton, and George W. Bush – did not rush to the island to shake hands with an oppressive dictator," Menendez said in the statement. "They instead stood firmly against a regime that represses its people's freedoms and blatantly violates human rights just 90 miles from our shore. The President is – again – prioritizing short-term economic interests over long-term and enduring American values."
U.S. Representative Albio Sires (a Democrat from NJ's 8th district) was born in Cuba and immigrated to New Jersey as a child. Like Menendez, he believes that the decision by the President to go to Cuba is a mistake. The two men held a press conference on Thursday in Union City, one of New Jersey's most Cuban-American municipalities, with former Cuban political prisoners to stand against Obama's decision. Rep. Sires wrote:
"The President's announcement this morning that he will travel to Cuba next month is extremely troubling and represents yet another concession to the Castro brothers while the Cuban people continue to languish without access to basic freedoms. This trip sets a dangerous precedent for U.S. presidents visiting dictators in Latin America and is another step towards legitimizing a dictatorial regime that thrives on the backs of innocent Cuban people," said Sires in a statement.
Sires also called on the president to remember that he had "previously stated that he would only travel to Cuba if he can meet with pro-democracy dissidents there." Sires said the president must stand by that statement and call on the Cuban government to extradite Joanne Chesimard, who murdered New Jersey State Trooper Werner Foerster in 1973 "and still roams freely in Cuba." [Chesimard escaped from prison in 1979 and fled to Cuba in 1984 after living as a fugitive for a few years, and received political asylum from the Castro regime.]
Another Cuban-American Democrat from New Jersey who opposes the visit is Rafael Fajardo, formerly of the Elizabeth School Board.
"The people of Cuba have no freedom of speech," Fajardo told PolitickerNJ. "The people of Cuba have no freedom to elect their own representatives. [Obama] is going there to embrace tyranny and, as a Democrat, I am very disappointed he is doing that."
Fajardo likened the opening of relations with Cuba to how the Unites States reacted to South African during the time of apartheid.
"If it was okay to totally isolate South Africa for how they behaved against the people of South Africa until the war broke the tyranny of the South African government, how come we cannot do this for the people of Cuba?" Fajardo said. "It is a very sad day, the day he steps off the plane and embraces two brothers that have been in power for 50-some years and have been responsible for the deaths of thousands upon thousands of people. This is a very sad situation for the Cuban Americans who live in the United States of America that this kind of attitude is embraced by our president."
It is not only Cuban-American Democrats in New Jersey that are against the visit, however. NJ's Hudson County Republican Chairman, Cuban-American Jose Arango also believes that the visit will "consolidate the longest dictatorship in Latin America."
"Cuba is still a dictatorship where the people of Cuba are basically slaves of the government," Arango said. "One of the reasons why I can't be a Democrat is because [the Democrats] betrayed us [the Cuban people] in Bay of Pigs. They betrayed us with Elian Gonzalez. Now, they betray us with this relationship with Cuba." …
Not all of New Jersey's lawmakers agree that the move by Obama to visit Cuba is a bad decision, however. New Jersey Assemblyman Reed Gusciora (a Democrat from NJ's 15th district) recently traveled to Cuba on an unauthorized legislative trip made by ten New Jersey Assemblypeople. According to Gusciora [who is not of Cuban descent], opposition to the president's trip mainly comes due to a lack of firsthand experience with the situation on the ground there.
"I would argue that Menendez should go down there," Gusciora  told PolitickerNJ. "They state that they know what it is all about but they haven't been there. At least I have sat across the table from Cuban officials. At least I have asked for the return of Joanne Chesimard. I think that it really benefits us to open the doors instead of pursue this failed policy. We are friends with China, we are friends with Vietnam, we are friends with Saudi Arabia. It just makes no sense to continue to shut out people that are 90 miles away." …
According to NJ State Senator Ray Lesniak (a Democrat from NJ's 20th district), time will tell if the decision made by President Obama, and the decision of Pope Francis to visit Cuba this week, will be beneficial.
"I am not going to second-guess the president on this one, nor would I second-guess the Pope," Lesniak said. "I think, hopefully, with the Pope and a President visiting, we will see the changes that Senator Menendez and Congressman Sires want for the people of Cuba, but we will just have to wait and see. So far we haven't seen much progress. I just hope for the people of Cuba who have suffered so much there will be a lot more than what we are seeing today."
President Obama's visit to Cuba is scheduled for March 21-22. He is expected to meet with Cuba's Raul Castro before departing for Argentina. Obama will be the first American president to visit Cuba since Calvin Coolidge in 1928. [Cuban leader Fidel Castro (1926-) established the first communist state in the Western Hemisphere after leading an overthrow of the military dictatorship of Fulgencio Batista in 1959. He ruled over Cuba for nearly five decades, until handing off power to his younger brother Raúl in 2008.]
Reprinted here for educational purposes only from PolitickerNJ, which delivers political news that matters to New Jersey. May not be reproduced on other websites without permission from PolitickerNJ .com. 
Questions
1. The first paragraph of a news article should answer the questions who, what, where and when. List the who, what, where and when of this news item. (NOTE: The remainder of a news article provides details on the why and/or how.)
2. List the NJ lawmakers opposed to President Obama's visit. For each, explain the reasons for their opposition. (What did each say?) Be specific.
3. Who joined NJ Rep. Sires and Senator Menendez in the press conference they held to publicly oppose President Obama's trip to Cuba?
4. What is Representative Sires calling on President Obama to do?
5. Democratic state Assemblyman Reed Gusciora recently traveled to Cuba on an unauthorized legislative trip made by ten New Jersey Assemblypeople. According to Gusciora [who is not of Cuban descent], opposition to the president's trip mainly comes due to a lack of firsthand experience with the situation on the ground there. He said:
"I would argue that Menendez should go down there. They state that they know what it is all about but they haven't been there. At least I have sat across the table from Cuban officials. At least I have asked for the return of (cop killer) Joanne Chesimard. I think that it really benefits us to open the doors instead of pursue this failed policy. We are friends with China, we are friends with Vietnam, we are friends with Saudi Arabia. It just makes no sense to continue to shut out people that are 90 miles away."
a) Do you think President Obama's trip to Cuba will cause the Castro brothers' Communist regime to give freedom to the Cuban people, to free all political prisoners, to extradite Joanne Chesimard? Explain your answer.
b) Ask a parent the same question.
Background
The Communist government of Cuba:
The Republic of Cuba is one of the world's last remaining socialist countries following the Marxist-Leninist ideology.
The Constitution of 1976, which defined Cuba as a socialist republic, was replaced by the Constitution of 1992, which is "guided by the ideas of José Martí and the political and social ideas of Marx, Engels and Lenin."
The constitution describes the Communist Party of Cuba as the "leading force of society and of the state."
The President of Cuba, who is also elected by the Assembly, serves for five years and there is no limit to the number of terms of office.
In February 2008, Fidel Castro announced his resignation as President of Cuba [likely due to illness] and his brother, Raúl Castro, was declared the new President. (from wikipedia)
Resources
Watch a WPIX news report:
---
OBAMA'S CUBA TRIP (excerpt from a Washington Post commentary by Jennifer Rubin):
Just how does it foster democracy and liberalization to reward the Castros with a presidential visit when in recent months oppression has increased? Cuban human rights activists tell us:
Throughout 2015, there were more than 8,616 documented political arrests in Cuba.

In November alone there were more than 1,447 documented political arrests, the highest monthly tally in decades.

Those numbers compare to 2,074 arrests in 2010 and 4,123 in 2011. . . . 

According to the London-based NGO, Christian Solidarity Worldwide (CSW), last year 2,000 churches were declared illegal and 100 were designated for demolition by the Castro regime.

Altogether, CSW documented 2,300 separate violations of religious freedom in 2015 compared to 220 in 2014. . . . 

Most of the 53 political prisoners released in the months prior and after Obama's December 2014 announcement have since been re-arrested on multiple occasions.

Five have been handed new long-term prison sentences.

Meanwhile, Human Rights Watch noted in its new 2016 report, "Cuba has yet to allow visits to the island by the International Committee of the Red Cross or by U.N. human rights monitors, as stipulated in the December 2014 agreement with the United States."
Rep. Ileana Ros-Lehtinen (R-Fla.) blasted the president:
"[I]t is absolutely shameful that Obama is rewarding the Castro's with a visit to Cuba by a sitting American president since their reign of terror began.  For more than 50 years Cubans have been fleeing the Castro regime yet the country which grants them refuge, the United States, has now decided to quite literally embrace their oppressors. There has been no progress in regards to human rights on the Castro brothers' island gulag nor have conditions in Cuba improved since this administration began providing the regime with concession after concession." She added, "A visit by President Obama more than one year after his unilateral concessions to the regime will only legitimize the Castros' repressive behavior."
Former deputy national security adviser Elliott Abrams writes: "Why is the President visiting, given the lack of change? Because he cannot resist the photo op with Fidel Castro. It's as simple as that." He points out that the president won't be permitted to meet with dissidents:
The Cuban regime . . .  [knows] that Obama is dying to make this trip and get his photo with Fidel, and that gives the police state the upper hand — just as it did throughout the Obama negotiations with Cuba. (published at washingtonpost.com on Feb. 18)
---
On Feb. 19, U.S. Senator Marco Rubio (R-FL) responded to President Obama's plans to visit the communist island of Cuba. In a letter to the President, Rubio warns of the consequences such a trip would pose, and urges him to reconsider.
Below is the text of the letter:
Dear Mr. President:

Your determination to visit the communist state of Cuba on March 21st and 22nd, regardless of the disastrous consequences, is a mistake. I strongly urge you to reconsider visiting Cuba in the absence of the government undertaking meaningful reforms including: reforming their oppressive political system, reigning in a police state that orchestrated over 8,600 political arrests in 2015, freeing all political prisoners, resolving the billions of dollars in outstanding property claims and court judgments against the Castro regime, and returning fugitives from U.S. justice.

In other words, having an American president go to Cuba simply for the sake of going there, without the United States getting anything in return, is both counterproductive and damaging to our national security interests. Any time a president visits a foreign country, it speaks volumes to the host country, to the American people and to the rest of the world. If you proceed with this visit, you will further confirm what the Castro regime has learned throughout its negotiations with your Administration: that you are willing to give up all the leverage the United States has in exchange for virtually nothing. You will send the message to the oppressed Cuban people that you stand with their oppressors. You will send the message to the Western Hemisphere and the rest of the world, especially our enemies, that the United States can grow tired of standing up for our national security interests and principles.

Furthermore, your Administration's recent handling of its re-opening of the U.S. embassy in Havana demonstrated complete diplomatic incompetence that does not bode well for a future presidential visit. That event further proved to the Castro regime that it can get extraordinary concessions from your government in exchange for nothing. That episode also showed a blatant disregard for the patriotic Cuban dissidents who have toiled for years in advancing the cause of freedom only to be shut out of the public ceremony on August 14, 2015.

A presidential visit to Cuba would inevitably entail staying at hotels and other accommodations controlled by the Cuban military, providing American taxpayer dollars to the regime, in addition to the economic concessions you have been making over the past year. As you know, the island's repressive apparatus is under the iron fist of Raul Castro's son, Colonel Alejandro Castro, while the economy remains under the control of the lucrative military monopoly, Enterprise Administration Group (GAESA), run by Raul Castro's son-in-law, General Luis Alberto Rodriguez Lopez-Callejas. To date, the concessions you have given to the regime have strengthened Castro's military monopolies not the Cuban people.

In sum, I urge you to reconsider visiting Cuba and instead insist that the Castro regime finally make some serious concessions that have so far not been prioritized in negotiations. Before you announced your new Cuba policy on December 17, 2014, the United States possessed significant economic and diplomatic leverage over the Castro regime. Rather than achieving several long-standing U.S. goals and national security interests, you have methodically squandered this opportunity, legitimizing the Castro regime and enriching it in the process. A presidential visit to Cuba absent of any concessions from its government is a dangerous idea, and I urge you to reconsider.
Daily "Answers" emails are provided for Daily News Articles, Tuesday's World Events and Friday's News Quiz.